Heart Valve Experts Reunite at STS Conference!!!
Written By: Adam Pick, Patient Advocate, Author & Website Founder
Published: January 23, 2023
For the first time since 2020, the world's leading heart valve experts gathered "in-person" this weekend for the 59th Annual Meeting of the Society of Thoracic Surgeons (STS) in San Diego, California. The STS Conference brought together thousands of doctors, medical companies and researchers to discuss the latest advances in heart valve surgery and other cardiac conditions.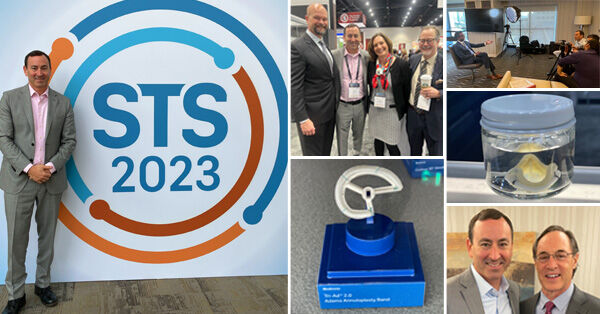 As Dr. Kevin Accola shared with me, "In the era of Post-COVID, this is the first meeting that we have gotten back together, face-to-face. There is a great exchange of information and new technologies. STS is a great meeting that I always attend."
We Film 14 Educational Videos for Patients at STS!
For the HeartValveSurgery.com team, the first day at STS was all about filming educational videos to help patients. In total, we filmed 14 educational videos with world-renowned surgeons that specialize in heart valve surgery.
Our day started bright-and-early as we interviewed Dr. Pavan Atluri, Director of Minimally Invasive and Robotic Cardiac Surgery at Penn Medicine Heart and Vascular Center, with an insightful discussion about mitral valve disease.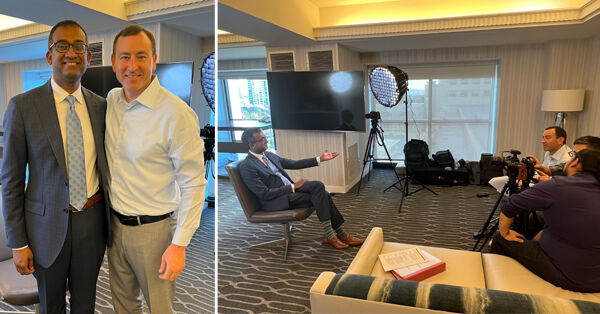 I have to admit, we had a lot of fun during the video shoot.  In the picture below, you will see Dr. Marc Gillinov, Chairman of Thoracic and Cardiovascular Surgery at the Cleveland Clinic, laughing during one of my bloopers.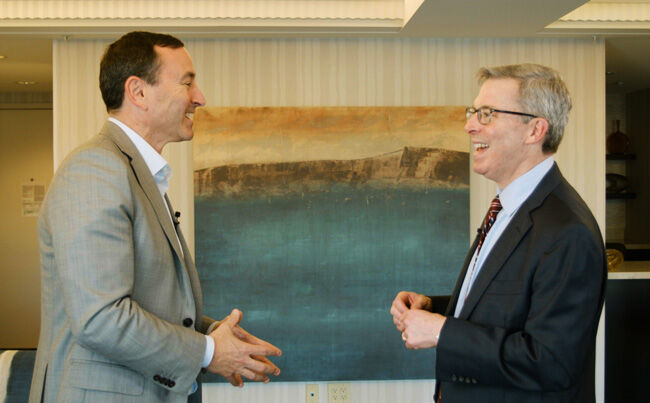 Ready to see something that is wildly serendipitous?
For the first time at STS… We experimented with the filming of real-time "Surgeon Q&A" videos that immediately responded to patient questions. In this video, Dr. Kevin Accola, a leading heart valve surgeon at AdventHealth in Orlando, Florida, answers a question from Amy Berger, a patient in our community.
So you know, Amy is scheduled to have aortic valve replacement with Dr. Accola tomorrow!!!
Here's Dr. Eric Roselli, my long-time friend and the Chief of Adult Cardiac Surgery at the Cleveland Clinic. We had a great discussion about the lifetime management of heart valve disease.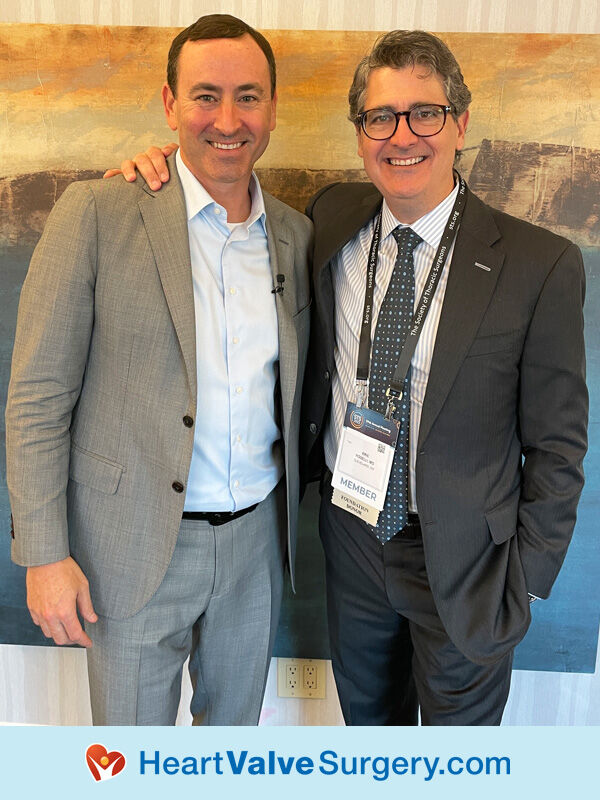 That's Dr. Arman Arghami, a leading mitral valve surgeon from Mayo Clinic in Rochester, Minnesota.  Dr. Arghami joined us for a special video about the treatment of secondary mitral valve regurgitation using minimally-invasive techniques. (Fyi, that's Katie Bal, who has worked with HeartValveSurgery.com for the past 7 years.)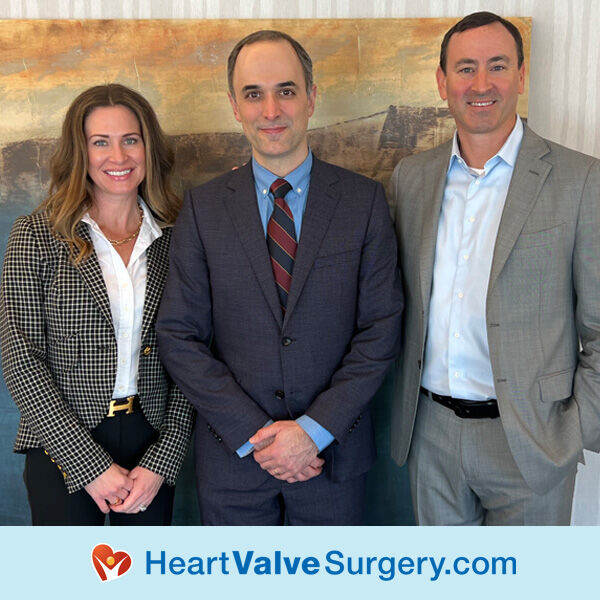 Next… It was wonderful to reconnect with Dr. Gorav Ailawadi, the Chair of Cardiac Surgery at Michigan Medicine in Ann Arbor, Michigan, about new research and new treatment options for the tricuspid valve which is often referred to as the "forgotten valve".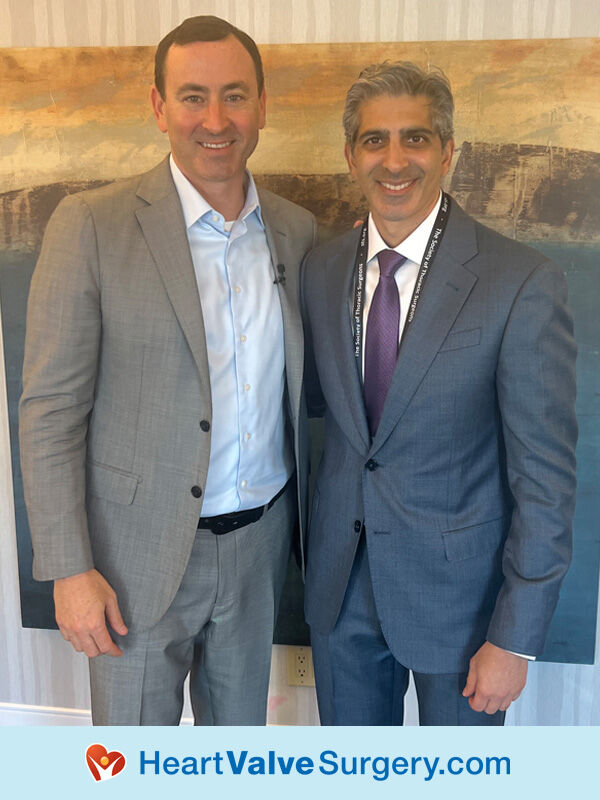 Here's an action shot of Dr. Marc Gerdisch, the Chief of Cardiac Surgery at Franciscan Health in Indianapolis, Indiana, talking about "Rapid Recovery Protocol 2.0".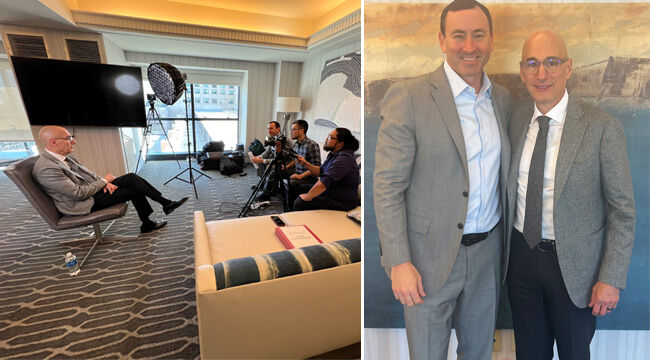 We were very fortunate to have an extraordinary filming session with Dr. Joanna Chikwe, the Chair of Cardiac Surgery at Cedars-Sinai Medical Center in Los Angeles, California.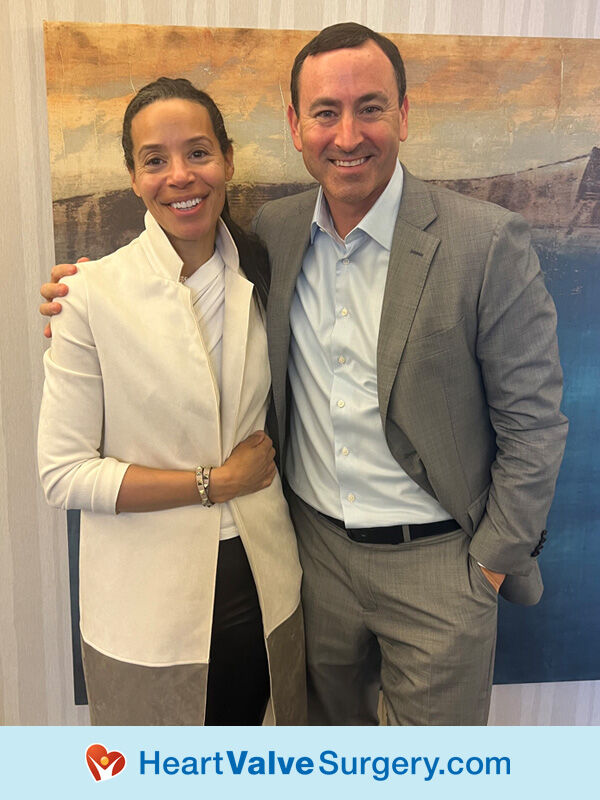 The second real-time "Surgeon Q&A" video was with Dr. Doug Johnston, the Chief of Cardiac Surgery at Northwestern Medicine in Chicago, Illinois.  Dr. Johnston, an aortic valve specialist, answered Paige Hahn's question about research specific to the the AVNEO / Ozaki procedure.
Yes! That's Dr. Wilson Szeto, Chief of Cardiovascular Surgery at Penn Presbyterian Medical Center in Philadelphia, Pennsylvania.  Dr. Szeto and I discussed complex heart valve surgery including aneurysms, atrial fibrillation, coronary artery disease and hypertrophic cardiomyopathy.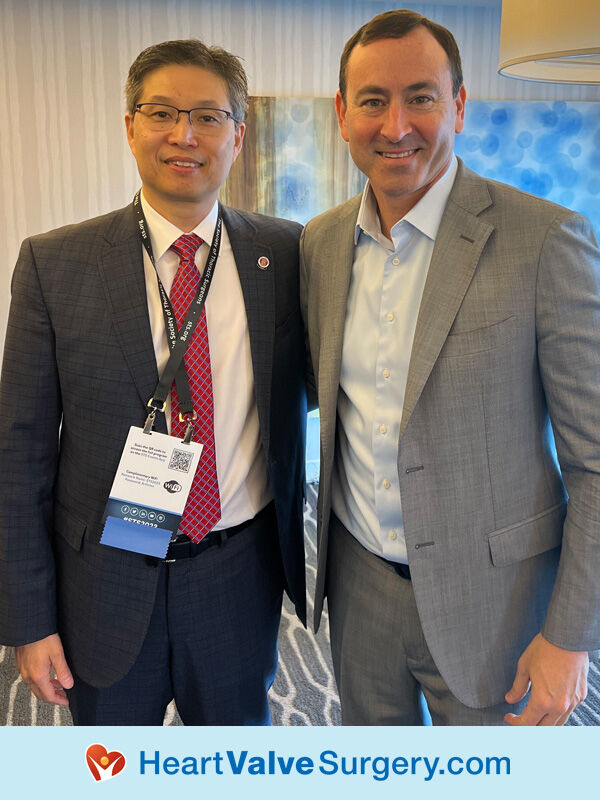 Dr. William Brinkman, a leading aortic valve specialist at Baylor, Scott & White The Heart Hospital – Plano in Plano, Texas, joined us for a great discussion about new research specific to the Ross Procedure.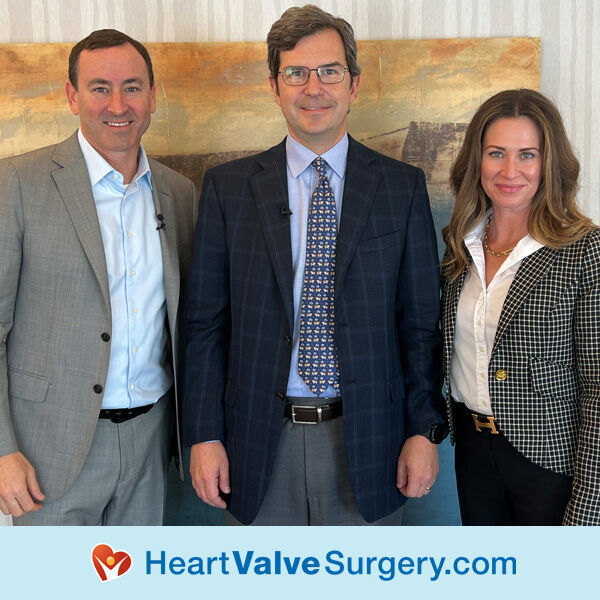 "Standing Room Only" at the STS Main Stage
After the video shoot concluded, we spent the next day walking through the STS Conference which includes the "STS Main Stage".  I took this quick video to show you how massive the STS Main Stage actually is.  Thousands of people gather at the STS Main Stage to see and hear leading cardiac surgeons share their research and techniques for treating all forms of heart disease including valvular defects (e.g. aortic stenosis and mitral regurgitation).
As you will see in this quick video, it was "Standing Room Only" for presentations at the STS Main Stage.
As I walked out of the STS Main Stage, I was lucky to bump into two, long-time supporters of the HeartValveSurgery.com community. That's Dr. Raymond Singer (left) from Einstein Health in East Norriton, Pennsylvania, and Dr. Joseph Bavaria (middle) from Penn Medicine Heart and Vascular Center in Philadelphia, Pennsylvania.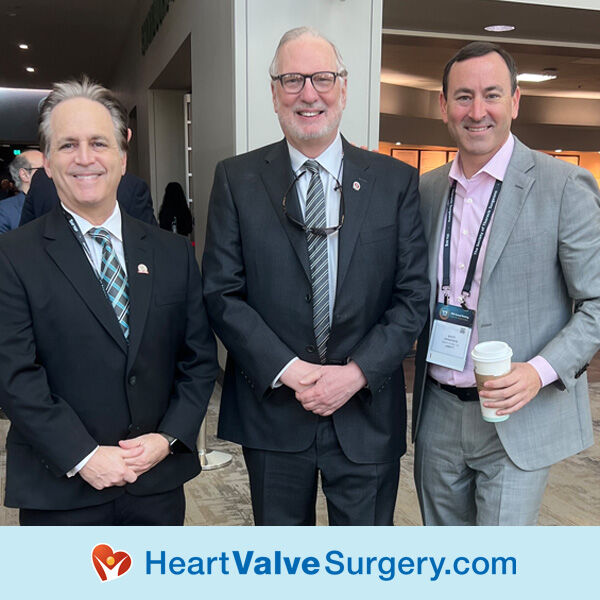 Holy Moly! The STS Exhibit Hall!
Next up… The HeartValveSurgery.com team went to the STS Exhibit Hall where surgeons and medical companies get together to discuss the latest medical devices for the treatment of heart disease.  The STS Exhibit Hall is gigantic. I don't know exactly how big the STS Exhibit Hall is… But, imagine a 100-yard football field packed with cardiac surgery technology.
Specific to heart valve disease… Each STS exhibitor has a booth that enables surgeons to see their heart valve repair and replacement devices that treat valvular disorders.  For example, here are several pictures from the Abbott booth.  Abbott is a leading heart valve manufacturer that makes devices designed for the surgical and transcatheter treatment of heart valve disease.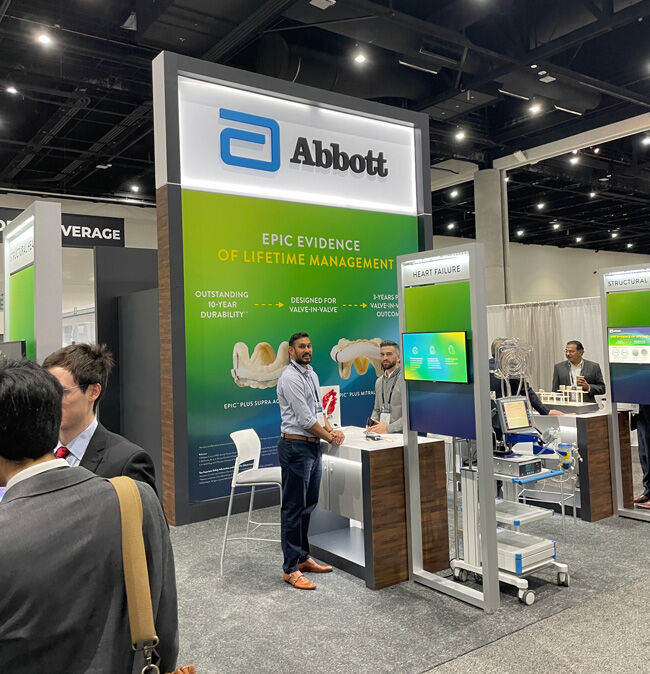 Interestingly, Abbott just received an FDA approval for their Navitor transcatheter aortic valve replacement (TAVR).  Specific to surgical valves, here are two shots of the new Epic Plus surgical heart valve replacement that is getting lots of attention from patients and surgeons.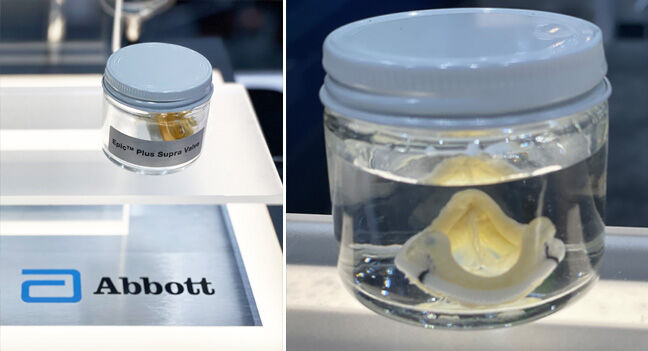 In addition to tissue valves, Abbott also makes mechanical heart valve replacements.  I recently learned that Abbott's mechanical heart valves have been implanted in over 3 million patients worldwide.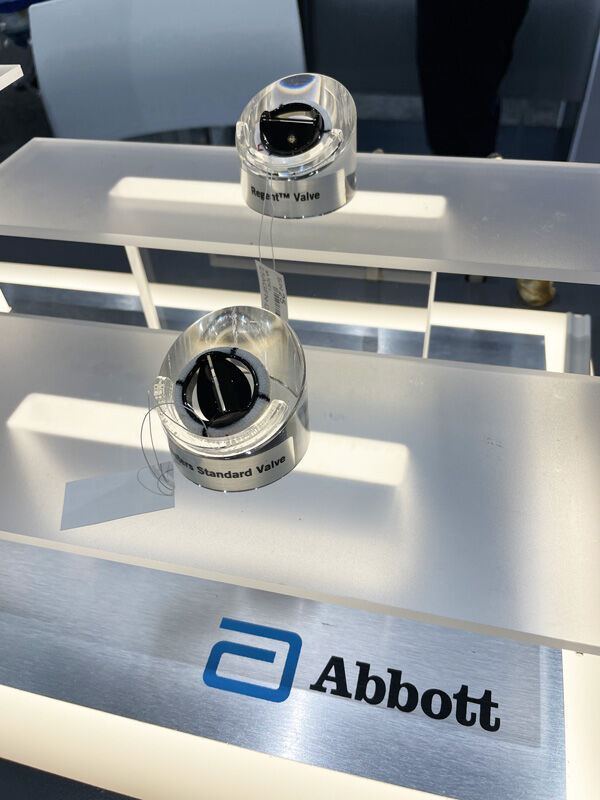 As we continued to walk around the STS Exhibit Hall, it started to feel like a wonderful reunion.  I got to see so many people that I have been fortunate to work with over the years. For example, here's Dr. Craig Baker, who is the Chief of Cardiac Surgery at Keck Medicine of USC in Los Angeles, California, where I had my heart valve surgery in 2005.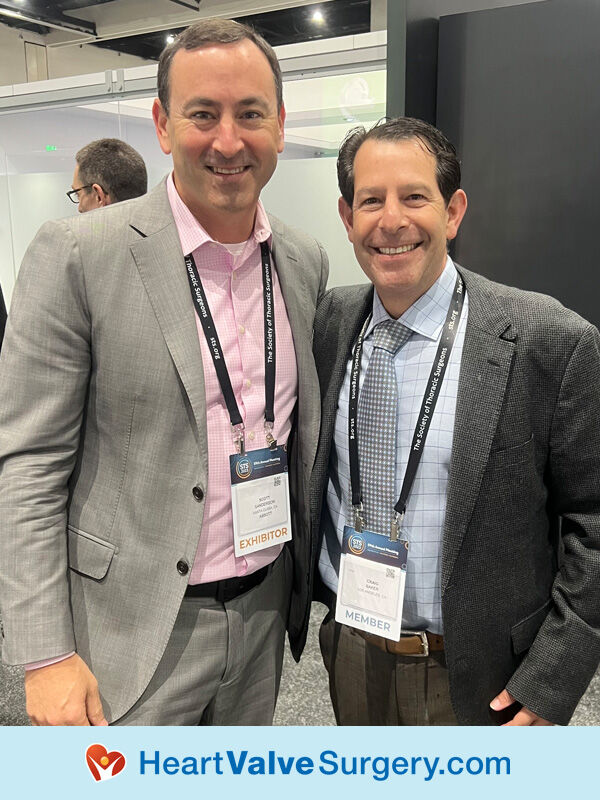 Here's Dr. Steve Bolling, an amazing mitral valve repair surgeon from Michigan Medicine in Ann Arbor, Michigan and a long-time supporter of the HeartValveSurgery.com community.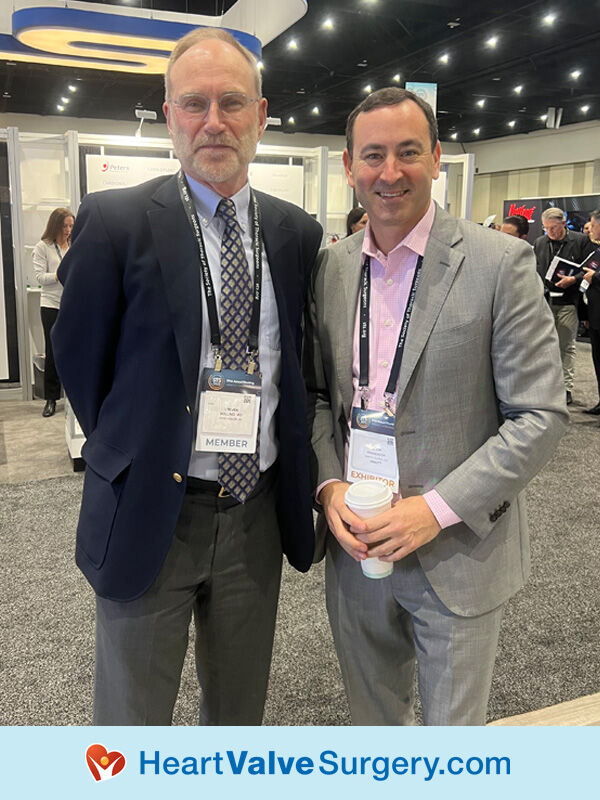 I saw Mike Carrel who is the CEO of AtriCure.  Together, AtriCure and HeartValveSurgery.com have worked to educate patients about the under-awareness and under-treatment of atrial fibrillation (AFib) during heart valve surgery.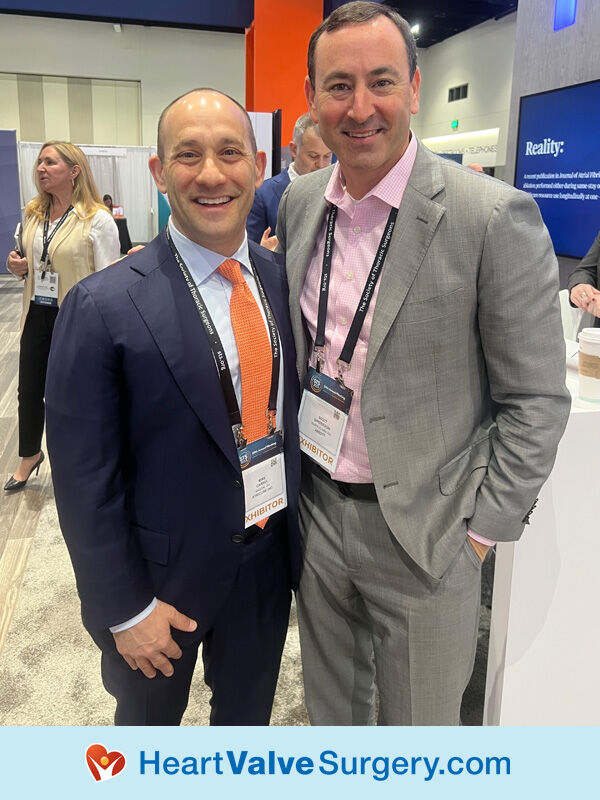 It was also great to see several people that we have been working with for years but have never met in-person due to COVID. For example, below is a picture of Dr. Christopher Burke, an aortic valve surgeon from UW Medicine Heart Institute in Seattle, Washington.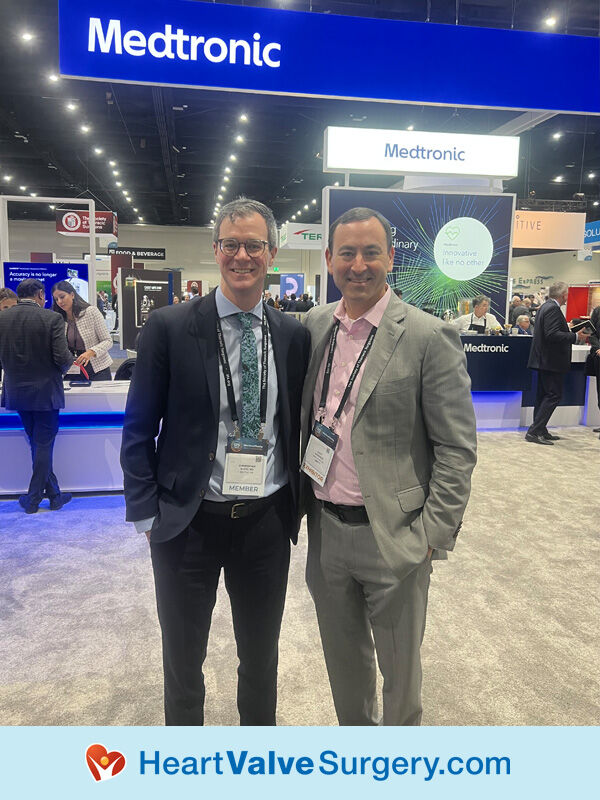 As a result of this new "connectedness", there were hugs, hugs and more hugs at STS!
Here's several great folks from the Abbott team that we have worked with many years.  That's Ai Phi Hahn, Scott Sanderson, Liz Maguire and Dan Gallo.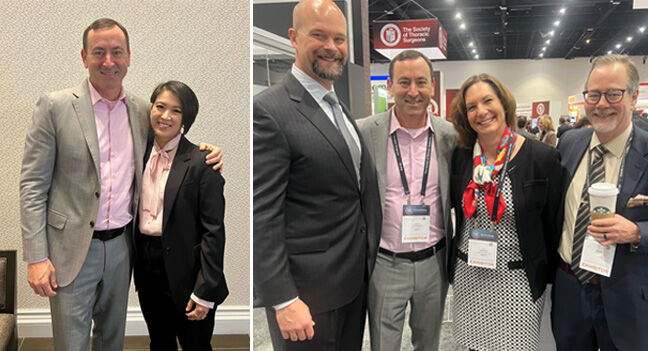 Many Thanks To STS & The Attendees!
On behalf our patient community, thanks so much to the STS for organizing such a wonderful conference.
We realize how challenging it must be to plan and execute a big conference for the first time after several years due to the pandemic.  That said, STS was amazing!!! We really appreciate the STS and all the attendees for helping heart disease patients live better, longer and healthier lives.
Keep on tickin' STS!
Adam
Adam's Newest Blogs
Adam's Newest Posts