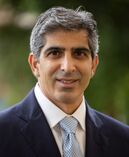 Dr. Gorav Ailawadi
Dr. Gorav Ailawadi

Heart Surgeon

The University of Michigan Frankel Cardiovascular Center
1500 E. Medical Center Dr.
Ann Arbor, MI 48104
About Dr. Gorav Ailawadi,
Heart
Valve

Surgeon

Hello! My name is Dr. Gorav Ailawadi and I am a cardiac surgeon having graduated from Northwestern University Medical School in 1998. To date, I have performed approximately 4,000 cardiac surgeries, of which 2,000 involved heart valve procedures. I regularly perform surgery at The University of Michigan Frankel Cardiovascular Center. Read more...
3 Patient Reviews for
Dr. Ailawadi
"He's the best. I had a mini-repair with no sternotomy with a much quicker recovery. He's a very kind and caring man and all his patients love him. "
-- Bonnie Fiori, Mitral Valve, Valve Repair, 10/30/2018

"Dr. Ailawadi has the best bedside manner of any surgeon I have ever met. He allowed me to pick the type of heart valve I would get if I could depending on my anatomy once he opened me up. My surgical results have been excellent and I'm on my way to recovery. I start cardiac rehab next week.
I have my good and bad days but as a whole I would never have picked anybody else to do my surgery!"
-- Toni Watson, Aortic Valve, Valve Replacement, Mini Sternotomy, 02/06/2017

> See 1 more patient testimonials
My Specialities &
Clinical Interests
My heart surgery specialties include:
Minimally invasive cardiac surgery
Mitral valve repair and replacement
Aortic valve surgery and transcatheter valve surgery
In addition, I have research and clinical interests specific to:
Less invasive heart valve therapies
Aortic aneurysm disease and atrial fibrillation
Treatment of acute heart failure (infarction) with a novel patch
Education, Training & Certificates
Dr. Gorav Ailawadi, heart surgeon, graduated from Northwestern University Medical School in 1998.
Dr. Ailawadi then completed a Surgical Critical Care Residency in 2002 at the University of Michigan, a General Surgical Residency at the University of Michigan in 2005 and a Cardiothoracic Surgery Residency at the University of Virginia in 2007.
In 2020, Dr. Ailawadi was named the Chair for the Department of Cardiac Surgery and the Helen F. and Marvin M. Kirsh Professor of Cardiac Surgery at the University of Michigan Medical School. Previously, Dr. Ailawadi served as the chief of cardiac and thoracic surgery at the University of Virginia.
Known for his unique interests and research for the minimally-invasive treatment of heart valve disease, Dr. Ailawadi was the first surgeon in the United States to perform a hybrid MitraClip (transcatheter mitral valve repair) and atrial fibrillation ablation.
Dr. Ailawadi is one of five principal investigators leading the Cardiothoracic Surgical Trials Network research consortium (NIH) developing new clinical trials in cardiac surgery. Dr. Ailawadi is the national principal investigator of the SUMMIT clinical trial evaluating the safety and effectiveness of the Tendyne Mitral Valve Implant system, a new transcatheter mitral valve replacement (TMVR) device that does not require an incision to the patient's sternum or the use of a heart-lung machine.
Dr. Ailawadi is board certified in Surgery and Thoracic Surgery and has received several awards including:
* Castle Connolly Top Doctor Award * Top Research in the Department of Cardiac Surgery
Schedule Appointment

with Dr. Gorav Ailawadi, MD

To schedule an appointment with Dr. Ailawadi, you can:
Call

(734) 217-2086

right now
Request an appointment by clicking here.
The office of Dr. Ailawadi is located at 1500 E. Medical Center Dr., Ann Arbor, MI 48104. To get driving directions to this office, please click the map below.
> Click for driving directions to Dr. Ailawadi's office.
News & Online References Featuring Dr. Gorav Ailawadi
Here is the latest news featuring Dr. Gorav Ailawadi:
Page last updated: July 21, 2021