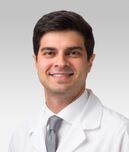 Dr. Christopher Mehta
Dr. Christopher Mehta

Heart Surgeon

Northwestern Memorial Hospital
675 North St. Clair Street
Chicago, IL 60011
About Dr. Christopher Mehta,
Heart
Valve

Surgeon

Hello! My name is Dr. Christopher Mehta and I am a cardiac surgeon having graduated from Virginia Commonwealth University (Medical College of Virginia) School of Medicine in 2013. Northwestern Memorial Hospital has the highest-ranked cardiology and heart surgery program in Illinois and is consistently recognized as among the top cardiology and heart surgery programs in the nation, according to U.S. News and World Report. Read more...
3 Patient Reviews for
Dr. Mehta
"I found out that I needed to have open heart surgery with a valve replacement and repair of an aortic aneurysm after a routine followup. Dr. Mehta was able to meet with me the next day and perform surgery the following week.
Dr. Mehta was incredibly detailed in going through options for surgery as well as which operation would likely have the best results for me. He was very knowledgeable and able to set both mine and my wife's worried minds at ease.
Surgery was uncomplicated. I spent a night in ICU and 3 nights on the floor. 7 weeks out from surgery, I'm back to normal and feel extremely fortunate to have had such an amazing team of doctors and nurses at Northwestern Medicine to help me through all of this.
I would highly recommend Dr. Mehta and his team at Northwestern. I know I had many options for this surgery, but I believe coming out with such a great result was due to Dr. Mehta being a part of it."
-- Adam Smitherman, Aortic Valve, Valve Replacement, Root Replacement, 05/28/2021

"In September 2020, I had my 2nd aortic valve replacement surgery to replace my prosthetic valve that was implanted 12 years ago. Dr. Mehta was extremely professional, very accessible and thoroughly communicated with me pre-surgery and post-op. He explained all my options, the processes and expectations following the surgery in a clear, easy to understand manner. It has now been 13 weeks since surgery and my recovery has gone extremely well. I highly recommend Dr. Mehta. "
-- Rich Sampson, Aortic Valve, Valve Replacement, 09/03/2020

> See 1 more patient testimonials
My Specialities &
Clinical Interests
My heart surgery specialties include:
Surgical and transcatheter aortic valve replacement
Valve-sparing aortic root replacement and bicuspid valve surgery
Mitral valve repair
In addition, I have research and clinical interests specific to:
Aortic aneurysms and dissections
Bicuspid aortic valve disease and connective tissue disorders
Mitral valve disease and atrial fibrillation
Education, Training & Certificates
Dr. Christopher Mehta, heart surgeon, graduated from Virginia Commonwealth University (Medical College of Virginia) School of Medicine in 2013.
After medical school, Dr. Mehta completed a Cardiothoracic Surgery Residency at Northwestern Memorial Hospital in 2019 and an Advanced Aortic Disease Fellowship at University of Pennsylvania in 2019.
Schedule Appointment

with Dr. Christopher Mehta, MD

To schedule an appointment with Dr. Mehta, you can:
Call

(888) 515-0285

right now
Request an appointment by clicking here.
The office of Dr. Mehta is located at 675 North St. Clair Street, Chicago, IL 60611. To get driving directions to this office, please click the map below.
> Click for driving directions to Dr. Mehta's office.
Watch Educational Videos with Dr. Christopher Mehta
Learn about heart valve surgery from Dr. Mehta in these videos:
Emergency Aortic Valve & Aortic Aneurysm Surgery with Dr. Christopher Mehta

Meet Dr. Christopher Mehta: Cardiac Surgeon at Northwestern Medicine

Advances in Heart Valve Reoperations Webinar with Dr. Christopher Mehta & Dr. Charles Davidson
News & Online References Featuring Dr. Christopher Mehta
Here is the latest news featuring Dr. Christopher Mehta:
Page last updated: July 14, 2022