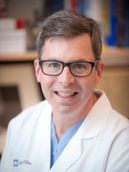 Dr. Marc Gillinov
Dr. Marc Gillinov

Heart Surgeon

Cleveland Clinic
9500 Euclid Avenue
Cleveland, OH 44195
About Dr. Marc Gillinov,
Heart
Valve

Surgeon

Hello! My name is Dr. Marc Gillinov and I am a cardiac surgeon at Cleveland Clinic. I graduated from Johns Hopkins University School of Medicine in 1988. To date, I have performed approximately 7,000 cardiac surgeries, of which 5,000 involved heart valve procedures. Read more...

78 Patient Reviews for
Dr. Gillinov

"I can't thank Dr. Gillinov and the Cleveland Clinic enough."
-- Robin Williams, heart valve surgery patient
"My cardiologist recommended me to have my mitral valve repaired by Dr. Gillinov. My cardiologist is my personal friend, and I knew she would only choose the best for me. Also, she knew I'd otherwise wait and wait and wait, since I had no symptoms.
After Dr.Gillinov thoroughly reviewed my test results, I was tentatively scheduled for robotic mitral valve repair. Dr Gillinov is straight-forward with answering questions and, especially for a surgeon, who normally pretty much only deals with non-responsive patients, is very nice, comforting and knowledgeable to talk with.
Now, 3 weeks post-op, my heart is beating so smoothly.....no weird noises anymore! I never knew my heart is supposed to beat like this. I will have another echo in 3 weeks and can't wait to start cardiac rehab. I want to forget about this surgery ASAP.....and that is exactly what Dr. Gillinov wants you to do. Forget about it, and live your life! Except....once a year get an echo and take daily baby aspirin. Pretty simple regimen. Dr. Gillinov is the man! Many thanks!"
-- Else Reed, Mitral Valve, Valve Repair, Robotic Surgery, 05/03/2021

> See 77 more patient testimonials
My Specialities &
Clinical Interests
My heart surgery specialties include:
Robotic mitral valve repair
Atrial fibrillation surgery
Aortic valve surgery and transcatheter valve surgery
In addition, I have research and clinical interests specific to:
Mitral valve repair
Robotic and minimally invasive heart valve surgery
Treatment of atrial fibrillation
Education, Training & Certificates
Dr. Marc Gillinov, heart surgeon, graduated from Johns Hopkins University School of Medicine in 1988.
After medical school, Dr. Gillinov completed a General Surgery Residency in 1994, a Cardiac Surgery Residency in 1996 and a Fellowship in 1997 at Johns Hopkins Hospital.
Dr. Gillinov is board certified in Thoracic & Cardiac Surgery. During his career, Dr. Gillinov has received several acknowledgments and awards including:
* 2014: Best Doctors, Cleveland Magazine * 2008 – present: The Judith Dion Pyle Chair in Heart Valve Research * 2007 – present: Principal Investigator, NIH Network for Cardiothoracic Surgical Investigations * 2005 – present: Principal Investigator, Atrial Fibrillation Innovation Center * 2005, 2007: Cleveland Clinic Innovator Award for New Techniques in Mitral Valve Repair
Schedule Appointment

with Dr. Marc Gillinov, MD

To schedule an appointment with Dr. Gillinov, you can:
Call

(866) 306-4652

right now
Request an appointment by clicking here.
The office of Dr. Gillinov is located at 9500 Euclid Avenue, Cleveland, OH 44195. To get driving directions to this office, please click the map below.
> Click for driving directions to Dr. Gillinov's office.
News & Online References Featuring Dr. Marc Gillinov
Here is the latest news featuring Dr. Marc Gillinov:
Page last updated: June 29, 2021