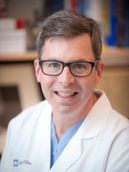 Dr. Marc Gillinov
Dr. Marc Gillinov

Heart Surgeon

Cleveland Clinic
9500 Euclid Avenue
Cleveland, OH 44195
(866) 306-4652
About Dr. Marc Gillinov,
Heart
Valve

Surgeon

Hello! My name is Dr. Marc Gillinov and I am a cardiac surgeon having graduated from Johns Hopkins University School of Medicine in 1988. To date, I have performed approximately 7,000 cardiac surgeries, of which 5,000 involved heart valve procedures. I regularly perform surgery at Cleveland Clinic. Read more...

72 Patient Reviews for
Dr. Gillinov

"I can't thank Dr. Gillinov and the Cleveland Clinic enough."
-- Robin Williams, heart valve surgery patient
"I felt very comfortable with Dr. Gillinov as my surgeon as he specializes in mitral valve surgery and performs several hundred mitral surgeries per year. Dr. Gillinov spent quite a bit of time with me before my surgery, discussing the procedure and answering all of my questions. He has a great bedside manner - very easy to talk to, explains things in layman's terms and is empathetic. His staff is top notch - attentive, understanding, answered questions and made me feel well cared for. I would highly recommend Dr. Gillinov!"
-- Pam Hascall, Mitral Valve, Valve Repair, 04/18/2019

> See 71 more patient testimonials
My Specialities &
Clinical Interests
My heart surgery specialties include:
Robotic mitral valve repair
Atrial fibrillation surgery
Aortic valve surgery and transcatheter valve surgery
In addition, I have research and clinical interests specific to:
Mitral valve repair
Robotic and minimally invasive heart valve surgery
Treatment of atrial fibrillation
Education, Training & Certificates
Dr. Marc Gillinov, heart surgeon, graduated from Johns Hopkins University School of Medicine in 1988.
After medical school, Dr. Gillinov completed a General Surgery Residency in 1994, a Cardiac Surgery Residency in 1996 and a Fellowship in 1997 at Johns Hopkins Hospital.
Dr. Gillinov is board certified in Thoracic & Cardiac Surgery. During his career, Dr. Gillinov has received several acknowledgments and awards including:
* 2014: Best Doctors, Cleveland Magazine * 2008 – present: The Judith Dion Pyle Chair in Heart Valve Research * 2007 – present: Principal Investigator, NIH Network for Cardiothoracic Surgical Investigations * 2005 – present: Principal Investigator, Atrial Fibrillation Innovation Center * 2005, 2007: Cleveland Clinic Innovator Award for New Techniques in Mitral Valve Repair
Schedule Appointment

with Dr. Marc Gillinov, MD

To schedule an appointment with Dr. Gillinov, you can:
Call

(866) 306-4652

right now
Request an appointment by clicking here.
The office of Dr. Gillinov is located at 9500 Euclid Avenue, Cleveland, OH 44195. To get driving directions to this office, please click the map below.
> Click for driving directions to Dr. Gillinov's office.
News Featuring Dr. Gillinov
Here is the latest news featuring Dr. Marc Gillinov:
Page last updated: June 17, 2020