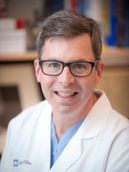 Dr. Marc Gillinov
Dr. Marc Gillinov

Heart Surgeon

Cleveland Clinic
9500 Euclid Avenue
Cleveland, OH 44195
(866) 306-4652
About Dr. Marc Gillinov,
Heart
Valve

Surgeon

Hello! My name is Dr. Marc Gillinov and I am a cardiac surgeon having graduated from Johns Hopkins University School of Medicine in 1988. To date, I have performed approximately 7,000 cardiac surgeries, of which 5,000 involved heart valve procedures. I regularly perform surgery at Cleveland Clinic. Read more...

54 Patient Reviews for
Dr. Gillinov

"I can't thank Dr. Gillinov and the Cleveland Clinic enough."
-- Robin Williams, heart valve surgery patient
"I had robotic mitral valve repair with Dr. Gillinov @ Cleveland Clinic about 7 weeks ago. Top notched surgeon and fantastic hospital. His reputation as a highly intelligent and caring surgeon is well deserved. The surgery went very well and I have no problem walking 45 min within the first week. The surgery outcome was so well that criteria were met to discharge me on the 3rd day post op. No temporary AFIB or Pump Head syndrome coming out from surgery. Cleveland Clinic is a well oiled organization and one thing very evident is that they have excellent cardiac staff all around from doctors, nurses, office manager, medical technicians, wheel chair transporters, janitorial, physical therapists and even the lady taking meal orders. My cardiologist is very surprised that I decided to go out of town to Cleveland Clinic to have the surgery instead of doing it at the local heart center of excellence. In the pre-surgery consultation, Dr. Gillinov answered all my questions and even offered more information at the end. He visited me post surgery in the cardiac ICU and also the step down unit. Dr. Gillinov even replied to my email within 8 min on a weekend! Surprisingly, the most pain post-surgery is actually the sore throat and not at the incision sites. Dr. Abdullah (anesthesiologist) did a swell job with the local nerve blockers in the chest. Pain is relatively tolerable for a major surgery. Within a couple days, was only down to extra strength Tylenol to manage pain. Completely weened off pain medication on the second week post-surgery. I highly recommend Dr. Gillinov and Cleveland Clinic for the robotic mitral valve repair. In a time of anxiety leading to surgery, the post-surgery experience with Dr. Gillinov and CCF was many times better than anticipated. "
-- Kian Tan, Mitral Valve, Valve Repair, Robotic Surgery, 10/22/2018

> See 52 more patient testimonials
My Specialities &
Clinical Interests
My heart surgery specialties include:
Robotic mitral valve repair
Atrial fibrillation surgery
Aortic valve surgery and transcatheter valve surgery
In addition, I have research and clinical interests specific to:
Mitral valve repair
Robotic and minimally invasive heart valve surgery
Treatment of atrial fibrillation
Education, Training & Certificates
Dr. Marc Gillinov, heart surgeon, graduated from Johns Hopkins University School of Medicine in 1988.
After medical school, Dr. Gillinov completed a General Surgery Residency in 1994, a Cardiac Surgery Residency in 1996 and a Fellowship in 1997 at Johns Hopkins Hospital.
Dr. Gillinov is board certified in Thoracic & Cardiac Surgery. During his career, Dr. Gillinov has received several acknowledgments and awards including:
* 2014: Best Doctors, Cleveland Magazine * 2008 – present: The Judith Dion Pyle Chair in Heart Valve Research * 2007 – present: Principal Investigator, NIH Network for Cardiothoracic Surgical Investigations * 2005 – present: Principal Investigator, Atrial Fibrillation Innovation Center * 2005, 2007: Cleveland Clinic Innovator Award for New Techniques in Mitral Valve Repair
Schedule Appointment

with Dr. Gillinov

To schedule an appointment with Dr. Gillinov, you can:
Call

(866) 306-4652

right now
Request an appointment by clicking here.
The office of Dr. Gillinov is located at 9500 Euclid Avenue, Cleveland, OH 44195. To get driving directions to this office, please click the map below.
> Click for driving directions to Dr. Gillinov's office.
News Featuring Dr. Gillinov
Here is the latest news featuring Dr. Marc Gillinov:
Page last updated: January 12, 2019