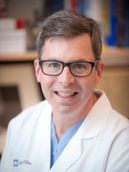 Dr. Marc Gillinov
Dr. Marc Gillinov

Heart Surgeon

Cleveland Clinic
9500 Euclid Avenue
Cleveland, OH 44195
About Dr. Marc Gillinov,
Heart
Valve

Surgeon

Hello! My name is Dr. Marc Gillinov and I am a cardiac surgeon at Cleveland Clinic. I graduated from Johns Hopkins University School of Medicine in 1988. To date, I have performed approximately 7,000 cardiac surgeries, of which 5,000 involved heart valve procedures. Read more...

75 Patient Reviews for
Dr. Gillinov

"I can't thank Dr. Gillinov and the Cleveland Clinic enough."
-- Robin Williams, heart valve surgery patient
"In July 2019, I was diagnosed with mitral valve regurgitation and was recommended to have surgery within the next 4 to 5 months. I did extensive research on the procedure that would be required to fix the issue. After educating myself, I produced a list of factors I would consider to determine the doctor and the hospital in which I would like to undergo heart surgery.
Through my research I found that I may be a candidate for robotics surgery. With that in mind, a robotics surgeon became one of the factors. Other factors included the number of surgeries the surgeon performs per year, the number of robotic surgeries the surgeon performs per year, number of mitral valve surgeries the surgeon had performed, hospital rating, doctor success rate, and a surgeon specializing in the mitral valve.
Through extensive research including, but not limited to, "Adams heart valve blog." I made a chart with each priority listed. After analyzing the final list, it was clear that Dr. Marc Gillinov and Cleveland Clinic stood out as the surgeon and hospital that we wanted to pursue. After communicating with Dr. Gillinov's staff, I was impressed with each person's helpfulness, kindness, and professionalism. After Dr. Gillinov reviewed my prior tests, it was determined that surgery was needed.
My surgery and testing was scheduled and thereafter, everything was synchronized like a well-oiled machine. After my tests were completed, Dr. Gillinov met with my family and me to review my test results in great detail and in terminology that could be understood. He made us feel very comfortable with asking questions and he spent a lot of time with us and did not seem rushed. Most importantly, during this meeting, Dr Gillinov informed me if all went as expected, he would be performing the robotics surgery.
Dr. Gillinov's warm, positive, confident personality, along with his caring attitude, was easy to detect. He has a heart to help people; something you cannot teach or learn. While in the surgical room and being prepared for surgery his outstanding team of doctors and nurses (9 or 10 team members) could not have been more considerate. Each person was preparing their area for surgery. Many, if not all, greeted me. Before being sedated, Dr. Gillinov called a huddle, the team of doctors nurses surrounded the table and reported their responsibilities. Dr. Gillinov closed out the huddle, saying "our team is the best, we know what we are doing, and we are good at it; and we got this!"
The surgery was very successful and I was able to have the robotics surgery. After surgery, the care was absolutely amazing. From the ICU to the step down unit. There was absolutely no step down in professionalism, kindness, or caring heart. From the nurses to the cleaning staff to the food delivery folks, you could tell that everyone was proud to be a part of the Cleveland Clinic.
Dr. Gillinov and his staff were always prompt in response to questions and concerns. After returning home, which is about a six hour drive from Cleveland, I was experiencing nerve pain in my leg from the bypass machine incision. I contacted Dr. Gillinov by email and he responded within 10 minutes. This, too, was handled promptly and professionally.
With all of this being said, if I had to repeat this process knowing what I know now, I would walk to Cleveland to receive the extraordinary services of Dr. Gillinov, his personal staff, nurses, and hospital support staff. They are number one in the world for a reason. It starts with the amazing culture, climate, and pride. As soon as you walk into the Cleveland Clinic doors, you feel the positive vibes.
Lastly, Dr. Gillinov provided an amazing surgical experience for me. He is an excellent surgeon with superb skills who appears to be an equally amazing person. Thank You, Dr Gillinov!"
-- Marc Arvon, Mitral Valve, Valve Repair, Robotic Surgery, 11/19/2019

> See 74 more patient testimonials
My Specialities &
Clinical Interests
My heart surgery specialties include:
Robotic mitral valve repair
Atrial fibrillation surgery
Aortic valve surgery and transcatheter valve surgery
In addition, I have research and clinical interests specific to:
Mitral valve repair
Robotic and minimally invasive heart valve surgery
Treatment of atrial fibrillation
Education, Training & Certificates
Dr. Marc Gillinov, heart surgeon, graduated from Johns Hopkins University School of Medicine in 1988.
After medical school, Dr. Gillinov completed a General Surgery Residency in 1994, a Cardiac Surgery Residency in 1996 and a Fellowship in 1997 at Johns Hopkins Hospital.
Dr. Gillinov is board certified in Thoracic & Cardiac Surgery. During his career, Dr. Gillinov has received several acknowledgments and awards including:
* 2014: Best Doctors, Cleveland Magazine * 2008 – present: The Judith Dion Pyle Chair in Heart Valve Research * 2007 – present: Principal Investigator, NIH Network for Cardiothoracic Surgical Investigations * 2005 – present: Principal Investigator, Atrial Fibrillation Innovation Center * 2005, 2007: Cleveland Clinic Innovator Award for New Techniques in Mitral Valve Repair
Schedule Appointment

with Dr. Marc Gillinov, MD

To schedule an appointment with Dr. Gillinov, you can:
Call

(866) 306-4652

right now
Request an appointment by clicking here.
The office of Dr. Gillinov is located at 9500 Euclid Avenue, Cleveland, OH 44195. To get driving directions to this office, please click the map below.
> Click for driving directions to Dr. Gillinov's office.
News & Online References Featuring Dr. Marc Gillinov
Here is the latest news featuring Dr. Marc Gillinov:
Page last updated: January 3, 2021