Surgeon Spotlight: Dr. Marc Gillinov Receives Praise Overload From Patients, Caregivers & Peers
By Adam Pick on January 4, 2012
During my research for my book and this website, I have been fortunate to meet several incredible surgeons. Dr. Marc Gillinov is one such surgeon.
I first heard the name "Dr. Marc Gillinov" from his former patients. One after the other, my inbox filled up with glowing testimonials for Dr. Gillinov. His patients used words like friendly, excellent, caring and outstanding to describe the Judith Dion Pyle Chair in Heart Valve Research at The Cleveland Clinic.

Above, you can see a picture of Dr. Gillinov and several patients from our community — Anita, Patrick, Bill, Jeffrey, Don, Sandy, Fran, and Sam — who chose Dr. Gillinov as their surgeon. Over the years, I have been fortunate to learn much more about this extraordinary man who practices at The Cleveland Clinic.  So you know, Dr. Gillinov has performed over 4,300 cardiac procedures. Of those, more than 2,600 have included valvular repair or replacement. In addition, Dr. Gillinov is widely respected for his research, his 200+ publications, his inventions and his humble ways.
To understand just how special Dr. Gillinov is… Consider that when Robin Williams, the actor and comedian, needed aortic and mitral valve surgery, he personally selected Dr. Gillinov as his surgeon.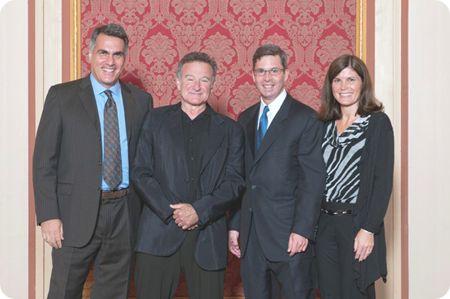 Dr. Marc Gillinov with Robin Williams, His Former Patient
Specific to our community at HeartValveSurgery.com, Dr. Marc Gillinov continues to impress and inspire me. Even with his hectic surgery and lecturing schedule, Dr. Gillinov always makes time for our patients and caregivers.
However, what you have not seen is the proactive nature by which Dr. Gillinov and his team — Betsy, Laura, Megan and others — mobilize their resources to support our patients. It is truly amazing to see Dr. Gillinov personally respond to our patient questions, sometimes within a matter of hours.
Needless to say, it is an honor work with Dr. Gillinov. It's also an honor to celebrate Dr. Gillinov as the current "Featured Heart Valve Surgeon" at the surgeon locator section of this website.
As one of his peers recently shared with me, "There are many surgeons. But, there is only one Marc Gillinov."
Keep on tickin' Dr. Gillinov!!!
Adam

Ruth says

on January 4th, 2012 at 5:16 pm
Dr. Gillinov was my surgeon who did an extremely difficult repair on my mitral valve. While I don't live in Cleveland, I selected Dr. Gillinov because of his credentials, expertise and rave reviews from other patients. I couldn't have been more correct. Not only is he one of the (if not THE) top cardio-thoracic surgeons anywhere, he is kind, considerate, caring and willing to take the extra time and effort to explain things in detail. Dr. Gillinov is HUMAN and I don't think this can be said for many surgeons. Love, love, love Dr. Gillinov. Ruth


Linda Dixon says

on January 4th, 2012 at 5:26 pm
Wow, am I the lucky one or what? Dr. Gillinov will be doing my aortic valve replacement in March! I have known since I was diagnosed several years ago that when the time came for surgery I wanted to go to Cleveland Clinic. Then, a few years ago, when I came across Adam's site saw Dr. Gillinov's webcasts and interviews, I knew he was the surgeon for me! When my cardiologist said "it's time" I mentioned my preference to Adam and in less than 48 hours I received instructions from Dr. Gillinov's staff on the records to send, etc. It took longer to assemble all the records than it did to hear back from Dr. G's nurse Kathy with a surgery date and Dr. G's recommendations! I am not a celebrity, I am not wealthy and I am just a regular person who has a heart that needs fixing. Am I lucky or what?
Linda Dixon
Aortic stenosis
Dilated aorta


Fran Zilko says

on January 4th, 2012 at 9:28 pm
Like Ruth, I traveled from SW FL to the Cleveland Clinic to have Dr. Gillinov perform my surgery in March of 2009. He did a tricuspid repair and gave me a bovine mitral valve. Met him the day before my surgery after 3 days of testing at an amazing hospital. Ruth said it all. I would add that he is a humble man, something not found often in surgeons. Linda, yes, you are one lucky lady.


Ruth says

on January 4th, 2012 at 10:33 pm
Linda,
You will not be sorry. It is well worth the trip to the Cleveland Clinic. It has been THE best heart hospital for 16 years. I had a lot of unusual complications and had it not been for Dr. Gillinov and the Cleveland Clinic, I am sure I would not have survived. But here I am nine months later. I think you will love Dr. Gillinov and you will find the entire staff at CCF totally professional, very attentive, well qualified and eager to help you. Best of luck to you. Pls. say hi to Dr. Gillinov for me. Tell him Ruth from Maine. We are still in touch so I am sure he will recognize my name. Ruth


Deb Ziegler says

on January 6th, 2012 at 8:41 pm
I, too, traveled to Cleveland to have my valves repaired by Dr. Gillinov. While I was anxious about being so far from home and family, I decided I wanted the best possible doctor I could find to cut my heart open. Not only did I find the best doctor, I also found an amazing human being. Dr. Gillinov could not be kinder, more humble or more compassionate…….he truly is everything I could imagine the perfect surgeon being!


Jim Hilbe says

on January 10th, 2012 at 9:22 am
My wife and I live in California, yet we are both patients at Cleveland Clinic. We go there at least annually, sometimes 2 or even 3 times. She had aortic valve replacement there in 2009, and expects re-operation no later than 2029. We have met numerous physicians there, every single one of them is outstanding. We have not met Dr. Gillinov yet, but he is already at the top of our list for our next heart operation.
Jim Hilbe

Adam's Newest Blogs
Adam's Newest Posts