Special Announcement: Dr. Gillinov's Internet Chat Transcript Available Now!
Earlier this month, Dr. A. Marc Gillinov – one of the leading heart valve surgeons from The Cleveland Clinic – held an exclusive, online chat with our patient and caregiver community. Thanks to your interactive participation, this event was an overwhelming success!!!
Today, I am excited to announce that the written transcript of Dr. Gillinov's chat, "Advancements In Heart Valve Surgery", is now available for free download. Simply click here to download the 27-page transcript.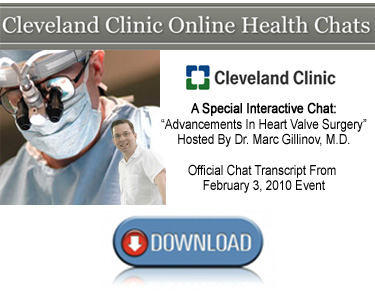 Thanks again to The Cleveland Clinic, Dr. Gillinov and, of course, all of the patients and caregivers who attended the event and submitted questions.
Keep on tickin!