Mother & Son Share Special Heart Surgery Bond Thanks to Dr. Marc Gillinov!
By Adam Pick on June 17, 2020
There is nothing better than an extraordinary patient success story.  For example, this story of Kathy Chelton, Carter Chelton (her son), and Dr. Marc Gillinov (their surgeon) made me smile from ear-to-ear.  Here is what Kathy, from Liberty, Missouri, wrote to me:
My 18-year old son, Carter, was released from Cleveland Clinic today!  Dr. Marc Gillinov performed his mitral valve repair surgery.  It went very well!
Dr. Gillinov also performed mitral and tricuspid valve repair surgery for me in 2017.  Not the mother/son bond I wanted, but here we are!  Dr. Gillinov is amazing, as is the well-oiled machine here in Cleveland.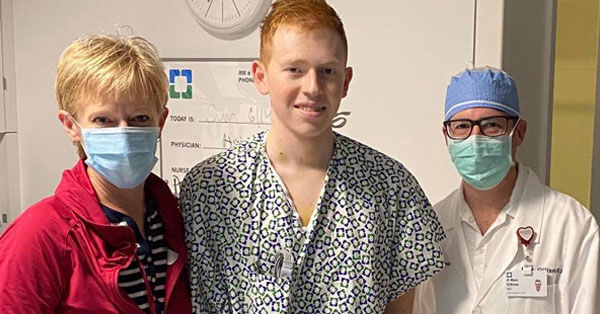 Kathy, Carter & Dr. Marc Gillinov
We visited the clinic for his evaluation on March 9, 2020 the first day of my son's college spring break.  We learned at this visit that his mitral valve needed to be repaired because he had 3+ mitral regurgitation and his left ventricle was somewhat enlarged.  Never would we have dreamed that one week later the country would be on lockdown for the coronavirus pandemic!!
My boy was quite the trooper through quarantine with the parents and one friend who stayed with us for eight weeks at our lake home. Carter finished his semester online while we worked on renovation projects. Then, we waited for surgery day which was scheduled for May 27, 2020.  Unfortunately, Dr. Gillinov had a family emergency.  So, our date was pushed back two weeks.  Once again, my son took it in stride.
The night before surgery… Storms rolled through Cleveland followed by the most beautiful rainbow that appeared to end at the Cleveland Clinic.  As his mom, I truly felt like God had given me a sign that everything was going to be okay. Deep down, I knew it would be okay because I knew Carter was in the best of Dr. Gillinov's hands.  Dr. Gillinov reassured our family that he would take care of Carter just as he would his own child.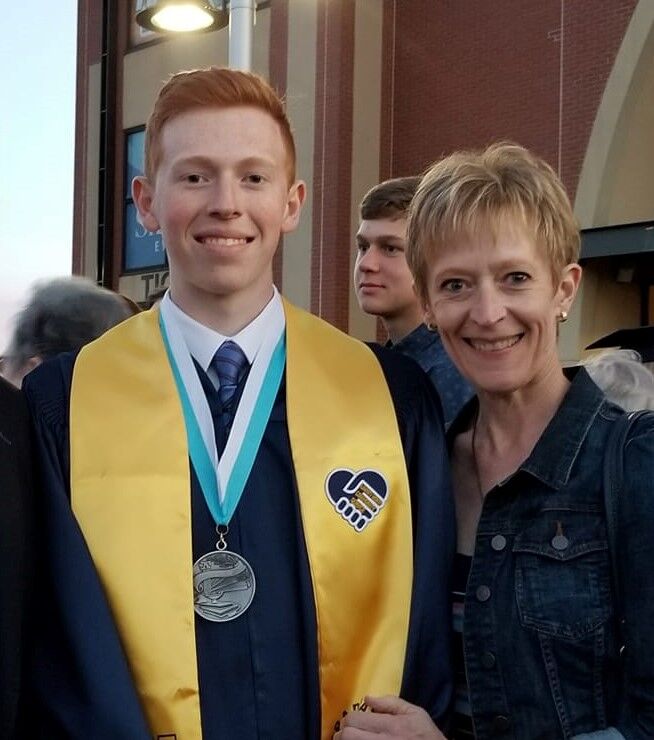 Carter & Kathy Chelton (Mitral Valve Surgery Patients)
Surgery went well. Carter had some rough nights after surgery.  But just a couple of days later… If you didn't know Carter had open heart surgery, you really wouldn't be able to tell by looking at him.  Oh, the beauty of being 18!!
My son had the same nurse practitioner, Julia Ehlers, at discharge that I had during my stay at the Cleveland Clinic.  I can't say enough good things about Julia!!  She's fabulous.  We discovered during my stay that Julia and I both had a connection to Missouri.
It it so comforting to "feel at home" with the same staff at the Cleveland Clinic while being so far from our actual home.
To Dr. Gillinov and Cleveland Clinic… You hold a special place in our now-repaired hearts!!!
Love,
Kathy & Carter Chelton
P.S.  Adam:  One thing I forgot to mention… I have followed your newsletter ever since I had my surgery.  When all of this coronavirus stuff started and they stopped elective surgeries, naturally we wondered if his was considered elective or not.  Then I got your newsletter that had the interview with Dr. Gillinov that addressed this exact question.  It made so much sense – not "elective vs non-elective" but "essential vs non-essential".  That was so helpful and much appreciated!
Adam's Newest Blogs
Adam's Newest Posts