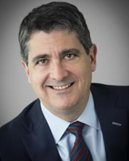 Dr. Eric Roselli
Dr. Eric Roselli

Heart Surgeon

Cleveland Clinic
9500 Euclid Avenue
Cleveland, OH 44195
About Dr. Eric Roselli,
Heart
Valve

Surgeon

Hello! My name is Dr. Eric Roselli and I am a cardiac surgeon having graduated from Loyola University Stritch School of Medicine - Chicago, Illinois in 1997. To date, I have performed approximately 5,000 cardiac surgeries, of which 3,000 involved heart valve procedures. I regularly perform surgery at Cleveland Clinic. Read more...
21 Patient Reviews for
Dr. Roselli

"My husband and I were very, very impressed with Dr. Roselli. He is very down to earth with a great bedside manner. "
-- Denise Kirchner, heart valve surgery patient
"We could not be happier and thankful to have had Dr. Roselli as our surgeon. My husband (29 years old) had a genetic thoracic aortic aneurysm and Dr. Roselli was the first doctor to be proactive and move forward with his surgery as quickly as possible. He removed his aneurysm and was able to save his valve. If this procedure was not done when it was, we are not sure where we would end up in the near future. He saved my husband's life and we are forever grateful! Fantastic bedside manner as well. He has your undivided attention when he is with you and genuinely cares for his patients. Thank you again Dr. Roselli!!"
-- Zachery Shiner, Aortic Valve, Valve Repair, David Procedure, 03/28/2022

> See 20 more patient testimonials
My Specialities &
Clinical Interests
My heart surgery specialties include:
Surgery for thoracic aortic aneurysm
Minimally invasive and transcatheter heart valve surgery
High-risk reoperation surgery
In addition, I have research and clinical interests specific to:
Least invasive and transcatheter valve procedures, transcatheter aortic valve replacement
High risk and redo valve surgery
Aortic aneurysms and dissection associated with valve disease (Bicupsid aortic valves)
Education, Training & Certificates
Dr. Eric Roselli, heart surgeon, graduated from Loyola University Stritch School of Medicine - Chicago, Illinois in 1997.
After medical school, Dr. Roselli completed a Thoracic and Cardiovascular Surgery Residency at the Cleveland Clinic in 2002.
Dr. Roselli is board certified for Thoracic and Cardiac Surgery. During his career, Dr. Roselli has received several acknowledgments and awards including:
* 2015: Dwight C. McGoon Award from the Thoracic Surgery Residents Association (Teacher of the Year, national) * 2008, 2011: Bruce W. Lytle Master Clinical Instructor Award (Teacher of the Year, departmental) * 2005: Dr. Charles H. Bryan Annual Award for Clinical Excellence in Thoracic and Cardiovascular Surgery, Cleveland Clinic
Schedule Appointment

with Dr. Eric Roselli, MD

To schedule an appointment with Dr. Roselli, you can:
Call

(866) 306-5846

right now
Request an appointment by clicking here.
The office of Dr. Roselli is located at 9500 Euclid Avenue, Cleveland, OH 44195. To get driving directions to this office, please click the map below.
> Click for driving directions to Dr. Roselli's office.
Watch Educational Videos with Dr. Eric Roselli
Learn about heart valve surgery from Dr. Roselli in these videos:
Ari's Patient Success Story: Shared Decision Making for Heart Valve Patients with Dr. Eric Roselli

Surgeon Q&A: Bicuspid Aortic Valve & Valve Sparing Root Replacement Advantages with Dr. Eric Roselli

Valve Sparing Aortic Root Replacement: Surgeon Roundtable with Dr. Roselli and Dr. Koprivanac

Ask Dr. Roselli: Bicuspid Aortic Valve & Aortic Aneurysm Surgical Innovations
News & Online References Featuring Dr. Eric Roselli
Here is the latest news featuring Dr. Eric Roselli:
Page last updated: October 19, 2022