"Ask Adam Anything" Videos from Facebook LIVE Just Posted!
By Adam Pick on October 15, 2018
In case you missed it…  Our first "Ask Adam Anything" video series on Facebook LIVE was amazing!!!  So many great questions.  So many great answers! To educate and empower you, I just posted the videos with Drs. Bolling, McCarthy and Roselli below, in our Videos section, and in our YouTube channel.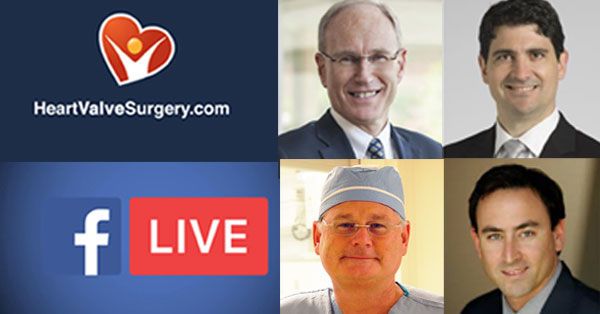 Facebook LIVE #1 – Dr. Eric Roselli, Cleveland Clinic
In our first "Ask Adam Anything" video, Dr. Eric Roselli, the Chief of Adult Cardiac Surgery at the Cleveland Clinic, talked about several important topics including aortic valve disease, calcified valves, valve durability, the importance of a positive patient attitude, aneurysms, minimally invasive procedures, new valve technologies and more.
Facebook LIVE #2 – Dr. Steve Bolling, Michigan Medicine
During our second Facebook LIVE at the Heart Valve Summit, Dr. Steve Bolling addressed mitral valve disease causes, the results of the recent COAPT trial that used the MitraClip device, new transcatheter mitral valve replacement technologies, patient responsibilities during heart surgery recovery, asymptomatic patients, pre-surgery medications, pericarditis, antibiotic use after heart surgery, pumphead, and more. So you know, Dr. Steven Bolling is the Director of the Mitral Valve Program and a Professor of Cardiac Surgery at Michigan Medicine.
Facebook LIVE #3 – Dr. Patrick McCarthy, Northwestern Memorial Hospital
In our last session at the Heart Valve Summit, Dr. Patrick McCarthy, the Chief of Cardiac Surgery at Northwestern Memorial Hospital, addressed complex and multiple heart valve surgery, the patient mind before-and-after surgery, timing heart valve surgery, tricuspid valve disease, surgeon disclosures, aneurysms, atrial fibrillation, new clinical trials and more.
Many Thanks & Great Job Everybody!
On behalf of our community, I need to extend a mighty thanks to Drs. Bolling, McCarthy and Roselli for supporting our first Facebook LIVE event at the Heart Valve Summit.  I also need to thank the organizers of the 2018 Heart Valve Summit who put together such a wonderful, educational event.  A special thanks goes out to Dr. Adams, Dr. Bonow, Ashley Quinn and Gideon Sims.
Lastly, I would like to THANK YOU, the awesome people in our community!!!  So you know, I received over 150 questions for this event.  While I could not answer everybody's question, I'm hopeful the information provided in each of these videos will help you, your family members and friends!!!
Great job everybody!!!  Keep on tickin!!!
Adam

Joel pinker says

on October 17th, 2018 at 6:34 pm
So so glad we have you for a advocate. Information is key and you provide more and more every day. Thanks so much for all that you do!


Adam says

on October 17th, 2018 at 10:26 pm
Wow Joel! Thanks so much for your very kind words! You just made my day!!!!!


Lisa Ferguson says

on November 7th, 2018 at 2:06 am
Really enjoyed Dr. Roselli's Q & A, especially his excellent description of what causes calcification and what it actually is. I've never heard it explained that way. In fact, I think a blog about just that would be really helpful. I imagine most non-doctor folks think it has something to do with calcium intake.
Dr. Bolling's assertion that getting a valve repair means you are "done" was a bit frustrating. I know I represent a small percentage, but not all valve repair patients are done. I think it's fair to say that it may be the goal, but like with any procedure, there are exceptions, and some patients need to be more carefully watched (more than they would like)!

Adam's Newest Blogs
Adam's Newest Posts