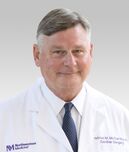 Dr. Patrick McCarthy
Dr. Patrick McCarthy

Heart Surgeon

Northwestern Memorial Hospital
675 N St. Clair Street
Chicago, IL 60610
About Dr. Patrick McCarthy,
Heart
Valve

Surgeon

Hello! My name is Dr. Patrick McCarthy and I am a cardiac surgeon having graduated from Loyola in 1980. To date, I have performed approximately 10,000 cardiac surgeries, of which 5,000 involved heart valve procedures. I regularly perform surgery at Northwestern Memorial Hospital. Read more...
180 Patient Reviews for
Dr. McCarthy

"We instantly liked Dr. Patrick McCarthy. My recovery from aortic valve replacement has been excellent!"
-- John DiFazio, heart valve surgery patient
"After 2 years of increasing shortness of breath, I was finally diagnosed with a sub-aortic membrane which was causing a left ventricular outflow tract obstruction.
It required full open heart surgery to repair. My regular cardiologist immediately recommended Dr. McCarthy and now I know why.
He is the best cardiac surgeon in the Midwest and definitely one of the top in the country. Five weeks post-op, I am breathing better and recovering beautifully from a highly invasive surgery that scared me to death. But, I'd do it again and recommend Dr. McCarthy to anyone with this extremely rare heart defect."
-- Susan King, Pulmonary Valve, Median Sternotomy, 03/07/2022

> See 179 more patient testimonials
My Specialities &
Clinical Interests
My heart surgery specialties include:
Mitral valve repair & replacement
Aortic valve, bicuspid aortic valve and aneurysm operations
Maze surgery for atrial fibrillation and tricuspid valve surgery
In addition, I have research and clinical interests specific to:
Tricuspid surgery
Mitral repair
Atrial fibrillation treatment with valve surgery
Education, Training & Certificates
Dr. Patrick McCarthy, heart surgeon, graduated from Loyola in 1980.
After medical school, Dr. McCarthy completed a General Surgery Residency at the Mayo Clinic in 1985, a Cardiac Surgery Residency at the Mayo Clinic in 1988, and a Heart Transplant Fellowship at Stanford University Hospital in 1989.
Patrick McCarthy, MD is board certified in Thoracic Surgery (Cardiothoracic Vascular Surgery) and Thoracic and Cardiac Surgery.
Schedule Appointment

with Dr. Patrick McCarthy, MD

To schedule an appointment with Dr. McCarthy, you can:
Call

(888) 531-7541

right now
Request an appointment by clicking here.
The office of Dr. McCarthy is located at 675 N St. Clair Street , Chicago, IL 60611. To get driving directions to this office, please click the map below.
> Click for driving directions to Dr. McCarthy's office.
Watch Educational Videos with Dr. Patrick McCarthy
Learn about heart valve surgery from Dr. McCarthy in these videos:
Mitral Valve Repair & AFib Success Story: Ed Can Walk Upstairs Again

Research Alert: Is Early Surgery Best for Asymptomatic Mitral Regurgitation Patients?

REPAIR MR Clinical Trial: What Should Patients Know?

New Approach To Bicuspid Aortic Valve Disease Treatment with Dr. Patrick McCarthy, MD

Mitral Valve Repair Patient Success Story: Jim Kelly

Ask The Expert: Tricuspid Heart Valve Surgery with Dr. Patrick McCarthy

Understanding Mitral Regurgitation with Dr. Patrick McCarthy

Doctor Q&A: What Can Heart Valve Surgery Patients Expect In The Hospital?
Page last updated: April 20, 2022