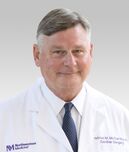 Dr. Patrick McCarthy
Dr. Patrick McCarthy

Heart Surgeon

Northwestern Memorial Hospital
675 N St. Clair Street
Chicago, IL 60611
About Dr. Patrick McCarthy,
Heart
Valve

Surgeon

Hello! My name is Dr. Patrick McCarthy and I am a cardiac surgeon having graduated from Loyola in 1980. To date, I have performed approximately 10,000 cardiac surgeries, of which 5,000 involved heart valve procedures. I regularly perform surgery at Northwestern Memorial Hospital. Read more...
184 Patient Reviews for
Dr. McCarthy

"We instantly liked Dr. Patrick McCarthy. My recovery from aortic valve replacement has been excellent!"
-- John DiFazio, Aortic Valve, Valve Replacement, 11/02/2010

"Absolutely excellent.
Our first meeting was a discussion about my symptoms and treatment options. All of my questions were answered clearly and, while I had no small number of questions, Dr. McCarthy was in no rush to conclude the meeting. Post-surgery, he visited my hospital room twice for chats.
Another exceptional aspect of my care under Dr. McCarthy was the "team effort" among many members of the cardiac staff that made my five-day stay as comfortable as possible -- there when I needed them, fully knowledgeable about the appropriate medical procedures, professional at all times.
To conclude, the surgery was 100% successful."
-- Robert Chirinko, Mitral Valve, Valve Repair, 08/09/2022

> See 183 more patient testimonials
My Specialities &
Clinical Interests
My heart surgery specialties include:
Mitral valve repair & replacement
Aortic valve, bicuspid aortic valve and aneurysm operations
Maze surgery for atrial fibrillation and tricuspid valve surgery
In addition, I have research and clinical interests specific to:
Tricuspid surgery
Mitral repair
Atrial fibrillation treatment with valve surgery
Education, Training & Certificates
Dr. Patrick McCarthy, heart surgeon, graduated from Loyola in 1980.
After medical school, Dr. McCarthy completed a General Surgery Residency at the Mayo Clinic in 1985, a Cardiac Surgery Residency at the Mayo Clinic in 1988, and a Heart Transplant Fellowship at Stanford University Hospital in 1989.
Patrick McCarthy, MD is board certified in Thoracic Surgery (Cardiothoracic Vascular Surgery) and Thoracic and Cardiac Surgery.
Schedule Appointment

with Dr. Patrick McCarthy, MD

To schedule an appointment with Dr. McCarthy, you can:
Call

(888) 531-7541

right now
Request an appointment by clicking here.
The office of Dr. McCarthy is located at 675 N St. Clair Street , Chicago, IL 60611. To get driving directions to this office, please click the map below.
> Click for driving directions to Dr. McCarthy's office.
Watch Educational Videos with Dr. Patrick McCarthy
Learn about heart valve surgery from Dr. McCarthy in these videos:
Ask Dr. McCarthy: Stroke Risk Reduction for Atrial Fibrillation & Heart Valve Patients

Research Alert: Is Early Surgery Best for Asymptomatic Mitral Regurgitation Patients?

Mitral Valve Repair & AFib Success Story: Ed Can Walk Upstairs Again

New Approach To Bicuspid Aortic Valve Disease Treatment with Dr. Patrick McCarthy, MD

Mitral Valve Repair Patient Success Story: Jim Kelly

Ask The Expert: Tricuspid Heart Valve Surgery with Dr. Patrick McCarthy

Understanding Mitral Regurgitation with Dr. Patrick McCarthy

Doctor Q&A: What Can Heart Valve Surgery Patients Expect In The Hospital?

REPAIR MR Clinical Trial: What Should Patients Know?
Page last updated: August 21, 2023