Surgeon Spotlight: Dr. Patrick McCarthy
Bluhm Cardiovascular Institute at Northwestern Medicine, Chicago, Illinois - Sponsored Post
Most cardiac surgeons perform less than ten mitral valve surgeries per year, especially the more complex mitral valve repair surgery. Patrick M. McCarthy, MD, executive director of Northwestern Medicine Bluhm Cardiovascular Institute and vice president of Northwestern Medical Group has performed several thousand. He has taught hundreds of cardiac surgeons around the world how to perform mitral valve repair and lectured about his technique and his exceptional clinical results. He has had the unique opportunity to perform mitral valve surgery for a live audience of surgeons and cardiologists in India, China and Russia.
Although there are approximately 60 open heart surgery programs in Illinois, it is no surprise that Northwestern Memorial Hospital performs one third of the heart valve operations in the state. Cardiologists around the country regularly send McCarthy the most complex heart valve patients. For the most common type of mitral regurgitation, degenerative mitral disease (also known as Barlow's disease or mitral valve prolapse), McCarthy has a repair rate of 98% since he arrived at Northwestern Memorial Hospital from the Cleveland Clinic in 2004. Also, his results demonstrate remarkably that 99.6% of his mitral valve repair patients are free from needing a second operation 10 years after the initial valve repair.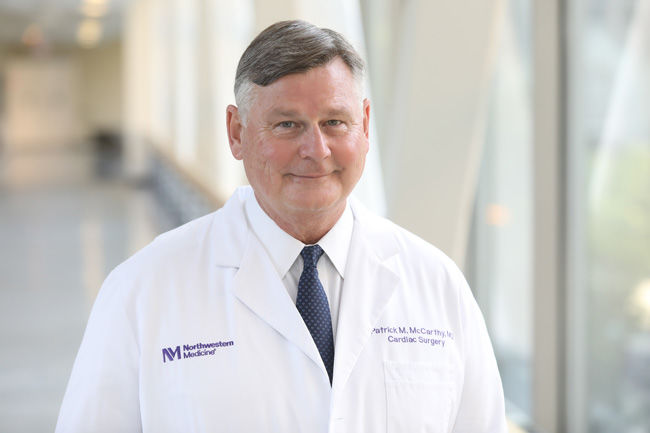 McCarthy also has a longstanding interest in surgically treating atrial fibrillation, a condition that places patients at risk for stroke and other complications. Atrial fibrillation is present in about 50% of patients requiring mitral valve surgery. The surgical procedure that McCarthy performs to eliminate atrial fibrillation is called the Cox-Maze procedure. He was the second cardiac surgeon in the world to perform this procedure and the first in the world to combine this procedure with mitral valve repair. Adding the Cox-Maze procedure to mitral valve surgery for patients with atrial fibrillation is considered a "Class I" recommendation by both the American College of Cardiology and the American Heart Association meaning that the treatment has been found to be beneficial, useful, and effective. Northwestern Memorial Hospital practices this "Class I" recommendation on approximately 97% of mitral valve patients with atrial fibrillation, versus the national average of 50%.
In 2004 McCarthy was drawn away from the Cleveland Clinic to the Northwestern Memorial Hospital "Patients First" culture to build a world-class cardiovascular program. He now oversees cardiovascular services at ten hospitals in the Northwestern Medicine system, but he still makes time to care for patients, his life passion.

Page last updated: September 17, 2020