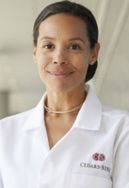 Dr. Joanna Chikwe
Dr. Joanna Chikwe

Heart Surgeon

Smidt Heart Institute at Cedars-Sinai
8700 Beverly Boulevard
Los Angeles, CA 90048
About Dr. Joanna Chikwe,
Heart
Valve

Surgeon

Hello! My name is Dr. Joanna Chikwe and I am a cardiac surgeon having graduated from Oxford University in 1997. To date, I have performed approximately 2,000 cardiac surgeries, of which most involved heart valve procedures. I regularly perform surgery at Smidt Heart Institute at Cedars-Sinai. Read more...
30 Patient Reviews for
Dr. Chikwe
"I first discovered Dr. Chikwe on the Adam Pick's website: https://www.heart-valve-surgery.com/ which is a welcoming wealth of information for those facing open heart surgery.
After listening to her very educational and informative videos, plus reviewing her bio I knew she would be my surgeon of choice for my open heart surgery. Dr. Chikwe and her whole team gave me a sense of security and you knew this is where excellence happens! Like a well orchestrated symphony, Dr. Chikwe's team assures a level of ease.
With Mary Alvardo, the Patient Service Representative handling the scheduling and all of the questions and the very helpful hand and beautiful smile of Vivian Burkhart, Dr. Chikwe's NP. You just know having the world's experts at your bedside you would have the best possible outcome. They are truly pros giving you 5 star treatment. In return, I give Dr. Chikwe and her entire team and the staff at Cedars-Sinai the stars of the galaxies! Thank you saving my heart! "
-- Stan Waltemyer, Mitral Valve, Valve Repair, 05/19/2022

"Can't say enough about Dr. Chikwe! There is a reason she has the reputation that she does.
She specializes in mitral valve repair with minimally invasive robotic surgery. Her bedside manner is outstanding. Such a kind and caring doctor. I am extremely happy with my results thus far and highly recommend her.
After all, you want the best of the best when it comes to the heart surgery and that she is!"
-- Scott Wallace, Mitral Valve, Valve Repair, Robotic Surgery, 05/04/2022

> See 28 more patient testimonials
My Specialities &
Clinical Interests
My heart surgery specialties include:
Less invasive surgery, small incisions
Mitral valve repair
Coronary bypass grafting
In addition, I have research and clinical interests specific to:
Mitral valve surgery
Frailty
Coronary revascularization
Education, Training & Certificates
Dr. Joanna Chikwe, heart surgeon, graduated from Oxford University in 1997.
After medical school, Dr. Chikwe completed a cardiothoracic surgery residency and fellowship training in the United Kingdom, where she was appointed a Fellow of the Royal College of Surgeons in 2006.
Upon moving to the United States, Dr. Chikwe began practicing cardiac surgery in the Department of Cardiovascular Surgery at The Mount Sinai Hospital in New York City, New York where she became a Professor of Cardiovascular Surgery.
In 2019, Dr. Chikwe was named the Founding Chair of Cardiac Surgery at Smidt Heart Institute at Cedars-Sinai Medical Center in Los Angeles, California.
Dr. Chikwe has contributed to over 100 research publications. Her interests include structural heart disease, coronary revascularization, quality improvements and comparative surgical outcomes.
Schedule Appointment

with Dr. Joanna Chikwe, MD

To schedule an appointment with Dr. Chikwe, you can:
Call

(866) 345-1289

right now
Request an appointment by clicking here.
The office of Dr. Chikwe is located at 8700 Beverly Boulevard, Los Angeles, CA 90048. To get driving directions to this office, please click the map below.
> Click for driving directions to Dr. Chikwe's office.
Watch Educational Videos with Dr. Joanna Chikwe
Learn about heart valve surgery from Dr. Chikwe in these videos:
Life Expectancy & Heart Valve Surgery: Patient Insights with Dr. Joanna Chikwe

Mitral Valve Surgery: Advances in Minimally-Invasive & Transcatheter Procedures with Dr. Chikwe

Go Red for Women: Heart Valve Surgery From a Woman's Perspective (with Dr. Joanna Chikwe)

Pregnancy & Heart Valve Disease: What Should Patients Know?

Robotic Mitral Valve Repair Surgery: What Should Patients Know?
News & Online References Featuring Dr. Joanna Chikwe
Here is the latest news featuring Dr. Joanna Chikwe:
Page last updated: July 25, 2022