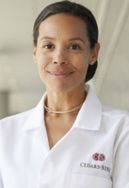 Dr. Joanna Chikwe
Dr. Joanna Chikwe

Heart Surgeon
Cedars-Sinai Medical Center
8700 Beverly Boulevard
Los Angeles, CA 90048
About Dr. Joanna Chikwe,
Heart
Valve

Surgeon

Hello! My name is Dr. Joanna Chikwe and I am a cardiac surgeon having graduated from Oxford University in 1997. To date, I have performed approximately 2,000 cardiac surgeries, of which most involved heart valve procedures. I regularly perform surgery at Cedars-Sinai Medical Center. Read more...

14 Patient Reviews for
Dr. Chikwe
"I decided to have a consultation with Dr. Joanna Chikwe of Cedars Sinai in Beverly Hills, CA who is one of the top minimally invasive, robotically assisted cardiac surgeons in the country and the founding Chair of the Department of Cardiac Surgery at the Smidt Heart Institute.
I called her office and was scheduled for an immediate consultation a few days later at the Smidt Heart Institute with Dr. Joanna Chikwe, Asma Hussaini (DR Chikwe's P.A.) and Mary Alvarado, the Patient Service Representative. Upon arriving at the Heart Institute I was greeted by a caring and understanding staff who made me feel safe and comfortable while talking through my options.
Dr. Chikwe was confident that she could repair my mitral valve and a replacement would most likely not be necessary as my Cardiologist had told me. I was in the Hospital for emergency Mitral Valve Surgery within a few days. The entire Cedars-Sinai hospital staff made me feel very comfortable leading up to the surgery and in the days following the procedure. I was discharged from the hospital after a few days with minor discomfort and a new outlook and hope for my life.
It has been about 3 1/2 weeks since my surgery on 10/22/20 and I am feeling great! Recovery has been surprisingly easy due to the minimally invasive procedure, and I returned to work a few days ago. As I write this, my new heart is filled with gratitude and my eyes are filled with tears for the caring and very capable Dr. Chikwe and the entire staff at Cedars-Sinai for saving my life.
I hope that each and every person reading this, who must face this unsure and frightening challenge in their lives, can take some comfort in knowing that there are special people like Dr. Joanna Chikwe and her staff that are there for us in our biggest time of need."
-- Brandon Hammer, Mitral Valve, Valve Repair, Robotic Surgery, 10/22/2020

"I am very grateful to Dr. Joanna Chikwe and Dr. Alfredo Trento as well as the surgical team, physician's assistants, and nurses for the excellent professional care I received during my stay from March 19 through 22 for my mitral valve repair.
Our prior research informed us that it is very important to choose a team with extensive valve repair experience, both for the surgeons and the technical support team. Drs. Chikwe and Trento are world class surgeons with extensive expertise in robotic repair of mitral valves and this team ranks as one of the best on the west coast.
Dr. Chikwe is a strong advocate for valve repair as opposed to replacement whenever possible as this leads to a more durable outcome. I came to surgery with significant regurgitation that was completely corrected by the robotic surgery. Dr. Chikwe explained the surgical outcome to my wife after the surgery in very clear terms.
I was impressed with her bed side manner and follow-up care of me. The nursing staff was exceptional in their kind care of me after surgery. I had very little pain afterwards and was up and walking the day after surgery. At two months after surgery, I was walking 10,000 steps per day. I would advise anyone needing mitral valve repair to consider Dr. Chikwe's team for the surgery."
-- Richard Maki, Mitral Valve, Valve Repair, Robotic Surgery, 03/19/2020

> See 12 more patient testimonials
My Specialities &
Clinical Interests
My heart surgery specialties include:
Less invasive surgery, small incisions
Mitral valve repair
Coronary bypass grafting
In addition, I have research and clinical interests specific to:
Mitral valve surgery
Frailty
Coronary revascularization
Education, Training & Certificates
Dr. Joanna Chikwe, heart surgeon, graduated from Oxford University in 1997.
After medical school, Dr. Chikwe completed a cardiothoracic surgery residency and fellowship training in the United Kingdom, where she was appointed a Fellow of the Royal College of Surgeons in 2006.
Upon moving to the United States, Dr. Chikwe began practicing cardiac surgery in the Department of Cardiovascular Surgery at The Mount Sinai Hospital in New York City, New York where she became a Professor of Cardiovascular Surgery.
In 2019, Dr. Chikwe was named the Founding Chair of Cardiac Surgery at Smidt Heart Institute at Cedars-Sinai Medical Center in Los Angeles, California.
Dr. Chikwe has contributed to over 100 research publications. Her interests include structural heart disease, coronary revascularization, quality improvements and comparative surgical outcomes.
Schedule Appointment

with Dr. Joanna Chikwe, MD

To schedule an appointment with Dr. Chikwe, you can:
Call

(866) 345-1289

right now
Request an appointment by clicking here.
The office of Dr. Chikwe is located at 8700 Beverly Boulevard, Los Angeles, CA 90048. To get driving directions to this office, please click the map below.
> Click for driving directions to Dr. Chikwe's office.
News Featuring Dr. Chikwe
Here is the latest news featuring Dr. Joanna Chikwe:
Page last updated: November 19, 2020