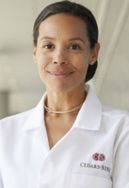 Dr. Joanna Chikwe
Dr. Joanna Chikwe

Heart Surgeon

Cedars-Sinai Medical Center
8700 Beverly Boulevard
Los Angeles, CA 90048
About Dr. Joanna Chikwe,
Heart
Valve

Surgeon

Hello! My name is Dr. Joanna Chikwe and I am a cardiac surgeon having graduated from Oxford University in 1997. To date, I have performed approximately 2,000 cardiac surgeries, of which most involved heart valve procedures. I regularly perform surgery at Cedars-Sinai Medical Center. Read more...

23 Patient Reviews for
Dr. Chikwe
"Words alone can not express my gratitude and appreciation for Dr. Chikwe's superior skills, compassion and dedication for my well-being before, during and after surgery.
Dr. Chikwe and her team performed my robotic mitral valve repair surgery not only successfully but without any complications or even need for pain medications once discharged.
I chose Dr. Chikwe and traveled out-of-state for this procedure because of her vast successful experience and would absolutely recommend her to anyone in need of cardiac surgery."
-- Steve Rudack, Mitral Valve, Valve Repair, Robotic Surgery, Maze Procedure, 08/04/2021

"I scheduled my surgery at the Cleveland Clinic with a rock-star, but God had a different plan. In view of my mild aortic insufficiency, I was offered a mini-sternotomy to repair my severely-prolapsed mitral valve.
I wished for a robotic repair so I could return to work and the gym quickly. I did not want a destabilized rib cage due to lifting weights in the gym. I scheduled a telemedicine second opinion with Dr. Chikwe hoping that she would offer me a robotic repair.
On the consultation day, my office internet went down for the first time in 18 years. I drove out 3 hours to meet Dr. Chikwe in person. When her nurse practitioner was walking me into the exam room, she said "Oh, there is Dr. Chikwe." I turned around to see Dr. Chikwe and I saw a white halo around her entire body. I had never seen a halo before.
Immediately, I felt calm and comfortable with my God-chosen surgeon. In the consultation, Dr. Chikwe said her passion was robotic mitral valve repair and it's 80 percent of what she does. She was humble, patient, and compassionate. She said she could repair my mitral valve, which had severely prolapsed P1 and P2 segments robotically.
I asked her if she was the best surgeon for my repair, which did not phase or affront her. She said there are about 6 people in the country that do a lot of robotic mitral valve repairs, including the surgeon at the Cleveland Clinic that I had my surgery scheduled with, and talked up each one. I was super impressed with her humility, not a trait I expected of a heart surgeon. She further informed me that I could not wait until my surgery date because I was symptomatic and needed to have my surgery sooner.
I asked her who would be performing my surgery since Cleveland Clinic uses fellows to open and close. She informed me that she put together a dream team that she works with and reassured me that she hand-picked everyone in the OR who works with her.
I scheduled my surgery with her but wanted my wife to be on-board with change of plans. When I told my wife that when I saw Dr. Chikwe for the first time, I saw a white halo around her... My wife shared that she has been praying for God to give us a sign for my surgeon. "
-- Vadim Gurvits, Mitral Valve, Valve Repair, Robotic Surgery, 07/27/2021

> See 21 more patient testimonials
My Specialities &
Clinical Interests
My heart surgery specialties include:
Less invasive surgery, small incisions
Mitral valve repair
Coronary bypass grafting
In addition, I have research and clinical interests specific to:
Mitral valve surgery
Frailty
Coronary revascularization
Education, Training & Certificates
Dr. Joanna Chikwe, heart surgeon, graduated from Oxford University in 1997.
After medical school, Dr. Chikwe completed a cardiothoracic surgery residency and fellowship training in the United Kingdom, where she was appointed a Fellow of the Royal College of Surgeons in 2006.
Upon moving to the United States, Dr. Chikwe began practicing cardiac surgery in the Department of Cardiovascular Surgery at The Mount Sinai Hospital in New York City, New York where she became a Professor of Cardiovascular Surgery.
In 2019, Dr. Chikwe was named the Founding Chair of Cardiac Surgery at Smidt Heart Institute at Cedars-Sinai Medical Center in Los Angeles, California.
Dr. Chikwe has contributed to over 100 research publications. Her interests include structural heart disease, coronary revascularization, quality improvements and comparative surgical outcomes.
Schedule Appointment

with Dr. Joanna Chikwe, MD

To schedule an appointment with Dr. Chikwe, you can:
Call

(866) 345-1289

right now
Request an appointment by clicking here.
The office of Dr. Chikwe is located at 8700 Beverly Boulevard, Los Angeles, CA 90048. To get driving directions to this office, please click the map below.
> Click for driving directions to Dr. Chikwe's office.
News & Online References Featuring Dr. Joanna Chikwe
Here is the latest news featuring Dr. Joanna Chikwe:
Page last updated: November 14, 2021