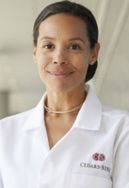 Dr. Joanna Chikwe
Dr. Joanna Chikwe

Heart Surgeon

Cedars-Sinai Medical Center
8700 Beverly Boulevard
Los Angeles, CA 90048
About Dr. Joanna Chikwe,
Heart
Valve

Surgeon

Hello! My name is Dr. Joanna Chikwe and I am a cardiac surgeon having graduated from Oxford University in 1997. To date, I have performed approximately 2,000 cardiac surgeries, of which most involved heart valve procedures. I regularly perform surgery at Cedars-Sinai Medical Center. Read more...

17 Patient Reviews for
Dr. Chikwe
"I feel very fortunate to have been operated on by Dr. Joanna Chikwe on March 2,2021. Her entire team from Mary Alvardo (her administrative assistant) to Asma Hussaini(PA) guided me in preparation for the repair. Dr. Chikwe answered all my questions and her calm and professional style left me feeling minimal pre-surgical anxiety. Luckily, my surgery took place 2 weeks after my second Pfizer vaccination.
As a retired Cedars-Sinai RN, I know that things do not always go smoothly and it is even more important to have a great team in place - just in case. And I was one of the fortunate ones. At the end of my repair I required a pacer. The hope was that in a few days the inflammation would subside and I would no longer be in heartblock. Dr Chikwe was there every morning and in consultation with the electronic cardiologist. On March 5th I received a temporary pacemaker and, because I was still in total heartblock, on March 8th I received a permanent pacemaker. I was home the next day.
In April, I had a relapse of my auto immune disease and was placed back on prednisone which caused my blood pressure to go up. So my blood pressure medication has been doubled. I feel terrific now. I'm exercising, gardening, back in classes and chorale. Visiting with friends, children and grandchildren has been wonderful. I'm so grateful to Dr. Chikwe and the entire team at Cedars- Sinai Medical Center for the comprehensive and coordinated care that I received - "just in case"."
-- Jo Friedman, Mitral Valve, Tricuspid Valve, Valve Repair, Robotic Surgery, 03/02/2021

"Dr. Chikwe successfully performed a challenging robotic mitral valve repair surgery on my dad, whose concave chest bone structure posed a unique challenge.
Dr. Chikwe masterfully navigated the surgery despite the challenges posed by my dad's bone structure and was able to successfully make the repair. Few doctors know how to perform the minimally-invasive robotic heart surgery, so we were very fortunate to have Dr. Chikwe, and to have her expertise regarding this surgery.
I cannot imagine having a better surgeon for my dad than Dr. Chikwe, she really prolonged his life with a fantastic surgery and we could not be more grateful. "
-- Marie Abajann, Mitral Valve, Valve Repair, Robotic Surgery, Maze Procedure, 01/13/2021

> See 15 more patient testimonials
My Specialities &
Clinical Interests
My heart surgery specialties include:
Less invasive surgery, small incisions
Mitral valve repair
Coronary bypass grafting
In addition, I have research and clinical interests specific to:
Mitral valve surgery
Frailty
Coronary revascularization
Education, Training & Certificates
Dr. Joanna Chikwe, heart surgeon, graduated from Oxford University in 1997.
After medical school, Dr. Chikwe completed a cardiothoracic surgery residency and fellowship training in the United Kingdom, where she was appointed a Fellow of the Royal College of Surgeons in 2006.
Upon moving to the United States, Dr. Chikwe began practicing cardiac surgery in the Department of Cardiovascular Surgery at The Mount Sinai Hospital in New York City, New York where she became a Professor of Cardiovascular Surgery.
In 2019, Dr. Chikwe was named the Founding Chair of Cardiac Surgery at Smidt Heart Institute at Cedars-Sinai Medical Center in Los Angeles, California.
Dr. Chikwe has contributed to over 100 research publications. Her interests include structural heart disease, coronary revascularization, quality improvements and comparative surgical outcomes.
Schedule Appointment

with Dr. Joanna Chikwe, MD

To schedule an appointment with Dr. Chikwe, you can:
Call

(866) 345-1289

right now
Request an appointment by clicking here.
The office of Dr. Chikwe is located at 8700 Beverly Boulevard, Los Angeles, CA 90048. To get driving directions to this office, please click the map below.
> Click for driving directions to Dr. Chikwe's office.
News & Online References Featuring Dr. Joanna Chikwe
Here is the latest news featuring Dr. Joanna Chikwe:
Page last updated: May 12, 2021