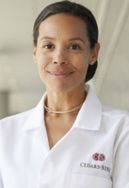 Dr. Joanna Chikwe
Dr. Joanna Chikwe

Heart Surgeon

Smidt Heart Institute at Cedars-Sinai
8700 Beverly Boulevard
Los Angeles, CA 90048
About Dr. Joanna Chikwe,
Heart
Valve

Surgeon

Hello! My name is Dr. Joanna Chikwe and I am a cardiac surgeon having graduated from Oxford University in 1997. To date, I have performed approximately 2,000 cardiac surgeries, of which most involved heart valve procedures. I regularly perform surgery at Smidt Heart Institute at Cedars-Sinai. Read more...
44 Patient Reviews for
Dr. Chikwe
"I can't begin to tell you how safe I felt in Dr. Chikwe's hands. From the moment I met her to the last checkup I had with her, she always made me feel comfortable important and heard. She not only is an incredible surgeon, she is an amazing human being. She strikes me as someone who has dedicated her entire life to saving people.
She is one of the few cardiothoracic surgeons in the entire nation that does what she does and we are blessed to have access to her skills and humanity in our own backyard. God bless your "heart" Dr. Chikwe, as you have blessed mine.
I feel like you have given me a second chance at having an active life again."
-- Mariam Mashhadi, Mitral Valve, Valve Repair, Robotic Surgery, 03/29/2023

"My surgery was on March 1, 2023 at Cedars-Sinai in Los Angeles. My surgeon was Dr. Joanna Chikwe and assisted by Dr. Dominic Emerson. They performed a mitral valve repair with robotic mini-thoracotomy. Today, I am post-op 15 days (2 weeks) and doing great. My stay in the hospital was 5 days and I experienced no complications from the surgery during my stay. My surgery went very smooth.
I returned to Cedars on March 13, 2023 for my post-op checkup with Dr. Chikwe and Vivian Burkhart, NP. They could not believe how well I was doing and how well I looked.
Before my surgery, my regurgitation was severe with symptoms of shortness of breath, chest pain and extreme fatigue. Now, my regurgitation is "trivial" with no signs or symptoms of shortness of breath, chest pain and my energy level is incredible.
My friends and family tell me I look great and sound great. They can tell a big difference in my voice when speaking, no gasping for oxygen as I spoke. I never realized I had this, as this came on gradually and I chalked up to getting older. Now, as I climb the stairs in my house and do chores, I have so much energy.
I would recommend Dr. Chikwe over-and-over again for this type of surgery. Her success rate is 97 to 98%. Her bedside manners are superb and she answers any questions you have. She is very calming as she speaks and reassures you that she is going to do whatever she can to make your heart better again."
-- Jonette Kruk, Mitral Valve, Valve Repair, Robotic Surgery, 03/01/2023

> See 42 more patient testimonials
My Specialities &
Clinical Interests
My heart surgery specialties include:
Less invasive surgery, small incisions
Mitral valve repair
Coronary bypass grafting
In addition, I have research and clinical interests specific to:
Mitral valve surgery
Frailty
Coronary revascularization
Education, Training & Certificates
Dr. Joanna Chikwe, heart surgeon, graduated from Oxford University in 1997.
After medical school, Dr. Chikwe completed a cardiothoracic surgery residency and fellowship training in the United Kingdom, where she was appointed a Fellow of the Royal College of Surgeons in 2006.
Upon moving to the United States, Dr. Chikwe began practicing cardiac surgery in the Department of Cardiovascular Surgery at The Mount Sinai Hospital in New York City, New York where she became a Professor of Cardiovascular Surgery.
In 2019, Dr. Chikwe was named the Founding Chair of Cardiac Surgery at Smidt Heart Institute at Cedars-Sinai Medical Center in Los Angeles, California.
Dr. Chikwe has contributed to over 100 research publications. Her interests include structural heart disease, coronary revascularization, quality improvements and comparative surgical outcomes.
Schedule Appointment

with Dr. Joanna Chikwe, MD

To schedule an appointment with Dr. Chikwe, you can:
Call

(866) 345-1289

right now
Request an appointment by clicking here.
The office of Dr. Chikwe is located at 8700 Beverly Boulevard, Los Angeles, CA 90048. To get driving directions to this office, please click the map below.
> Click for driving directions to Dr. Chikwe's office.
Watch Educational Videos with Dr. Joanna Chikwe
Learn about heart valve surgery from Dr. Chikwe in these videos:
Life Expectancy & Heart Valve Surgery: Patient Insights with Dr. Joanna Chikwe

Mitral Valve Surgery: Advances in Minimally-Invasive & Transcatheter Procedures with Dr. Chikwe

Go Red for Women: Heart Valve Surgery From a Woman's Perspective (with Dr. Joanna Chikwe)

Pregnancy & Heart Valve Disease: What Should Patients Know?

Robotic Mitral Valve Repair Surgery: What Should Patients Know?

Patient Expectations After Heart Valve Surgery

Top 5 Complications After Heart Valve Surgery with Dr. Joanna Chikwe

Research Alert: Early Surgery for Asymptomatic Aortic Stenosis Patients

Mitral Valve Awareness: How Is Mitral Valve Disease Treated?
Page last updated: April 25, 2023