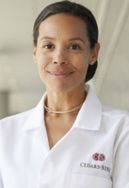 Dr. Joanna Chikwe
Dr. Joanna Chikwe

Heart Surgeon

Smidt Heart Institute at Cedars-Sinai
8700 Beverly Boulevard
Los Angeles, CA 90048
About Dr. Joanna Chikwe,
Heart
Valve

Surgeon

Hello! My name is Dr. Joanna Chikwe and I am a cardiac surgeon having graduated from Oxford University in 1997. To date, I have performed approximately 2,000 cardiac surgeries, of which most involved heart valve procedures. I regularly perform surgery at Smidt Heart Institute at Cedars-Sinai. Read more...
35 Patient Reviews for
Dr. Chikwe
"I discovered that I had a severe mitral valve regurgitation while being asymptomatic back in 2018 at the age of 62. I continued without symptoms until the day of my surgery. Like others, I had Kaiser Permanente insurance and I was offered a valve replacement. I struggled with the decision of the repercussions of a replacement and the possible need to do it all over in 10 to 15 years, as risks will increase with age.
I searched during 4 years, left Kaiser and by the grace of God watched a video on YouTube about Dr. Joanna Chikwe. I learned that she was doing exactly what I was looking for: A repair of my own mitral valve through a minimally invasive procedure, the DaVinci Mitral Valve Repair.
I thank God for putting Dr. Chikwe at Cedars-Sinai in my life. With her knowledge and calming ways of explaining, I immediately decided to go ahead with my surgery. A week later, she gave me a second chance for a normal life. I have no words to describe the feeling on how happy and grateful I am. The whole experience beginning with her staff, Mary A. Vivian B. and the rest of the great nurses, too many to mention. Thanks! Thanks! Thanks! Grazie mille!"
-- Claudio Landeros, Mitral Valve, Valve Repair, 10/20/2022

"Dr. Chikwe performed robotic assisted mitral valve repair via 5 cm mini-thoracotomy, left atrial appendage closure and left atrial cryomaze on 9/22/22. She saved my life! Before the surgery, I could not walk more than 5-6 steps and I had to rest, I had no energy to do anything. I was not able to breath and I was gasping for air all the time. My cardiologist in Santa Barbara recommended to get the surgery done at Cedars-Sinai and I was one of the lucky patients to get Dr. Chikwe as my surgeon.
She is wonderful! My surgery was great. I have had no pain and I was walking the day after the surgery. Dr. Chikwe is the most caring and understanding doctor I have ever had. She explains everything thoroughly, takes her time and makes all her patients feel at ease and she really cares for us. I am forever thankful for Dr. Chikwe.
Anyone who is fortunate enough to have a surgery done by Dr. Chikwe is very lucky. Dr. Chikwe's staff members, Vivian, Mary and others were all the best as well. Everyone in the ICU and the hospital was helpful and caring. Overall, this was a great surgery with the best surgeon ever! Thank you Dr. Chikwe!"
-- Kristiina Runge, Mitral Valve, Valve Repair, Robotic Surgery, 09/20/2022

> See 33 more patient testimonials
My Specialities &
Clinical Interests
My heart surgery specialties include:
Less invasive surgery, small incisions
Mitral valve repair
Coronary bypass grafting
In addition, I have research and clinical interests specific to:
Mitral valve surgery
Frailty
Coronary revascularization
Education, Training & Certificates
Dr. Joanna Chikwe, heart surgeon, graduated from Oxford University in 1997.
After medical school, Dr. Chikwe completed a cardiothoracic surgery residency and fellowship training in the United Kingdom, where she was appointed a Fellow of the Royal College of Surgeons in 2006.
Upon moving to the United States, Dr. Chikwe began practicing cardiac surgery in the Department of Cardiovascular Surgery at The Mount Sinai Hospital in New York City, New York where she became a Professor of Cardiovascular Surgery.
In 2019, Dr. Chikwe was named the Founding Chair of Cardiac Surgery at Smidt Heart Institute at Cedars-Sinai Medical Center in Los Angeles, California.
Dr. Chikwe has contributed to over 100 research publications. Her interests include structural heart disease, coronary revascularization, quality improvements and comparative surgical outcomes.
Schedule Appointment

with Dr. Joanna Chikwe, MD

To schedule an appointment with Dr. Chikwe, you can:
Call

(866) 345-1289

right now
Request an appointment by clicking here.
The office of Dr. Chikwe is located at 8700 Beverly Boulevard, Los Angeles, CA 90048. To get driving directions to this office, please click the map below.
> Click for driving directions to Dr. Chikwe's office.
Watch Educational Videos with Dr. Joanna Chikwe
Learn about heart valve surgery from Dr. Chikwe in these videos:
Life Expectancy & Heart Valve Surgery: Patient Insights with Dr. Joanna Chikwe

Mitral Valve Surgery: Advances in Minimally-Invasive & Transcatheter Procedures with Dr. Chikwe

Go Red for Women: Heart Valve Surgery From a Woman's Perspective (with Dr. Joanna Chikwe)

Pregnancy & Heart Valve Disease: What Should Patients Know?

Robotic Mitral Valve Repair Surgery: What Should Patients Know?

Patient Expectations After Heart Valve Surgery
Page last updated: November 18, 2022