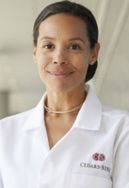 Dr. Joanna Chikwe
Dr. Joanna Chikwe

Heart Surgeon

Cedars-Sinai Medical Center
8700 Beverly Boulevard
Los Angeles, CA 90048
About Dr. Joanna Chikwe,
Heart
Valve

Surgeon

Hello! My name is Dr. Joanna Chikwe and I am a cardiac surgeon having graduated from Oxford University in 1997. To date, I have performed approximately 2,000 cardiac surgeries, of which most involved heart valve procedures. I regularly perform surgery at Cedars-Sinai Medical Center. Read more...

21 Patient Reviews for
Dr. Chikwe
"Let me start by saying I don't post on social media at all but in this case I felt it was important. I had mitral valve repair June 9th at Cedars-Sinai Hospital in Los Angeles. My surgeon was Joanna Chikwe, also chair of the Cardiac department of the hospital.
I had the privilege to meet Dr. Chikwe while avidly researching my condition and the best surgeon for it. I came across Dr Chikwe's writings on mitral valve disease and thought I would seek her expertise. I left a message for her in the hopes she could give me surgeon recommendations on the East Coast as I live in Florida and she was familiar with North East facilities.
That led to an hour long telehealth video call with her personally. By the end of the call, I felt I completely understood my condition and what I should expect of the impending surgery. I also knew Dr Chikwe was the only surgeon for me.
Any anxiety I or my family might have had of the long trip to California was subdued as we were reminded that this surgeon was so very qualified and the reason for the journey. My expectations were so exceeded by Dr. Chikwe, her team, and the hospital.
This lovely physician inspired such confidence in a "We've got this!" feeling. She is meticulous in her surgery and the pre-op and post-op treatment. The Cedars-Sinai cardiac unit has some of the most professional, knowledgeable and compassionate staff I have come across. They are the most hard working - from the ICU nurses to the nurse assistants on the cardiac ward.
I was discharged in four days, I am four weeks post-op, I have had no complications other than being sore as expected, and I know so much of it is attributed to the very skilled and caring Dr. Chikwe."
-- Wendy Spector, Mitral Valve, Valve Repair, Robotic Surgery, 06/09/2021

"Dr. Chikwe did a mitral valve repair on my prolapsed heart valve. Before the procedure she described what I could expect from the moment I woke up in the ICU to the various phases I would go through in my healing and then back to my normal life.
Dr. Chikwe has the rare ability to create a loving supportive atmosphere. She exudes enthusiasm for her work along with humility of her special skills. I sensed in speaking with her the enormous privilege she feels towards those of us who trust our hearts and lives to her skill. I have never felt such a sense of deep loving commitment toward me as a patient. Her team of doctors and nurses that took care of me in recovery were equally committed to the best care I could hope for and repeatedly expressed their admiration for her skills. With Dr. Chikwe you will always have the "A" team at your side."
-- Mark Kimball, Mitral Valve, Valve Repair, Robotic Surgery, 04/28/2021

> See 19 more patient testimonials
My Specialities &
Clinical Interests
My heart surgery specialties include:
Less invasive surgery, small incisions
Mitral valve repair
Coronary bypass grafting
In addition, I have research and clinical interests specific to:
Mitral valve surgery
Frailty
Coronary revascularization
Education, Training & Certificates
Dr. Joanna Chikwe, heart surgeon, graduated from Oxford University in 1997.
After medical school, Dr. Chikwe completed a cardiothoracic surgery residency and fellowship training in the United Kingdom, where she was appointed a Fellow of the Royal College of Surgeons in 2006.
Upon moving to the United States, Dr. Chikwe began practicing cardiac surgery in the Department of Cardiovascular Surgery at The Mount Sinai Hospital in New York City, New York where she became a Professor of Cardiovascular Surgery.
In 2019, Dr. Chikwe was named the Founding Chair of Cardiac Surgery at Smidt Heart Institute at Cedars-Sinai Medical Center in Los Angeles, California.
Dr. Chikwe has contributed to over 100 research publications. Her interests include structural heart disease, coronary revascularization, quality improvements and comparative surgical outcomes.
Schedule Appointment

with Dr. Joanna Chikwe, MD

To schedule an appointment with Dr. Chikwe, you can:
Call

(866) 345-1289

right now
Request an appointment by clicking here.
The office of Dr. Chikwe is located at 8700 Beverly Boulevard, Los Angeles, CA 90048. To get driving directions to this office, please click the map below.
> Click for driving directions to Dr. Chikwe's office.
News & Online References Featuring Dr. Joanna Chikwe
Here is the latest news featuring Dr. Joanna Chikwe:
Page last updated: July 27, 2021