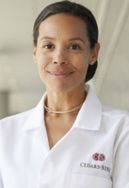 Dr. Joanna Chikwe
Dr. Joanna Chikwe

Heart Surgeon

Smidt Heart Institute at Cedars-Sinai
8700 Beverly Boulevard
Los Angeles, CA 90048
About Dr. Joanna Chikwe,
Heart
Valve

Surgeon

Hello! My name is Dr. Joanna Chikwe and I am a cardiac surgeon having graduated from Oxford University in 1997. To date, I have performed approximately 2,000 cardiac surgeries, of which most involved heart valve procedures. I regularly perform surgery at Smidt Heart Institute at Cedars-Sinai. Read more...
50 Patient Reviews for
Dr. Chikwe
"My doctors had been telling me for 10 years that I would eventually need heart surgery. But it never felt real until this year, when they stopped saying "eventually." As unprepared as I was for the news, I could not have asked for a better experience or a better surgeon than Dr. Chikwe and her team.
I was born with a heart defect, a bicuspid valve. Worse, I was developing an aneurysm. I never had any symptoms and my condition never slowed me down. I suppose I should have used those 10 years to read up on my condition and learn what the surgery and recovery would look like. But, yeah… that didn't happen. However, I did take one proactive step during that time and it might have been the most important one.
Even though I changed jobs and health insurance plans several times during that period, I always made sure that Cedars-Sinai was my primary care facility. I paid more for it under some of those plans, but if I was eventually going to need heart surgery, I made damn sure it would be at Cedars.
My cardiologist referred me to Dr. Chikwe. From the initial consultation, she set me at ease. Dr. Chikwe is kind, confident, upbeat and extraordinarily open. Rather than walking in and saying, here's what we're gonna do, she pulled up a chair and asked, "what questions do you have?" Her answers were clear and concise. She spent as much time with me as I needed and we set a date for my surgery.
At that point, Dr. Chikwe's team took over and held my hand through every step of the pre-op process. Other appointments and tests were needed and Mary Alvarado helped me schedule those. As I thought of new questions, Vivian Burkhart was right there to answer them. Vivian also reassured me that it was the right move to have the surgery before I showed any symptoms, as it would make my recovery that much quicker.
After the surgery, Dr. Chikwe personally visited me every night I was in the hospital. Each time before she left, she asked if I had any questions and answered any concerns. On the fifth day after surgery, I was released. Five days! I'm still amazed.
Within a week of being home, I was walking as much as I had before my surgery (a 20 minute walk, twice a day). A month later, I'm approaching the 10,000 steps a day my iPhone has been nagging me to do for years. Next week, I go back to work.
There were some hiccups along the way, but for the most part everything went as Dr. Chikwe laid out in our initial meeting. I can honestly say that I never doubted her.
The night after my surgery I felt like crap. I couldn't even lift my iPad. It is a humbling experience to become that helpless.
Dr. Chikwe came by to reassure me that everything had gone well and that I'd be up and about soon. Before she left, she asked if I had any questions, as she always did. I shook my head. I was confident that I was in the best possible hands and that's all I needed to know."
-- Doug Johnson, Aortic Valve, Valve Repair, Root Replacement, 07/26/2023

"When I found out I needed open heart surgery, I went from shock and confusion to hope and gratitude for the health breakthrough found at Cedars-Sinai! They reassured me I was at the right place!
Choosing Cedars was the best decision for me as later agreed by my local cardiologist. Because of the minimum invasive procedure, my recovery has been smooth. I have been able to regain my life.
A new determination has been birthed in me. I could not be more satisfied with Da Vinci mitral valve repair surgery performed by the world-class Dr. Joanna Chikwe and her amazing team of doctors and staff!
Dr. Chikwe is an exceptional surgeon whose kindness, patience, intelligence, and understanding exceeded my expectations. I left the hospital taking only Tylenol for pain and I really didn't experience unbearable pain from the surgery site."
-- Shelia Hamilton, Mitral Valve, Valve Repair, Robotic Surgery, 07/11/2023

> See 48 more patient testimonials
My Specialities &
Clinical Interests
My heart surgery specialties include:
Less invasive surgery, small incisions
Mitral valve repair
Coronary bypass grafting
In addition, I have research and clinical interests specific to:
Mitral valve surgery
Frailty
Coronary revascularization
Education, Training & Certificates
Dr. Joanna Chikwe, heart surgeon, graduated from Oxford University in 1997.
After medical school, Dr. Chikwe completed a cardiothoracic surgery residency and fellowship training in the United Kingdom, where she was appointed a Fellow of the Royal College of Surgeons in 2006.
Upon moving to the United States, Dr. Chikwe began practicing cardiac surgery in the Department of Cardiovascular Surgery at The Mount Sinai Hospital in New York City, New York where she became a Professor of Cardiovascular Surgery.
In 2019, Dr. Chikwe was named the Founding Chair of Cardiac Surgery at Smidt Heart Institute at Cedars-Sinai Medical Center in Los Angeles, California.
Dr. Chikwe has contributed to over 100 research publications. Her interests include structural heart disease, coronary revascularization, quality improvements and comparative surgical outcomes.
Schedule Appointment

with Dr. Joanna Chikwe, MD

To schedule an appointment with Dr. Chikwe, you can:
Call

(866) 345-1289

right now
Request an appointment by clicking here.
The office of Dr. Chikwe is located at 8700 Beverly Boulevard, Los Angeles, CA 90048. To get driving directions to this office, please click the map below.
> Click for driving directions to Dr. Chikwe's office.
Watch Educational Videos with Dr. Joanna Chikwe
Learn about heart valve surgery from Dr. Chikwe in these videos:
Life Expectancy & Heart Valve Surgery: Patient Insights with Dr. Joanna Chikwe

Mitral Valve Surgery: Advances in Minimally-Invasive & Transcatheter Procedures with Dr. Chikwe

Go Red for Women: Heart Valve Surgery From a Woman's Perspective (with Dr. Joanna Chikwe)

Pregnancy & Heart Valve Disease: What Should Patients Know?

Robotic Mitral Valve Repair Surgery: What Should Patients Know?

Patient Expectations After Heart Valve Surgery

Top 5 Complications After Heart Valve Surgery with Dr. Joanna Chikwe

Research Alert: Early Surgery for Asymptomatic Aortic Stenosis Patients

Mitral Valve Awareness: How Is Mitral Valve Disease Treated?
Page last updated: September 25, 2023