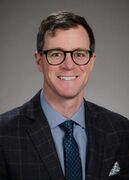 Dr. Christopher Burke
Dr. Christopher Burke

Heart Surgeon

UW Medicine Heart Institute
Main Hospital, 1959 NE Pacific St.
Seattle, WA 98195
About Dr. Christopher Burke,
Heart
Valve

Surgeon

Hello! My name is Dr. Christopher Burke and I am a cardiac surgeon having graduated from University of Michigan in 2011. To date, I have performed approximately 1,500 cardiac surgeries, of which 1,000 involved heart valve procedures. I regularly perform surgery at UW Medicine Heart Institute. Read more...
10 Patient Reviews for
Dr. Burke
"Dr. Christopher Burke is extraordinary.
I'm a 25-year male who's played sports my whole life, but was born with a bicuspid aortic valve. I had no idea about that problem until symptoms of aortic insufficiency (AI) blew up suddenly over the holidays. By the time I discovered the issue my LV and aortic root were substantially damaged.
Like most young people who find themselves in this situation, I was told by several cardiologists that a mechanical valve replacement was the only practical strategy to address the AI and prevent further damage to my heart. The first cardiac surgeon that I visited, the Chief of Cardiothoracic Surgery at a prestigious local hospital, told me unequivocally "I have looked at your valve, and it cannot be repaired." As much as I was grateful that a mechanical valve offered a promising path forward, I was concerned about the lifetime of warfarin that would be required with that strategy, so I looked for other options and found Dr. Christopher Burke at the University of Washington Heart Institute.
We discussed prospects of a Ross procedure or a David V (valve sparing root replacement), and both of those options seemed like potential strategies to avoid a lifetime of warfarin. Dr. Burke was patient, he was clear, he was professional, and a couple months later he had completed a David V that shows all signs of being incredibly successful (in the literal sense of the world "incredibly"). He replaced my aneurysmal aortic root, saved my native aortic valve, and repaired it so that it shows no sign of regurgitation in each of my post-surgical echocardiograms. Surprisingly, my left ventricle is already showing modest signs of shifting back to normal, and my EF is improving too.
So far, this outcome is much more positive than I would have hoped for. Only time can tell how my new setup will perform over decades, but all signs point to an extremely promising outcome for a surgical strategy that some judged impossible, and few would have tried.
In the process of getting to this point I had a chance to meet with many healthcare providers in the Seattle cardiology ecosystem who seem to revere Dr. Burke. Their comments and my experience have led me to understand that the Pacific Northwest is blessed to have an unusually talented, professional, skilled artisan in Dr. Burke — along with his entire team of UW cardiologists, electrophysiologists, PAs, NPs, and so many extraordinary nurses. You guys were smart, kind, patient, and as helpful as could be at every step.
The path to this point involved a ton of uncertainty and learning, so I also have to thank Adam Pick for assembling this incredible clearinghouse of information (HeartValveSurgery.com) — and all the people who have been so generous with their time and advice throughout this site and in offline conversations.
My valve replacement adventure has surely been intense, but this community is incredible, and I'm grateful to all of you who have helped to make it positive. Thank you."
-- Quinnlan Rain, Aortic Valve, Valve Repair, Median Sternotomy, Root Replacement, David Procedure, 03/28/2023

"Dr. Burke did a wonderful job! He explained everything to help us understand and feel comfortable."
-- Dylan Byers, Aortic Valve, Pulmonary Valve, Valve Replacement, Ross Procedure, 01/26/2023

> See 8 more patient testimonials
My Specialities &
Clinical Interests
My heart surgery specialties include:
Aortic valve replacement and repair
Ross Procedure
Aortic aneurysm therapy
In addition, I have research and clinical interests specific to:
Aortic valve reparative techniques
Advanced aortic endovascular interventions
Extracorporeal life support (ECLS)
Education, Training & Certificates
Dr. Christopher Burke, heart surgeon, graduated from University of Michigan in 2011.
After medical school, Dr. Burke completed his Cardiothoracic Surgery Residency and a Fellowship in the Department of Extracorporeal Life Support at UW Medicine.
At the University of Pennsylvania, Dr. Burke completed a Fellowship in Advanced Aortic Surgery. Today, Dr. Burke is the Co-Director of the Multidisciplinary Thoracic Aortic Program at UW Medicine Heart Institute.
Schedule Appointment

with Dr. Christopher Burke, MD

To schedule an appointment with Dr. Burke, you can:
Call

(206) 222-7672

right now
Request an appointment by clicking here.
The office of Dr. Burke is located at Main Hospital, 1959 NE Pacific St., Seattle, WA 98195. To get driving directions to this office, please click the map below.
> Click for driving directions to Dr. Burke's office.
News & Online References Featuring Dr. Christopher Burke
Here is the latest news featuring Dr. Christopher Burke:
Page last updated: July 28, 2023