Valve Clinic Tour: Dr. Adams & Dr. Stelzer Help Trigger Rankings Boost at Mount Sinai Hospital
By Adam Pick on July 27, 2010
When two, leading heart valve surgeons come together at an established cardiac care program, the expectations for success are high.
That said, it shouldn't surprise you that Dr. David Adams and Dr. Paul Stelzer have transformed this hypothetical situation into reality at The Mount Sinai Hospital in New York City.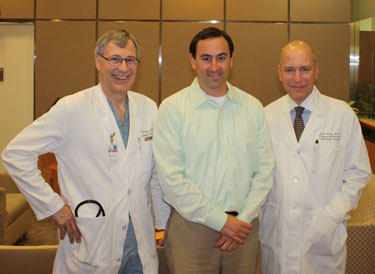 Dr. Paul Stelzer, Me (Adam) & Dr. David Adams
Since Dr. Adams took over the program in 2002 and Dr. Stelzer joined the staff in 2007, Mount Sinai's heart program has soared 21 rankings in U.S. News and World Report's annual survey of cardiac centers.
Most recently, Mount Sinai jumped 5 places to claim the 13th slot in the 2010 rankings just behind the University of Michigan and Barnes-Jewish Hospital / Washington University.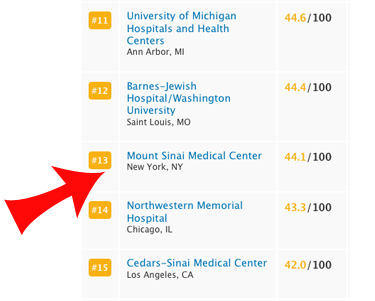 While these rankings provide independent and objective perspective, I tend to focus on patient success stories as a key indicator for program care. As many of you know, I have received countless patient testimonials for these heart valve specialists since launching this blog.
For these reasons, I was beyond excited when Dr. Adams and Dr. Stelzer invited me to tour Mount Sinai in New York City.
Dr. Stelzer And I Almost Bump Into Each Other…
The tour began at 7:30am when Dr. Stelzer and I simultaneously approached the entryway to Mount Sinai's cardiac care center. I immediately recognized Dr. Stelzer's warm smile from his online photos. Dr. Stelzer was already in scrubs and a red pair of Crocs shoes.
Within the heart valve community, Dr. Stelzer is best known for his vast experience with the Ross Procedure, a complex double valve replacement for patients suffering from aortic valve disease. To date, Dr. Stelzer has performed over 475 Ross Procedure surgeries – more than any other surgeon in the United States.
"The Ross Procedure has some great advantages for patients," Dr. Stelzer said to me. "Interestingly, several surgical centers in Europe consider the Ross as the standard for aortic valve replacement. However, I always leave it up to the patient to make that call."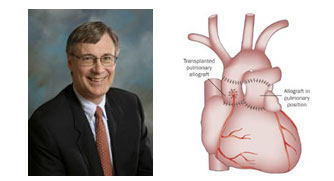 Dr. Paul Stelzer and a Ross Procedure Diagram
While Dr. Stelzer and I chatted about the Ross Procedure, I began to notice a familiar face in my peripheral vision. As I turned to the left, I saw Dr. David Adams, the Chairman of the Department of Cardiothoracic Surgery at Mount Sinai, standing next to me.
As you may know, Dr. Adams is widely known for his research and his clinical concentration on mitral valve repair. In fact, Dr. Adams just released a new book,  Carpentier's Reconstructive Valve Surgery, with heart valve legend, Dr. Alain Carpentier, and Dr. Farzan Filsoufi. Dr. Adams also runs a fantastic website dedicated to mitral valve repair at www.MitralValveRepair.com.
Coffee, Dr. Adams & Patient Education…
When Dr. Stelzer was called to the operating room, Dr. Adams and I sat down for a cup of coffee in the hospital lobby. There, we had an insightful discussion about many topics including patient education. In particular, we discussed the utility of the Internet and other technologies to enhance patient awareness.
"I really believe the web will become even more critical in the future – for patients, for caregivers, for cardiologists and for surgeons," Dr. Adams said, "I think we have an extraordinary opportunity and responsibility to improve heart valve care through information that patients can apply and easily understand."
In particular, Dr. Adams and I discussed the current need for patients to better understand critical diagnostic elements and milestones prior to surgery including echocardiography, "watchful waiting" and the American College of Cardiology (ACC) guidelines.
"I want patients to know why they need surgery," Dr. Adams said to me, "I don't think patients should enter the O.R. just because their cardiologist or surgeon says, 'Trust me, I've been doing this for 20 years. You need surgery.'"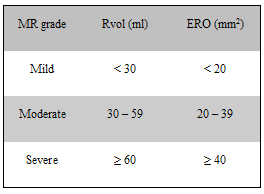 Mitral Regurgitation Grading (Source: ACC)
Together, we brainstormed several different possibilities for advancing patient education. In particular, we discussed the possibility of holding an online seminar on the web, or webinar, for patients and caregivers to better understand the diagnostic process.
Mount Sinai & Gift Of Life Nurture Cardiac Care In Developing Regions
Unbeknownst to me, Dr. Adams and I shared similar altruistic goals. Midway through our chat, I learned that Dr. Adams had an explicit interest in expanding cardiac care in developing regions.
For example, in 2009, Dr. Adams traveled to Hue City, Vietnam where he – and 11 other heart doctors, nurses and staff, including Dr. Khanh Nguyen – performed several valve repair surgeries on young patients.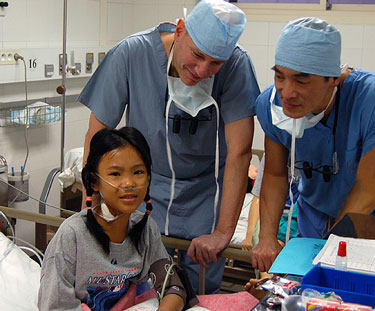 Dr. Adams, Dr. Nguyen and Their Patient in Vietnam
This medical mission was organized by Gift of Life — the same organization that we recently submitted a $5K donation to. Currently, Dr. Adams is planning another medical mission to the Dominican Republic.
In The ICU, I Meet John Cautela & Sherry Grabowski
Following coffee, Dr. Adams took me to the intensive care unit (ICU) where I saw and met several patients recovering from heart surgery. In particular, I was very touched by the story of John Cautela and his wife, Sherry Grabowski. Residents of Boise, Idaho, John had just come through a very complex, re-operation due to a leaking mitral valve replacement.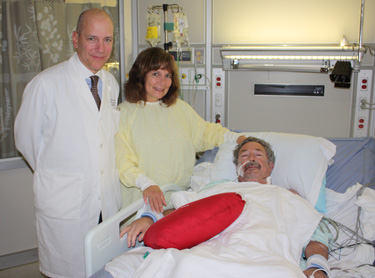 Dr. Adams, Sherry Grabowski & John Cautela
"We had to do John's surgery in two steps," Dr. Adam's told me. "The process of opening his chest took three hours due to heavy scar tissue from prior surgeries in Idaho and California."
I would later learn from Sherry, who manages the intensive care unit at St. Luke's Hospital, that John has had five heart surgeries in the past three years.
"Before coming to Mount Sinai, the other doctors told me I should just let my husband go [die]," Sherry quietly shared with me. "But, John has 9 lives… He's a fighter."
Next Up… Dr. Stelzer's Operating Room
As my time with Dr. Adams came to a close, I was invited into Dr. Stelzer's operating room. There, in scrubs, a surgical mask and a bouffant cap, I watched Dr. Stelzer and his team perform an aortic valve and root replacement surgery. The patient suffered from aortic stenosis due to a bicuspid aortic valve which was severely calcified.
Upon entering the O.R., my visual and auditory senses were highly stimulated.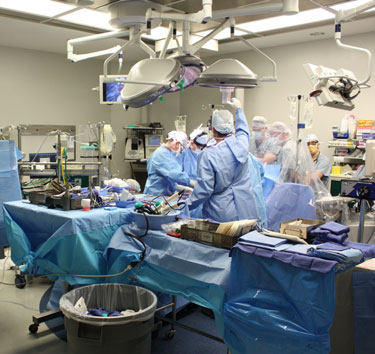 Dr. Stelzer's Operating Room
My eyes rapidly bounced from the patient to Dr. Stelzer to the medical professionals that supported this effort. The medical team consisted of two cardiac surgeons, a perfusionist (heart-lung operator), one physician's assistant, three anesthesiologists, a cardiac nurse and an O.R. surgical technician.
As I approached the patient, I could see that a median sternotomy had been performed and the patient was already on bypass. Doctor Stelzer was in the process of removing the diseased aortic valve.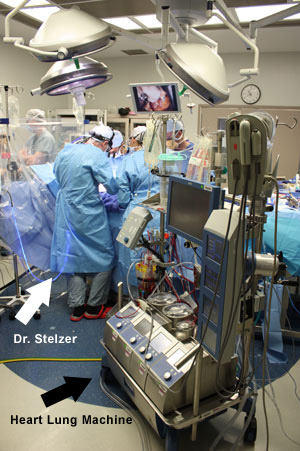 Dr. Stelzer's Team and the Heart Lung Machine
My ears were also stimulated in the operating room. On one hand, I was intrigued by the ongoing communication among Dr. Stelzer and his team. On the other hand, the surgical theater was an epicenter for beeps, blips, slurps and gurgles from the high-tech machines that powered this life-extending operation.
For me, highlights of the procedure included:
Once the aortic valve was removed, Dr. Stelzer spent a good amount of time removing excess calcium from the inner parts of the heart that could inhibit valvular function going forward.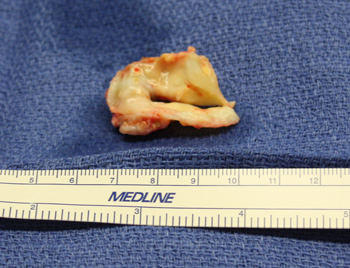 The Patient's Calcified Bicuspid Aortic Valve
For this procedure, the patient, who was in his late 40's, chose to have a tissue valve replacement. As shown below, a porcine valve — the Medtronic Freestyle Bioprosthesis — was selected as the heart valve replacement device.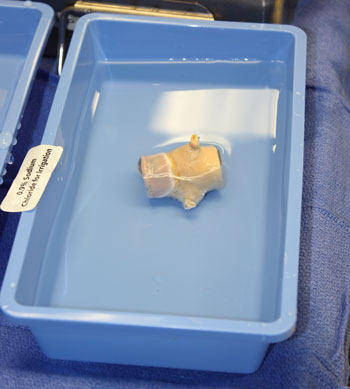 Medtronic Freestyle Aortic Bioprosthesis
The patient's aortic root was also dilated. To prevent the possibility of an aortic aneurysm or aortic dissection, Dr. Stelzer also performed an aortic root replacement using a Dacron aortic graft. The graft was sutured directly onto the aortic valve replacement  (see picture below).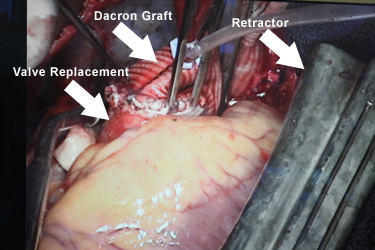 During the 4-hour procedure, I was able to discuss the operation with several members of Dr. Stelzer's medical team, including Dr. David Reich, the Chair of the Department of Anesthesiology at Mount Sinai. Below, Dr. Reich showed me the pre-operative echocardiogram which showed the calcified leaflets.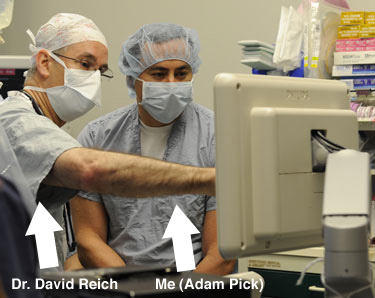 Dr. Reich Shows Me The Calcified Leaflets On Echo
While I learned a lot about cardiac surgery during these discussions, I also learned a lot about the team's appreciation for Dr. Stelzer.
Towards the end of the surgery, Dr. Joanna Chikwe, an attending cardiac surgeon who operated with Dr. Stelzer, pointed to the monitor and said to me, "I've seen this procedure done elsewhere a lot. But, not like Dr. Stelzer. Not as good as Dr. Stelzer, I mean. This is just as you see it in the textbooks… Perfect."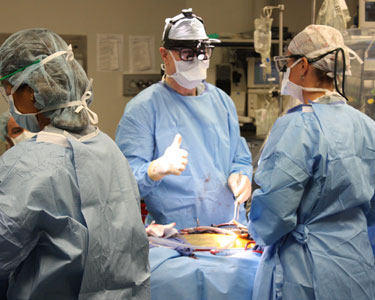 Dr. Stelzer Indicates A Surgical Success
Beyond his surgical competency, Marjorie Leventhal, a cardiac nurse for the past 34 years at Mount Sinai, commented on Dr. Stelzer's bedside manner. Marjorie said to me, "Dr. Stelzer's more than a great surgeon, he's a gentleman and a gentle man with the patients."
As for the surgery I observed, I would later learn that the patient did not receive any blood transfusions or blood products and was released from the hospital three days after surgery.
Thanks To Mount Sinai!
When I started this blog, I never imagined that I would gain direct access to leading heart surgeons and cardiac care centers. That said, I would like to thank Dr. David Adams and Dr. Paul Stelzer for their support of my book and this website.
I would also like to thank everyone I met at Mount Sinai – both the medical staff and the administration teams.
In particular, a special thanks goes to Gideon Sims, Senior Director, Information Technology, who arranged my visit to Mount Sinai. So you know, Gideon has been incredibly helpful during the development and launch of the Heart Valve Surgeon Database and Heart Valve Journals.
Keep on tickin!
Adam
Adam's Newest Blogs
Adam's Newest Posts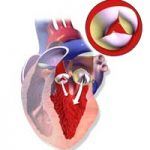 Surgeon Q&A: What Should Patients Know About Aortic Regurgitation? Learn More.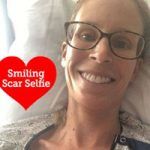 Sara Educates & Inspires 38,443 People About Heart Valve Surgery! Learn More.