Porcine Valves – What is A Porcine Heart Valve Replacement?
By Adam Pick on August 27, 2007
I just received an email from Eddie who is preparing for his heart valve replacement surgery. Eddie has mitral valve prolapse and severe mitral regurgitation. Eddie is 67 years old and is considering a tissue valve. Specifically, Eddie is leaning towards a porcine valve (aka a pig valve) and has several questions.
Eddie writes, "Adam – My surgeon has had a lot of success with porcine heart valve transplants. But, I still have questions including… What exactly is a porcine valve? Do you have any pictures or images of porcine valves? Are there any adverse effects of using a porcine valve? Are porcine valves safe? Thanks, Eddie."
These are critical questions for the valve replacement selection process. That said, I'm going to do my best to answer Eddie's questions about porcine valves.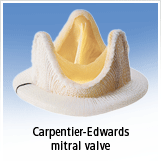 First, let's see what a porcine valve looks like. While there are several porcine valve manufacturers, above you will find a picture of an Edwards Lifesciences' mitral valve replacement, known as the Carpentier-Edwards valve. Recently, I toured Edwards manufacturing center and learned how porcine valves are manufactured.
So you know, a porcine valve replacement is actually taken from the heart of a pig. I know that sounds a little odd…. But, porcine valves have been used in heart valve replacement surgery for over 20 years. That makes pig valves a very safe and very credible alternative for patients requiring valve replacement.
As you would imagine companies like Edwards, Medtronic and St. Jude have invested huge amounts of money to enhance the durability and performance of porcine valves over time. In fact, a porcine valve is now estimated to last up to 15 years once it is transplanted in the human heart. Still, most tissue valves, including porcine valves, are not as durable as the mechanical valve replacements which are made substances including titanium, Teflon and steel.
Obviously, this is one of the downsides of porcine valves as porcine valve leaflets tend to calcify and degenerate. This can lead to a collapsed pig valve in the human heart. However, some recent studies are beginning to challenge that adverse effect of pig valves.
Ultimately, reports suggest that since younger patients have a greater calcium metabolism, bioprosthetic tissue valves tend to last best in senior citizens. Once a bioprosthesis is implanted, the valve itself does not require any type of anti-coagulant drugs (Coumadin). The degeneration is simply a gradual process, as it grows with the body. That is why younger patients typically opt for mechanical valve replacements so that re-operations are not required.
I hope that helps explain a little more about porcine valves and pig valve replacements. If you have any questions, please let me know.
Keep on tickin!
Adam
Adam's Newest Blogs
Adam's Newest Posts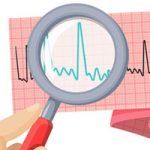 "How Do I Know When My AFib Is Gone After Heart Surgery?" asks Linda Learn More.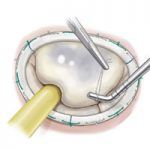 New Findings: Mitral Valve Repair Restores Normal Life Expectancy! Learn More.