November 21st, 2013
When I joined the Heart Valve Journals back in September of 2012 I had really one thing in mind, "Could I continue running til surgery and after surgery would I be back to where I was at?"  In June, I was told that I needed to have surgery but decided not to fully believe that since I had no symptoms that I could see and was running 20-30 miles a week, completed a half marathon just months before and was planning a full marathon in November.  Well, it came to reality in October and November when my Internal Cardiac Device (ICD) Defibrillator sent a shock through my body from my heart hitting over 180 and then 190 beats per minute.  As I reflected back on my journal entries, I remember this time too well.  This was the reality check I needed and the time I needed to talk it out with my wife to give me the peace to go ahead and get this surgery behind me.  The encouragement from this website was something I really needed as people I did not know reached out through the guestbook, provided information and I read story after story about success from others.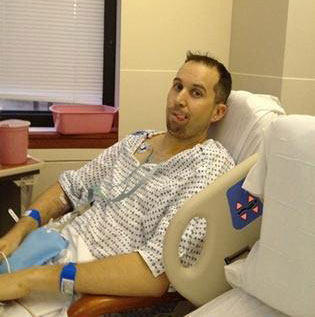 Brian 3 days after surgery, loving being photographed in my gown
Now, here I am almost 1 year from my surgery and back at full strength in my running, preparing for my first half marathon since surgery in April and trying to give back to this great community in any way I can.  I know there are many other passionate runners out here, some pre-surgery, some in recovery and many post surgery.  I already have a list of a few, Scott Newson, Mitch Friedman, Jim Jones, Peter Woglom, and John O'Neil.  Now, I want to get more and give back to the heart community as a whole, so here is the plan.