December 3rd, 2013
Great news everybody!
I just learned that over 200 patients and caregivers have registered for our webinar, "Advances in Mitral & Tricuspid Valve Surgery; Plus, Atrial Fibrillation" with Dr. Robert Bonow, past president of the American Heart Association, and Dr. Patrick McCarthy, chief of cardiac surgery at Northwestern Memorial Hospital. The webinar will be held this Wednesday — from 4:30 to 5:30pm CST.
Given the response to this event, we just extended the webinar registration. So, if you would like to participate in this special community event, simply click here. There is no fee to join the webinar and all you need is a computer to attend the event.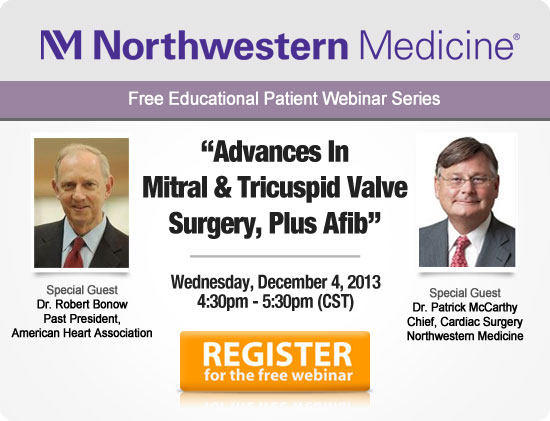 FYI… Here are answers to a few questions I've received about the webinar:
Question 1 – Can I Still Register For The Webinar?
Yes, you can still register for the event. To sign-up for the webinar, click here.