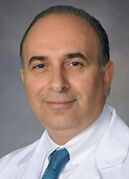 Dr. Robert Saeid Farivar
Dr. Robert Saeid Farivar

Heart Surgeon

Saint Alphonsus
6140 W. Curtisan Avenue, Suite 100
Boise, ID 83704
About Dr. Robert Saeid Farivar,
Heart
Valve

Surgeon

Hello! My name is Dr. Robert Saeid Farivar and I am a cardiac surgeon having graduated from Boston University School of Medicine in 1998. To date, I have performed approximately 4,000 cardiac surgeries, of which 2,000 involved heart valve procedures. I regularly perform surgery at Saint Alphonsus. Read more...
20 Patient Reviews for
Dr. Farivar

"Dr. Farivar is very easy to talk to and made me feel like I wasn't just another patient. Even at my one month follow-up appointment, he took the time to answer any outstanding concerns or questions to make sure I would get the most success out of my recovery and back to a normal, healthy life. I would highly recommend him to anyone!"
-- Tammi Gunwall, Aortic Valve, Valve Replacement, Mini Sternotomy, 01/07/2015

"Dr. Farivar was very attentive before and after surgery. He explained the procedure and the outcome that was expected. His team as a whole was great! If you need any cardiac surgeries, I recommend Dr. Farivar and Saint Alphonsus, the staff was exceptional."
-- James Ramey, Aortic Valve, Valve Replacement, 02/13/2023

> See 19 more patient testimonials
My Specialities &
Clinical Interests
My heart surgery specialties include:
Minimally-invasive heart surgery techniques
Mitral valve repair
Aortic valve replacement
In addition, I have research and clinical interests specific to:
Non-invasive surgery including aortic and mitral valves using TAVR and TMVR devices
Under-treated aortic stenosis, aortic aneurysm therapy and atrial fibrillation treatments (including the Maze procedure)
Re-operative surgery, octogenerian surgery and bloodless cardiac surgery
Education, Training & Certificates
Dr. Robert Saeid Farivar, heart surgeon, graduated from Boston University School of Medicine in 1998.
After medical school, Dr. Farivar completed residencies at Brigham and Women's Hospital and Harvard Medical School in Boston, Massachusetts.
Today, Dr. Farivar is the Medical Director of Cardiothoracic Surgery for Saint Alphonsus. He is specialty-trained in cardiothoracic surgery, specifically in minimally-invasive techniques for heart valve repair and heart valve replacement.
Dr. Farivar has performed over 2,000 heart valve operations including 1,000+ aortic valve replacements and 1,000+ mitral valve repairs.
In the United States, Dr. Farivar was the first surgeon to perform commercial transcatheter aortic valve replacement (TAVR) as well as the first surgeon to perform transcatheter mitral valve replacement (TMVR) using the Tendyne device. (TAVR and TMVR procedures typically do not require the patient to have an incision to their chest or ribs and patients are not required to be on the heart-lung machine.)
During his 20+ year career, Dr. Farivar has received several acknowledgements including the Castle Connolly "Top Doctors" award.
Previously, Dr. Farivar was the Chief of Cardiothoracic Surgery at Minneapolis Heart Institute at Abbott Northwestern Hospital.
Dr. Farivar is board certified by the American Board of Thoracic Surgery.
Schedule Appointment

with Dr. Robert Saeid Farivar, MD

To schedule an appointment with Dr. Farivar, you can:
Call

(208) 609-9355

right now
Request an appointment by clicking here.
The office of Dr. Farivar is located at 6140 W. Curtisan Avenue, Suite 100, Boise, ID 83704. To get driving directions to this office, please click the map below.
> Click for driving directions to Dr. Farivar's office.
News & Online References Featuring Dr. Robert Saeid Farivar
Here is the latest news featuring Dr. Robert Saeid Farivar:
Page last updated: March 1, 2023