Subscribe To Adam's FREE Heart Valve Surgery Newsletter
To educate patients and their caregivers, Adam Pick launched his blog in December, 2006. Since then, Adam's Heart Valve Surgery Blog has become one of the most popular online resources dedicated to heart valve surgery. Today, thousands of people subscribe to Adam's blog.
To receive a complimentary subscription to Adam's blog, submit your email address below. You will start receiving email updates from Adam shortly.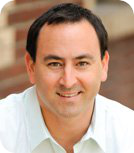 Adam Pick
Patient, Author & Founder
HeartValveSurgery.com
As Seen In