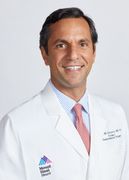 Dr. Ismail El-Hamamsy
Dr. Ismail El-Hamamsy

Heart Surgeon

The Mount Sinai Hospital
1190 Fifth Avenue
New York City, NY 10029
About Dr. Ismail El-Hamamsy,
Heart
Valve

Surgeon

Hello! My name is Dr. Ismail El-Hamamsy and I am a cardiac surgeon having graduated from Universite de Montreal in 2000. To date, I have performed approximately 2,500 cardiac surgeries, of which 1,800 involved heart valve procedures. I regularly perform surgery at The Mount Sinai Hospital. Read more...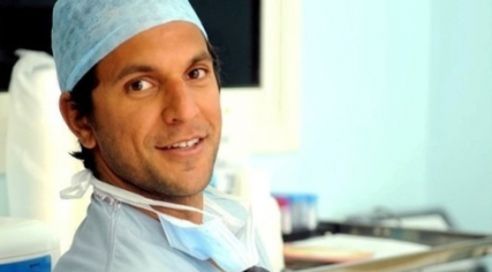 9 Patient Reviews for
Dr. El-Hamamsy
"Dr. Ismail El-Hamamsy is an angel sent from God to live amongst us humans. He is the most caring and selfless doctor I have come across. God forbid, if you are looking a Cardiothoracic surgeon, then stop looking and go with Dr. El-Hamamsy blindly. Not only is he a top doctor but a fantastic human being.
I unfortunately had to undergo valve sparing aortic root repair, but one year from surgery I can confidently say that I am back to living a normal life. I live in Hong Kong and was shocked to find out I had an aortic root aneurysm. After some initial research in Hong Kong we deduced that USA is the best place to go for the surgery I needed. I shopped around in New York and met 3 of the top Cardiothoracic surgeons but no one gave me as much comfort as Dr. El-Hamamsy.
From day one, he has been so approachable and easy to speak to. I thought of him more as a brother or a friend rather than a doctor. Not only did he answer my never ending list of questions, but he also gave time to answer the many questions of my family. In most situations, the doctor does his job and then you part ways, however, in this case one year from surgery I can yet comfortably be in touch with Dr El-Hamamsy from Hong Kong for any questions I may have. The best part of Dr. El-Hamamsy is that he stays in touch with you months after your surgery to make sure that you have had a perfect recovery.
Coming from Hong Kong, I was uninsured in USA. Dr El-Hamamsy and his team helped me make the surgery financially viable. He was never looking to make money but was more concerned about my successful surgery and recovery.
Apart from Dr. El-Hamamsy, I must say his team has been equally excellent. From getting the visa papers sorted for myself and my family to the after care provided by his nurse practitioner and his assistant doctors my journey has been extremely smooth. He has been there for me through out the surgery, recovery and even one year later (answering my incessant questions from Hong Kong). God forbid, if I had to do this all over again, with no doubt in my mind I would pick Dr. El-Hamamsy again and again. He has saved my life! "
-- Sarvil Bhansali, Aortic Valve, Valve Repair, Root Replacement, 04/12/2022

"I did not have the opportunity to research and select my aortic surgeon, BUT I AM SO GLAD DR. EL-HAMAMSY WAS THERE FOR ME! On the evening of Wednesday, March 9, 2022, I collapsed in my living room in severe pain before I passed out. My wife called 911 and I was brought to our regional Long Island New York hospital where they diagnosed an Aortic Dissection.
The ER doctor wrote "Patient was critically ill with a high probability of imminent or life threatening deterioration." The ER doctor offered to make me "comfortable" but indicated there was nothing they could do and I probably wouldn't survive a trip to a larger, "acute care facility".
I was unresponsive all this time. The ER doctor reached out to Mount Sinai Hospital in New York City and after some negotiation (will he survive the trip or not), I was transferred to Mount Sinai. I am told I regained consciousness just before surgery but I don't remember a thing. I do know that surgery started about 2am in the morning and lasted 8 hours.
My first memory of Dr. El-Hamamsy was in the ICU when he came in to let me know how well everything went. Subsequently, i have had several follow-up visits with Dr. El-Hamamsy and he has answered all my questions and has been very generous with his time. I believe I was in the hands of the best cardio-aortic surgeon in the country! I could not have asked for a better experience and outcome going through such a scary and frightening event. DOCTOR EL-HAMAMSY IS PURE MAGIC!"
-- Michael Bosniak, Aortic Valve, Valve Repair, Median Sternotomy, Root Replacement, 03/10/2022

> See 7 more patient testimonials
My Specialities &
Clinical Interests
My heart surgery specialties include:
Ross procedure
Valve-sparing aortic root replacement
Aortic valve repair
In addition, I have research and clinical interests specific to:
Aortic aneurysms and connective tissue disease
Long-term outcomes of aortic reconstructive surgery
Innovative aortic surgical approaches
Education, Training & Certificates
Dr. Ismail El-Hamamsy, heart surgeon, graduated from Universite de Montreal in 2000.
After medical school, Dr. El-Hamamsy completed an extensive Cardiac Surgery Residency at University de Montreal, within the Montreal Heart Institute, in 2006.
Then, Dr. El-Hamamsy completed a special doctorate program, The Living Aortic Valve, under the supervision of world-renowned heart surgeon, Sir Magdi Yacoub, at the Imperial College London in the United Kingdom.
Dr. El-Hamamsy is one of the leading Ross Procedure specialists as he recently completed his 400th Ross Procedure.
Schedule Appointment

with Dr. Ismail El-Hamamsy, MD

To schedule an appointment with Dr. El-Hamamsy, you can:
Call

(516) 260-4180

right now
Request an appointment by clicking here.
The office of Dr. El-Hamamsy is located at 1190 Fifth Avenue, New York City, NY 10029. To get driving directions to this office, please click the map below.
> Click for driving directions to Dr. El-Hamamsy's office.
Watch Educational Videos with Dr. Ismail El-Hamamsy
Learn about heart valve surgery from Dr. El-Hamamsy in these videos:
Research Alert: Ross Procedure Leads to Improved Survival Benefit for Aortic Valve Patients

Ross Procedure Advantages for Aortic Valve Replacement with Dr. Ismail El-Hamamsy & Dr. Paul Stelzer
News & Online References Featuring Dr. Ismail El-Hamamsy
Here is the latest news featuring Dr. Ismail El-Hamamsy:
Page last updated: June 27, 2022