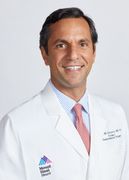 Dr. Ismail El-Hamamsy
Dr. Ismail El-Hamamsy

Heart Surgeon

The Mount Sinai Hospital
1190 Fifth Avenue
New York City, NY 10029
About Dr. Ismail El-Hamamsy,
Heart
Valve

Surgeon

Hello! My name is Dr. Ismail El-Hamamsy and I am a cardiac surgeon having graduated from Universite de Montreal in 2000. To date, I have performed approximately 2,500 cardiac surgeries, of which 1,800 involved heart valve procedures. I regularly perform surgery at The Mount Sinai Hospital. Read more...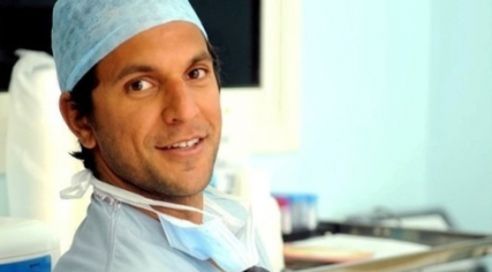 30 Patient Reviews for
Dr. El-Hamamsy
"Following a diagnosis of rheumatic fever and nervously watching, waiting, and researching for years, it was time for our teenage son to have aortic valve replacement. We spoke to many experts and considered every option – ranging from repair, to mechanical valve, to Ozaki – and became convinced the Ross Procedure was his best option.
Dr. El-Hamamsy's name came up repeatedly. We were so fortunate to have Leemor Selitto on the case. She got us in front of Dr. El-Hamamsy and stayed with us throughout the process, importantly getting surgery booked in a time frame that worked best for our son.
We left our first Zoom meeting with Dr. El-Hamamsy feeling that he understood all our concerns and that he was confident he could help us. Surgery was terrifying but went incredibly smoothly. In addition to his surgical fellow and the fantastic nursing team, Dr. El-Hamamsy visited us every single day, answering all our questions and allaying our concerns.
Our son left the hospital 4 days post surgery, celebrated his 18th birthday a few days after discharge and at 8 weeks post surgery is traveling with friends ahead of beginning university this autumn. Roberto Galao-Malo, RN has been in contact with us daily, monitoring our son's blood pressure, calibrating his medication and patiently, diligently addressing our numerous questions and concerns.
In Dr. El-Hamamsy, we found a brilliant, dedicated, compassionate surgeon, determined to improve patient outcomes and share his findings with his peers. He was surrounded by an extraordinary team of nurses and caregivers at Mt. Sinai, most notably Leemor and Roberto.
We are so fortunate to have found Dr. El-Hamamsy. Most importantly, our son feels confident in his recovery and ready to resume life as normal."
-- Suzanne Lee, Aortic Valve, Valve Replacement, Ross Procedure, 07/10/2023

"World class surgeon with an amazing team. I got my Ross procedure done for my BAV aged 24 and feel privileged to have this level of medical care. The entire process from surgery recommendation through discharge was seamless.
Dr El-Hamamsy has excellent bedside manners and builds assurance in excellent outcomes. I was able to start walking 2 miles within 10 days of the operation. I am currently 9 weeks post op and excited for the new opportunities I have. I am frequently in touch with NP Roberto as well to monitor progress who takes the time to patiently explain milestones and lifted restrictions step by step.
Shoutout and a big thank you!"
-- Sanjeet Dutta, Aortic Valve, Ross Procedure, 06/14/2023

> See 28 more patient testimonials
My Specialities &
Clinical Interests
My heart surgery specialties include:
Ross procedure
Valve-sparing aortic root replacement
Aortic valve repair
In addition, I have research and clinical interests specific to:
Aortic aneurysms and connective tissue disease
Long-term outcomes of aortic reconstructive surgery
Innovative aortic surgical approaches
Education, Training & Certificates
Dr. Ismail El-Hamamsy, heart surgeon, graduated from Universite de Montreal in 2000.
After medical school, Dr. El-Hamamsy completed an extensive Cardiac Surgery Residency at University de Montreal, within the Montreal Heart Institute, in 2006.
Then, Dr. El-Hamamsy completed a special doctorate program, The Living Aortic Valve, under the supervision of world-renowned heart surgeon, Sir Magdi Yacoub, at the Imperial College London in the United Kingdom.
Dr. El-Hamamsy is one of the leading Ross Procedure specialists as he recently completed his 400th Ross Procedure.
Schedule Appointment

with Dr. Ismail El-Hamamsy, MD

To schedule an appointment with Dr. El-Hamamsy, you can:
Call

(516) 260-4180

right now
Request an appointment by clicking here.
The office of Dr. El-Hamamsy is located at 1190 Fifth Avenue, New York City, NY 10029. To get driving directions to this office, please click the map below.
> Click for driving directions to Dr. El-Hamamsy's office.
Watch Educational Videos with Dr. Ismail El-Hamamsy
Learn about heart valve surgery from Dr. El-Hamamsy in these videos:
Research Alert: Ross Procedure Leads to Improved Survival Benefit for Aortic Valve Patients

Ross Procedure Advantages for Aortic Valve Replacement with Dr. Ismail El-Hamamsy & Dr. Paul Stelzer
News & Online References Featuring Dr. Ismail El-Hamamsy
Here is the latest news featuring Dr. Ismail El-Hamamsy:
Page last updated: August 23, 2023