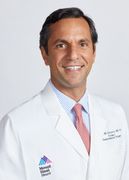 Dr. Ismail El-Hamamsy
Dr. Ismail El-Hamamsy

Heart Surgeon

The Mount Sinai Hospital
1190 Fifth Avenue
New York City, NY 10029
About Dr. Ismail El-Hamamsy,
Heart
Valve

Surgeon

Hello! My name is Dr. Ismail El-Hamamsy and I am a cardiac surgeon having graduated from Universite de Montreal in 2000. To date, I have performed approximately 2,500 cardiac surgeries, of which 1,800 involved heart valve procedures. I regularly perform surgery at The Mount Sinai Hospital. Read more...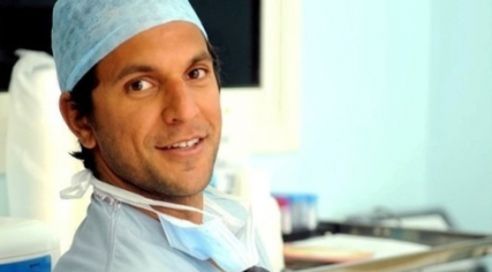 4 Patient Reviews for
Dr. El-Hamamsy
"Where can I start? How do you thank the person who has made such a difference in your life? I had the lucky chance to have Dr. Stelzer and Dr. Ismail El-Hamamsy fix my congenital unicuspid aortic valve at Mount Sinai Hospital, literally the two best Ross surgeons in the world. If you look up what Dr. El-Hamamsy has accomplished in the field of aortic disease, it truly is incredible how dedicated and motivated he is to making a true impact on the diseases he treats.
While I was in the hospital, he was caring, compassionate, patient, and had a well informed answer for any question related to the Ross procedure or aorta. He came to visit me everyday in the hospital and put my wife and me both at ease (no easy task, more-so to put me at ease than my wife :) ) with his cool, caring, and calm demeanor. I am so happy and fortunate that he decided to bring his incredible skill set to New York just a few months before I needed my surgery.
As a life-long NYer, I know he is going to positively touch so many people's lives here through his work and we are lucky to have him. I am now three months out from my surgery, continuing to focus on my rehab by riding a bike and jogging everyday, and I owe this second chance to him, Dr. Stelzer and their team! I am grateful for this second lease on life and could not thank him enough!"
-- Jason Filopei, Aortic Valve, Ross Procedure, 08/19/2020

"I had a bicuspid aortic valve with severe aortic regurgitation. After developing symptoms, it was time to replace the aortic valve. I spoke to several surgeons, but the recommendations I was getting seem to be based on what each doctor was feeling comfortable doing, not what was best for me.
Dr. El-Hamamsy was literally the only exception. He is honestly the nicest doctor and one of the kindest people I have ever met. He is patient and empathetic, and most importantly, really talented and experienced at performing the Ross procedure---which is a particularly involved procedure.
As a research professor, I felt very comfortable in the hands of a surgeon whose own research offers compelling evidence that the Ross procedure for AVR provides better long-term results and improved quality of life. I did the surgery in the middle of the COVID-19 pandemic in NY city, and everything went great. Dr. El-Hamamsy and his team have so much experience at what they do, which made me feel particularly comfortable during my entire stay at Mt. Sinai. "
-- Ioannis Spyridopoulos, Aortic Valve, Pulmonary Valve, Ross Procedure, 06/26/2020

> See 2 more patient testimonials
My Specialities &
Clinical Interests
My heart surgery specialties include:
Ross procedure
Valve-sparing aortic root replacement
Aortic valve repair
In addition, I have research and clinical interests specific to:
Aortic aneurysms and connective tissue disease
Long-term outcomes of aortic reconstructive surgery
Innovative aortic surgical approaches
Education, Training & Certificates
Dr. Ismail El-Hamamsy, heart surgeon, graduated from Universite de Montreal in 2000.
After medical school, Dr. El-Hamamsy completed an extensive Cardiac Surgery Residency at University de Montreal, within the Montreal Heart Institute, in 2006.
Then, Dr. El-Hamamsy completed a special doctorate program, The Living Aortic Valve, under the supervision of world-renowned heart surgeon, Sir Magdi Yacoub, at the Imperial College London in the United Kingdom.
Dr. El-Hamamsy is one of the leading Ross Procedure specialists as he recently completed his 400th Ross Procedure.
Schedule Appointment

with Dr. Ismail El-Hamamsy, MD

To schedule an appointment with Dr. El-Hamamsy, you can:
Call

(516) 260-4180

right now
The office of Dr. El-Hamamsy is located at 1190 Fifth Avenue, New York City, NY 10029. To get driving directions to this office, please click the map below.
> Click for driving directions to Dr. El-Hamamsy's office.
News & Online References Featuring Dr. Ismail El-Hamamsy
Here is the latest news featuring Dr. Ismail El-Hamamsy:
Page last updated: July 25, 2021