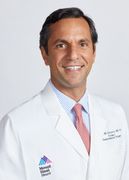 Dr. Ismail El-Hamamsy
Dr. Ismail El-Hamamsy

Heart Surgeon

The Mount Sinai Hospital
1190 Fifth Avenue
New York City, NY 10029
About Dr. Ismail El-Hamamsy,
Heart
Valve

Surgeon

Hello! My name is Dr. Ismail El-Hamamsy and I am a cardiac surgeon having graduated from Universite de Montreal in 2000. To date, I have performed approximately 2,500 cardiac surgeries, of which 1,800 involved heart valve procedures. I regularly perform surgery at The Mount Sinai Hospital. Read more...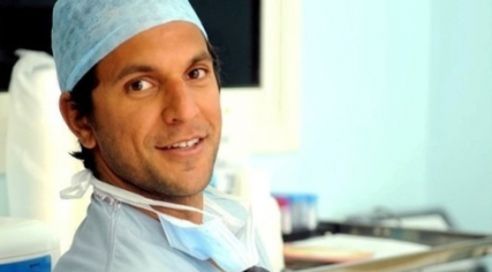 23 Patient Reviews for
Dr. El-Hamamsy
"For more than 9 years, I've been under observation for an ascending aortic aneurysm. As time went on, it appeared that my aortic valve regurgitation would be what would drive the surgery. Around September of 2022, it was decided that I needed the valve replaced along with the aneurysm repaired.
My cardiologist who is at Mount Sinai suggested I meet with Dr. Ismail El-Hamamsy. We had a great initial meeting. He was very thorough and confident in his explanation of the procedure and outcome. He put me and my wife at ease. I felt if that being so experienced with the Ross, my procedure should be less complicated. As it turns out we decided to add the Maze procedure and clip the left atrium.
Dr. El-Hamamsy was waiting for me and my family before I pushed off to the waiting room. Again, relaxing me and my family with his words. After the surgery, I don't remember much except I was having a lot of pain from the drainage tube. Dr. El-Hamamsy decided to remove that one tube and everything was great from that point on.
I'm 10 weeks post-surgery and feel great. I've been a cyclist almost my entire life so I'm hoping to be back on the bike week 12 but I've been walking between 3-6 miles every day and last week I walked 25 miles.
I live in Florida and have a long relationship with my cardiologist Dr. J Halperin and respect his opinion so as it turns out the referral to Dr. El-Hamamsy and choosing him for the surgery was the right choice for me.
I would highly recommend him for anyone needing this type of heart surgery."
-- Daniel Green, Aortic Valve, Valve Replacement, Maze Procedure, 01/17/2023

"I have always been very active, between surfing and biking and skateboarding and… I have spent the last several years mostly coaching my children in the variety of sports that they play. When I was diagnosed with a bicuspid aortic valve and aortic valve stenosis, I was hoping to find someone who could address the issues while allowing me to continue with my active lifestyle. I did my research, and I saw several experts, who suggested a mechanical heart valve procedure. They told me that my life would be very different, as I could no longer take part in the active lifestyle I had grown accustomed to. I needed another option. After more research, I found out about the Ross procedure; Dr. El-Hamamsy's name was one of the first that came up. I have never been luckier in my life!
My first call to Mount Sinai lead me to Leemor Selitto, who ended up being my coordinator. We scheduled an appointment in August for a consultation: she may have been the sweetest person I ever spoke with. In person, she was even better. It felt like I had known her for years, and she eased my mind about what I was going to get done. Meeting Dr. El-Hamamsy was next, and I was not disappointed. With him, what you see is what you get. And that is an individual who truly cares about his patients, putting his patients first at all times. He calmed my nerves, and made me feel good about the procedure, and the direction that I was going. I left his office, confident, excited, and motivated to get done what I needed to get done.
Before the surgery, Leemor took the time to make sure that I knew each and everything that I would need to before the big day. She even spoke with my wife regularly to keep her calm throughout the process. She was, and is, absolutely wonderful, incredible, stupendous, and a great heart surgery coordinator. There were issues with getting my records and getting things set up, and she took care of everything. Talk about an all-star!
On the day of the surgery, I met Roberto, the nurse practitioner. He was awesome and answered every question I had. He understood what a big day this was for me, and took his time to keep me calm while making sure I understood everything that was coming, both before the surgery and after. To this day, I message him regularly, asking questions, and he monitors my health.
My surgery was not without complications. Going in, I had met with Dr. El-Hamamsy again, and he assured me that if he needed to pivot during the surgery to do what was best for me, he would. His partner for the surgery was Dr. Williams, and they took excellent care of me. Because of the previously mentioned complications, I spent eight post-op days in the ICU rather than the two or three they said it would be. They came to see me every day, making sure that I was doing well. Dr. Williams was even with me when I was discharged. After all my difficulties, my long term prognosis stayed the same, a testament to the talent of Dr. El-Hamamsy and Dr. Williams!
I must say that Dr. El-Hamamsy has assembled a wonderful team of physicians, nurses, and coordinators. I truly feel that I was in the best of hands under his care, and would recommend him to anyone needing to go through the same procedures that I did. He is a wonderful doctor, with a great bedside manner. Even more, when you speak with Dr. El-Hamamsy, you can see that he is truly a wonderful person. I thank you and your entire team for everything you have done for my family and me. It is now almost 2 months since my surgery, and I am already feeling better. We are truly blessed to have met Dr. El-Hamamsy, Leemor, Dr. Williams, and Roberto, and we are lucky to have gone to Mount Sinai for the excellent care I received in the ICU."
-- Owen Bonner, Aortic Valve, Pulmonary Valve, Ross Procedure, Maze Procedure, 11/10/2022

> See 21 more patient testimonials
My Specialities &
Clinical Interests
My heart surgery specialties include:
Ross procedure
Valve-sparing aortic root replacement
Aortic valve repair
In addition, I have research and clinical interests specific to:
Aortic aneurysms and connective tissue disease
Long-term outcomes of aortic reconstructive surgery
Innovative aortic surgical approaches
Education, Training & Certificates
Dr. Ismail El-Hamamsy, heart surgeon, graduated from Universite de Montreal in 2000.
After medical school, Dr. El-Hamamsy completed an extensive Cardiac Surgery Residency at University de Montreal, within the Montreal Heart Institute, in 2006.
Then, Dr. El-Hamamsy completed a special doctorate program, The Living Aortic Valve, under the supervision of world-renowned heart surgeon, Sir Magdi Yacoub, at the Imperial College London in the United Kingdom.
Dr. El-Hamamsy is one of the leading Ross Procedure specialists as he recently completed his 400th Ross Procedure.
Schedule Appointment

with Dr. Ismail El-Hamamsy, MD

To schedule an appointment with Dr. El-Hamamsy, you can:
Call

(516) 260-4180

right now
Request an appointment by clicking here.
The office of Dr. El-Hamamsy is located at 1190 Fifth Avenue, New York City, NY 10029. To get driving directions to this office, please click the map below.
> Click for driving directions to Dr. El-Hamamsy's office.
Watch Educational Videos with Dr. Ismail El-Hamamsy
Learn about heart valve surgery from Dr. El-Hamamsy in these videos:
Research Alert: Ross Procedure Leads to Improved Survival Benefit for Aortic Valve Patients

Ross Procedure Advantages for Aortic Valve Replacement with Dr. Ismail El-Hamamsy & Dr. Paul Stelzer
News & Online References Featuring Dr. Ismail El-Hamamsy
Here is the latest news featuring Dr. Ismail El-Hamamsy:
Page last updated: January 23, 2023