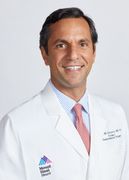 Dr. Ismail El-Hamamsy
Dr. Ismail El-Hamamsy

Heart Surgeon

The Mount Sinai Hospital
1190 Fifth Avenue
New York City, NY 10029
About Dr. Ismail El-Hamamsy,
Heart
Valve

Surgeon

Hello! My name is Dr. Ismail El-Hamamsy and I am a cardiac surgeon having graduated from Universite de Montreal in 2000. To date, I have performed approximately 2,500 cardiac surgeries, of which 1,800 involved heart valve procedures. I regularly perform surgery at The Mount Sinai Hospital. Read more...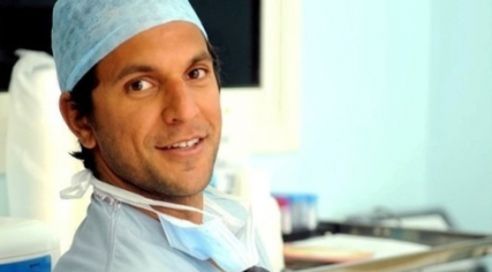 18 Patient Reviews for
Dr. El-Hamamsy
"I was born with congenital aortic stenosis and a unicuspid aortic valve. At 18 months old, I had a ballooning done to help ease the stenosis. I had been able to self-monitor my condition until recently where I became more and more symptomatic. My local doctors gave presented my options, and strongly recommended I have a consultation with Dr. El-Hamamsy at Mount Sinai in New York City for a Ross Procedure evaluation. Dr. El-Hamamsy and his team made the coordination a breeze, and scheduled the surgery.
Throughout the process, I appreciated how honest and responsive the entire team was. Due to needing to travel, I didn't have my full support system with me, but his staff was able to support me each step of the way.
Open-heart surgery isn't easy to experience, but Dr. El-Hamamsy and the staff at Mount Sinai made everything manageable. I had a Ross Procedure and have no regrets - only not doing it sooner.
The surgery went well, and the recovery is in progress. Dr. El-Hamamsy's team is able to effectively manage my concerns and questions along the way, and set reasonable expectations.
I'm extremely thankful for Dr. El-Hamamsy encouraging me to take this step and for his staff, nurses, and nurse practitioners who chat with me as needed to make sure I'm comfortable and healing well.
This isn't my first surgery, and what I can say sets this apart from others is that I feel entirely supported. There is someone on staff to help address fears, concerns, discomfort daily. I appreciate not being discharged and left to coordinate my own care. I cannot speak highly enough of Dr. El-Hamamsy and his team."
-- Jacquelyn Culver, Aortic Valve, Pulmonary Valve, Valve Replacement, Median Sternotomy, Ross Procedure, 10/13/2022

"Dear Dr. El-Hamamsy, I owe you my life for giving the only surgery I knew would give me the quality of life I sought – not one where I didn't want to wake up the next day. I saw surgeons at 10 of the top centers across the country, hearing the same opinion – your case is too complex for a Ross and it's not a surgical option for you. After feeling lost on my surgical journey, I felt found by you and the team at The Mount Sinai Hospital.
You are unique within the surgical field that I'm glad and humbled to have crossed paths with you. Now, I'm able to say my life, and quality of life, are restored to full capacity – with no limitations. I'm able to continue school, and pursue my dream of becoming a cardiologist.
Thanks for your help and belief in me, and uplifting me when my spirits were at their lowest and I had lost all hope! You're not just performing a surgery, you're repairing lives. I will forever be thankful and grateful to have been operated on by you!
Sincerely, Jose Juan "JJ" Maqueda"
-- Jose Maqueda, Aortic Valve, Ross Procedure, 07/05/2022

> See 16 more patient testimonials
My Specialities &
Clinical Interests
My heart surgery specialties include:
Ross procedure
Valve-sparing aortic root replacement
Aortic valve repair
In addition, I have research and clinical interests specific to:
Aortic aneurysms and connective tissue disease
Long-term outcomes of aortic reconstructive surgery
Innovative aortic surgical approaches
Education, Training & Certificates
Dr. Ismail El-Hamamsy, heart surgeon, graduated from Universite de Montreal in 2000.
After medical school, Dr. El-Hamamsy completed an extensive Cardiac Surgery Residency at University de Montreal, within the Montreal Heart Institute, in 2006.
Then, Dr. El-Hamamsy completed a special doctorate program, The Living Aortic Valve, under the supervision of world-renowned heart surgeon, Sir Magdi Yacoub, at the Imperial College London in the United Kingdom.
Dr. El-Hamamsy is one of the leading Ross Procedure specialists as he recently completed his 400th Ross Procedure.
Schedule Appointment

with Dr. Ismail El-Hamamsy, MD

To schedule an appointment with Dr. El-Hamamsy, you can:
Call

(516) 260-4180

right now
Request an appointment by clicking here.
The office of Dr. El-Hamamsy is located at 1190 Fifth Avenue, New York City, NY 10029. To get driving directions to this office, please click the map below.
> Click for driving directions to Dr. El-Hamamsy's office.
Watch Educational Videos with Dr. Ismail El-Hamamsy
Learn about heart valve surgery from Dr. El-Hamamsy in these videos:
Research Alert: Ross Procedure Leads to Improved Survival Benefit for Aortic Valve Patients

Ross Procedure Advantages for Aortic Valve Replacement with Dr. Ismail El-Hamamsy & Dr. Paul Stelzer
News & Online References Featuring Dr. Ismail El-Hamamsy
Here is the latest news featuring Dr. Ismail El-Hamamsy:
Page last updated: November 15, 2022