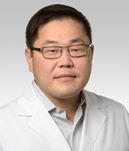 Dr. Gyu Gang
Dr. Gyu Gang

Heart Surgeon

Central DuPage Hospital
25 N. Winfield Road
Winfield, IL 60190
(888) 727-7699
About Dr. Gyu Gang,
Heart
Valve

Surgeon

Hello! My name is Dr. Gyu Gang and I am a cardiac surgeon having graduated from Johns Hopkins University School of Medicine in 1997. To date, I have performed approximately 2,000 cardiac surgeries, of which 1,000 involved heart valve procedures. I regularly perform surgery at hospitals including Central DuPage Hospital and Northwestern Memorial Hospital. Read more...
53 Patient Reviews for
Dr. Gang
"Dr. Gang was extremely professional throughout the entire process from diagnosis to surgery to after surgery follows-up. He explained my valve issues and the required surgical procedures clearly. He also described my expected after surgery results and long term benefits of the procedure. Dr. Gang and his team at Central DuPage Hospital were exceptional in both the surgery and after surgery care in ICU. My recovery time period has exceeded my expectations and I am well on my way to return to the golf course and bike riding. I highly recommend Dr. Gang and Central DuPage Hospital."
-- robert settles, Aortic Valve, Mitral Valve, Tricuspid Valve, Valve Repair, Valve Replacement, 06/26/2019

"Dr. Gang is the best cardiac surgeon in Chicago-land. He and his team performed a life-saving procedure on me that replaced my calcified bicuspid aortic valve and at the same time repaired an aneurysm in my aorta. I owe my life to him and his excellent team. The results of the surgery were nothing short of perfection. I really did not experience much pain or discomfort after the surgery. I was off of pain medication within 2 days of the procedure. Dr. Gang's bedside manner is the best and I always felt safe in his hands throughout the procedure and post op, If I had this to do over again I would definitely pick Dr. Gang to do it and I would highly recommend him to anyone facing heart surgery. "
-- Raymond Feld, Aortic Valve, Valve Replacement, Root Replacement, 06/18/2019

> See 50 more patient testimonials
My Specialities &
Clinical Interests
My heart surgery specialties include:
Complex mitral valve repairs
Aortic valve replacements including TAVR
Arterial coronary artery bypass grafts
Education, Training & Certificates
Dr. Gyu Gang, heart surgeon, graduated from Johns Hopkins University School of Medicine in 1997.
After medical school, Dr. Gang completed a General Surgery Residency at the University of Cincinnati in 2004 and a Cardiothoracic Surgery Residency at Northwestern Memorial Hospital in 2007.
Dr. Gang is a fellow of the American College of Surgeons and is board-certified by the American Board of Thoracic Surgery.
Schedule Appointment

with Dr. Gyu Gang, MD

To schedule an appointment with Dr. Gang, you can:
Call

(888) 727-7699

right now
Request an appointment by clicking here.
The office of Dr. Gang is located at 25 N. Winfield Road, Winfield, IL 60190. To get driving directions to this office, please click the map below.
> Click for driving directions to Dr. Gang's office.
News Featuring Dr. Gang
Here is the latest news featuring Dr. Gyu Gang:
Page last updated: July 29, 2019