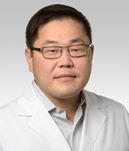 Dr. Gyu Gang
Dr. Gyu Gang

Heart Surgeon

Central DuPage Hospital
25 N. Winfield Road
Winfield, IL 60190
About Dr. Gyu Gang,
Heart
Valve

Surgeon

Hello! My name is Dr. Gyu Gang and I am a cardiac surgeon having graduated from Johns Hopkins University School of Medicine in 1997. To date, I have performed approximately 3,250 cardiac surgeries, of which 1,625 involved heart valve procedures. I regularly perform surgery at hospitals including Central DuPage Hospital and Northwestern Memorial Hospital. Read more...
141 Patient Reviews for
Dr. Gang
"On my first meeting with Dr. Gang, he was very confident and reassuring which significantly reduced my fear and appreciation about the surgery.
Immediately before the surgery, Dr. Gang and all his team again reassured me and made me feel that they cared were concerned about me as an individual and that I was in the best of care.
After the surgery, at the first post operative appointment, Dr. Gang greeted me with a smile and explain the extent of the surgery and how well it had gone. Everything that Dr. Gang told me to expect before the surgery was exactly as i found it to be after the surgery.
I was amazed that I had undergone such a serious and major a procedure with so little pain and discomfort. It has now been 7 weeks since my surgery and I would without hesitation recommend Dr. Gang to everyone requiring heart surgery. "
-- Mark Ruggie, Aortic Valve, Valve Replacement, 04/19/2023

"My experience with Dr. Gang was excellent. Dr. Gang patiently educated my spouse and I about my heart defect - explaining in detail (using doppler, MRA images, and even hand drawn pictures) what needed to be fixed – all in non-technical terms that we could understand. He then walked us thru all the options and included me in the decision making as to what type of valve would be best and the urgency of getting my aortic valve replaced – but always being very clear that it was my decision to make.
Dr. Gang and his entire staff prepped me as to what to expect from the surgery to minimize any surprises in regards to my post-surgery pain and recovery. Dr. Gang took time out of his busy schedule to personally stop in several times and talk to me in the hospital - for me to see how genuinely happy he was with my post-surgery results really inspired me during my recovery in the hospital. Dr. Gang really gave me the impression that he takes great joy in making his patients healthy again. Dr. Gang's entire staff of nurses and APNs were exceptionally professional and caring and patiently responded to the many questions we asked (even when we asked for them to explain something a second or third time). The staff also spent a lot of time with us making sure all our questions were answered as well as making sure my post-surgery recovery was as expected.
Dr. Gang is truly a talented, skilled, and compassionate surgeon. The experience that Dr. Gang and his staff bring to the table allow them to confidently cover all bases - they know exactly what to expect thru the entire procedure – and execute accordingly. The results of my surgery exceeded expectations thanks to Dr. Gang and his team!"
-- Ed Bielanski, Aortic Valve, Valve Replacement, Root Replacement, 04/11/2023

> See 139 more patient testimonials
My Specialities &
Clinical Interests
My heart surgery specialties include:
Complex mitral valve repairs
Aortic valve replacements including TAVR
Arterial coronary artery bypass grafts
Education, Training & Certificates
Dr. Gyu Gang, heart surgeon, graduated from Johns Hopkins University School of Medicine in 1997.
After medical school, Dr. Gang completed a General Surgery Residency at the University of Cincinnati in 2004 and a Cardiothoracic Surgery Residency at Northwestern Memorial Hospital in 2007.
Dr. Gang is a fellow of the American College of Surgeons and is board-certified by the American Board of Thoracic Surgery.
Schedule Appointment

with Dr. Gyu Gang, MD

To schedule an appointment with Dr. Gang, you can:
Call

(630) 426-7276

right now
Request an appointment by clicking here.
The office of Dr. Gang is located at 25 N. Winfield Road, Winfield, IL 60190. To get driving directions to this office, please click the map below.
> Click for driving directions to Dr. Gang's office.
News & Online References Featuring Dr. Gyu Gang
Here is the latest news featuring Dr. Gyu Gang:
Page last updated: May 28, 2023