Surgeon Spotlight: Dr. Gyu Gang
Northwestern Medicine, Chicago, Illinois - Sponsored Post
As part of the team at Northwestern Medicine Bluhm Cardiovascular Institute Gyu I. Gang, MD, continues to lead the heart surgery program at Central DuPage Hospital and Delnor Hospital in the western suburbs of Chicago. As surgical director, Bluhm Cardiovascular Institute West, Dr. Gang and his clinical team provide the same leading-edge techniques in heart valve surgery and other cardiac surgeries and procedures as offered at the Bluhm Cardiovascular Institute at Northwestern Memorial Hospital in Chicago—a program ranked among the top ten Cardiology and Heart Surgery programs in the nation by U.S. News & World Report for six consecutive years.1 Impressive on its own, Central DuPage Hospital improved their U.S. News & World Report ranking by moving up 43 spots in the rankings this year, to become a top ten program in Illinois.1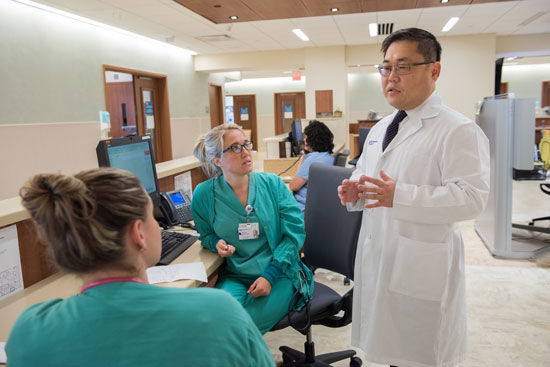 Dr. Gang says that the leadership and day-to-day involvement of Patrick M. McCarthy, MD, executive director of Bluhm Cardiovascular Institute, ensures patients will receive the same standard of heart care at Central DuPage Hospital and Delnor Hospital that they're used to receiving at Northwestern Memorial Hospital.
Continual refinement of technique
Dr. Gang holds a Bachelor of Science in biological chemistry from the University of Chicago. His medical education includes graduating from Johns Hopkins University School of Medicine in 1997 and completing his surgical internship and residency at University of Cincinnati College of Medicine in 2004. Dr. Gang was a cardiothoracic fellow under Dr. McCarthy from 2004 to 2007 at Northwestern University Feinberg School of Medicine.
Today, as a board certified cardiothoracic surgeon and an active member of the American College of Surgeons and the Society of Thoracic Surgeons, Dr. Gang credits his time at Northwestern as the place he learned to love heart valve surgery, to perfect his surgical technique and to develop a drive to never get complacent, to always want to learn more.
"I bring that approach to everything I do," he says. "Progressive surgeons will never say, 'I've been doing it this way for the last 20 years.' You don't want to be that surgeon. I am constantly looking for ways to improve on my approach to heart valve surgery."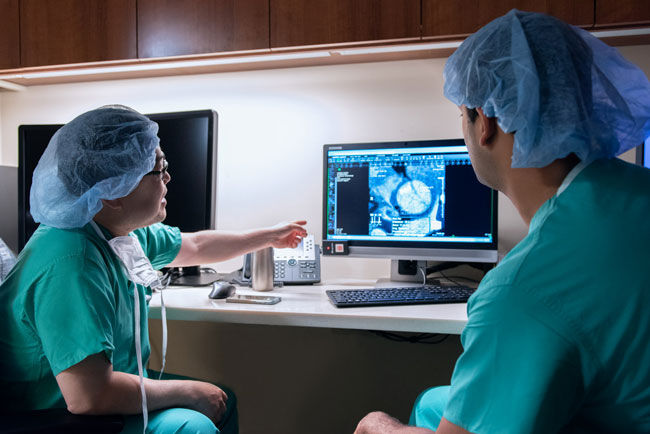 Bringing leading-edge techniques to a new region
For over 16 years, Dr. Gang has specialized in all aspects of heart surgery with a focus on open heart valve surgery, transcatheter aortic valve replacement (TAVR) and complex, concomitant heart valve surgery. More recently, during his three years at Central DuPage Hospital (2017-2020), Dr. Gang helped to foster the growth of complicated heart surgery procedures (valve +/-other procedure) by 63%.2
TAVR
Starting in 2008, Bluhm Cardiovascular Institute at Northwestern Memorial Hospital pioneered the TAVR technique. This expertise was passed on to Bluhm Cardiovascular Institute colleagues, including Dr. Gang, at Central DuPage Hospital. The first TAVR procedure was performed at Central DuPage Hospital in late 2016. Since then, Central DuPage Hospital has performed over 200 TAVR procedures demonstrating strong clinical results, including zero in-hospital TAVR mortalities (deaths).3
"It has been an honor and privilege to be part of the growth and success of the TAVR program at Central DuPage Hospital," says Dr Gang, MD. "The success of the program is a direct result of the thoughtful collaborative approach by all the members of the TAVR team, and its growth reflects the excellence we have established, and the trust our colleagues and community place in our efforts.
Northwestern Medicine continues to expand its work in the transcatheter realm. In addition to being Illinois' highest volume TAVR program4, the program now offers transcatheter heart valve treatment options not only for the aortic valve but also for the mitral and tricuspid valves.
Concomitant atrial fibrillation treatment
Dr. Gang was an early adopter of concomitant atrial fibrillation treatment—the practice of treating this abnormal heart rhythm at the same time a patient is undergoing an open-heart surgery for another issue, like heart valve disease. "If a heart rhythm disorder like atrial fibrillation is present at the time the patient needs open-heart surgery, then whenever possible, the patient should receive treatment for both issues during the same surgical setting."
"Living with heart rhythm disorder can be extremely uncomfortable—and everybody deserves sinus rhythm," he says. "We have the chance to give people enormous relief, so why wouldn't we offer integrated, concomitant approaches like the Maze Procedure when needed, with every open-heart surgery we perform?"
Being at our best, every single day
"Each patient is unique. Each heart is unique. We have so many ways to treat people with cardiovascular disease, so I work to match the most appropriate procedure to each patient, to ensure we get the best possible results," he explains. "Successful surgeries relieve symptoms and improve a patient's quality of life—for me, being able to make a difference for my patients is why I became a heart surgeon. There's an amazing level of trust that people put in their heart surgeon and team, and we have to be at our best every single day for them."

"There is an amazing level of trust that physicians and other healthcare workers in the community place in the heart surgery program at Central DuPage Hospital. We see this trust come to fruition when referring physicians send their complex patients to us for their heart surgery. Successful surgeries relieve symptoms and improve a patient's quality of life—for me, being able to make a difference for my patients is why I became a heart surgeon. We have to be at our best every single day for these patients."

References:

1. Northwestern Memorial Hospital ranking by U.S. News & World Report, America's Best Hospitals, 2020-21

2. STS Adult Cardiac Surgery Database, 2016-2019

3. STS/ACC TVT Registry, Oct. 2016-May 2020

4. COMPdata, Illinois Health and Hospital Association, Sep 2018-August 2019

To contact Dr. Gyu Gang, please click here or call (630) 426-7276.

Page last updated: July 21, 2021