Surgeon Spotlight: Dr. Gyu Gang
Northwestern Medicine, Chicago, Illinois - Sponsored Post
The newest addition to the team at Bluhm Cardiovascular Institute at Northwestern Medicine, Gyu I. Gang, MD, will be leading the continued expansion efforts of the heart surgery program at Central DuPage Hospital and Delnor Hospital in the western suburbs of Chicago. As surgical director, Bluhm Cardiovascular Institute West, Dr. Gang and his team will provide the same progressive techniques in heart valve surgery and other cardiac surgeries and procedures as offered at the Bluhm Cardiovascular Institute at Northwestern Memorial Hospital in Chicago—a program ranked among the top ten Cardiology and Heart Surgery programs in the nation by U.S. News & World Report.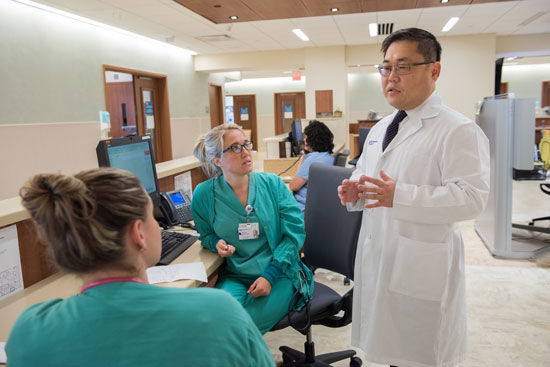 Bringing Bluhm Cardiovascular Institute's clinical expertise to the western suburbs of Chicago is well underway, an expansion that was needed for some time, says Dr. Gang: "We have to be cognizant of the emotional toll it takes on some family members and patients to have to travel into the city of Chicago for their heart care. The long distance and the traffic can be difficult, and the city can offer a sensory overload to patients and their family members at a time when they need as much peace and comfort as possible."
Dr. Gang says that the leadership and day-to-day involvement of Patrick M. McCarthy, MD, executive director of Bluhm Cardiovascular Institute, ensures patients will receive the same standard of heart care at Central DuPage Hospital and Delnor Hospital that they're used to receiving at Northwestern Memorial Hospital.
Continual refinement of technique
Dr. Gang holds a bachelor of science in biological chemistry from the University of Chicago. His medical education includes graduating from Johns Hopkins University School of Medicine in 1997 and completing his surgical internship and residency at University of Cincinnati College of Medicine in 2004. Dr. Gang was a cardiothoracic fellow under McCarthy from 2004 to 2007 at McGaw Medical Center of Northwestern University Feinberg School of Medicine.
Today, as a board certified cardiothoracic surgeon and an active member of the American College of Surgeons and the Society of Thoracic Surgeons, Dr. Gang credits his time at Northwestern as the place he learned to love heart valve surgery, to perfect his surgical technique and to develop a drive to never get complacent, to always want to learn more.
"I bring that approach to everything I do," he says. "Progressive surgeons will never say, 'I've been doing it this way for the last 20 years.' You don't want that surgeon. I am constantly looking for ways to improve on my approach to heart valve surgery." Dr. Gang says he relishes the chance to learn and collaborate with his Northwestern Medicine colleagues: "I'm always open-minded about hearing others' ideas and building on those ideas to provide new technologies and procedures for better patient care."
Being at our best every single day for our patients
Dr. Gang initially was intrigued by the research side of medicine, but quickly learned his personality was better suited to surgery. "I have always been mechanical in nature, with a love of fixing things. Performing heart surgery is a great outlet for the mechanical way my brain approaches obstacles."
Interestingly enough, before Dr. Gang found medicine, he originally planned to be a litigator, but didn't like the adversarial role of fighting others. "In medicine, we fight together for our patients—I like that collegial atmosphere."
"Each patient is unique. Each heart is unique. We have so many ways to treat people, so I work to match the most appropriate procedure to each patient, to ensure we get the best possible results," he explains. "Successful surgeries relieve symptoms and improve a patient's quality of life—for me, being able to make a difference for my patients is why I became a heart surgeon. There's an amazing level of trust people put in their heart surgeon and team, and we have to be at our best every single day for them."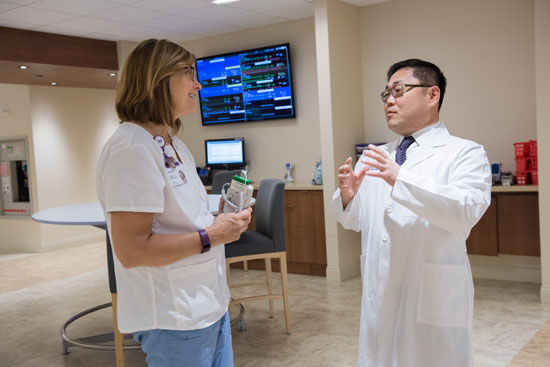 Bringing cutting-edge techniques to a new region
For the past 10 years, Dr. Gang has built a private practice as part of Western Cardiothoracic Surgeons through a number of hospitals in and around Mesa, Arizona. He specializes in all aspects of heart surgery but focuses on transcatheter aortic valve replacement (TAVR) and complex, concomitant heart valve surgery.
Extensive research continues to be focused on transcatheter heart valve procedures, says Dr. Gang, and he sees considerable strides being made in this important area: "Through focused clinical trials—in which Northwestern Medicine is a leading participant—we are able to offer more transcatheter options to more patients, with proven clinical results."
Northwestern Medicine continues to expand its work in the transcatheter realm. In addition to being Illinois' highest volume TAVR program, the program now offers transcatheter heart valve treatment options not only for the aortic valve but also for the mitral and tricuspid valves.
Dr. Gang says he was an early adopter of concomitant atrial fibrillation treatment—the practice of treating this abnormal heart rhythm at the same time a patient is undergoing an open-heart surgery for another issue, like heart valve disease. "If a heart rhythm disorder like atrial fibrillation is present at the time the patient needs open-heart surgery, then whenever possible, the patient should receive treatment for both issues during the same surgical setting."
Current guidelines from the American Heart Association and The Society of Thoracic Surgeons mandate this approach, but Dr. Gang says when he started his work in Arizona, he was shocked at the number of doctors who weren't following that approach. "Living with heart rhythm disorder can be extremely uncomfortable—and everybody deserves sinus rhythm," he says. "We have the chance to give people enormous relief, so why wouldn't we offer integrated, concomitant approaches like the Maze Procedure when needed, with every open-heart surgery we perform?"
Embracing a return to Northwestern Medicine - and Chicagoland
While Dr. Gang says he wasn't looking to leave Arizona and the practice he had created there, the offer to return to Northwestern Medicine and the Bluhm Cardiovascular Institute was one he couldn't turn down.

"You can get into a comfort zone—you understand your team's expertise, you know your own capabilities—but I know professionally, I always need to challenge myself. The opportunity to build a program at Bluhm Cardiovascular Institute West at Central DuPage Hospital and Delnor Hospital, and to lead a team that has been bringing—and will continue to bring—excellent treatment options to the western suburbs of Chicago, is one I couldn't resist," he says.

One passion Dr. Gang pursued in Arizona, and will continue to pursue in Chicagoland, is golf. "I love the fact that when you're playing golf, you have to be totally in the moment. You're planning your approach, and thinking carefully about each shot. You can't allow distractions to deter you from success. That kind of focused determination, both in the operating room and the golf course, feels very natural for me."

Returning to the Chicago area also means a return to more time studying the arts, says Dr. Gang. "Coming back to the Chicagoland area provides an opportunity to dive deeper into theater, art, music and other creative pursuits. Chicago's a great city for the arts."

Page last updated: January 22, 2019