Valve Clinic Tour: Beyond The #1 Ranking, Cleveland Clinic Places Patients First
By Adam Pick on April 26, 2012
Yesterday, I was incredibly fortunate to visit the Cleveland Clinic. While there, I met several cardiac surgeons, cardiologists, nurses, quality teams and administrators during a tour of the six-story Heart & Vascular Institute, commonly referred to as 'HVI'.
I have to tell you… I wasn't just impressed. I was very,very, very, very, very, very impressed.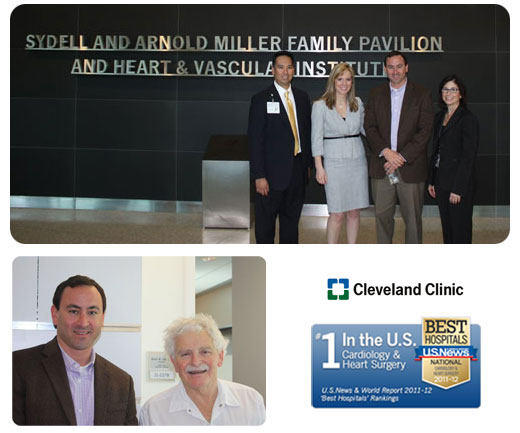 Going into the visit, I knew that Cleveland Clinic was ranked #1 for cardiology and heart surgery by U.S. News and World Report for the past 17 years. I also knew that many members of our community raved about their patient experiences at Cleveland Clinic. However, I did not personally know what made HVI so unique. Now, as I write this on the plane ride home, I am starting to understand why Cleveland Clinic is so different, so reputable and so focused on valve surgery. During the tour, I identified 7 highlights about the Cleveland Clinic that I jotted down below.

Highlight #1 – The 'Patient First' Culture
For the past 35 years, Dr. Delos 'Toby' Cosgrove, the President and CEO of Cleveland Clinic, and Dr. Bruce Lytle, Chairman of the Heart & Vascular Institute, have worked to empower the Cleveland Clinic, its employees and, most importantly, its patients. Together, these two men have adhered to and built upon the founders' core beliefs of medical cooperation, research and education. So you know, Dr. George Crile founded the Cleveland Clinic in 1921.
In addition to being incredible physicians, it is evident that Dr. Cosgrove and Dr. Lytle are extraordinary managers. They have injected a global and systemic 'Patient First' approach to care deep within the cultural DNA of the 30,000 employees that power the Cleveland Clinic. For example…
Each employee at the Cleveland Clinic wears a badge that says, "Caregiver"
Almost every employee I spoke with during the tour reminded me, "Our patients come first."
Several signs and billboards in HVI — even in an underground kitchen — declare, "Patients First"
Live music and art exhibits fill a fun 'Calendar of Events' for patients
Patients can enjoy yoga, reiki and massage therapy during their stay
Each patient room is private
During my career as a high-tech consultant, I have spent time at many leading corporations including Philips, Siemens, Sony, Motorola, IBM and Sony. I believe these multi-national corporations could learn from Dr. Cosgrove, Dr. Lytle and Cleveland Clinic's management team. I have never been exposed to a team so focused, so consistent and so articulate about their mission.
Highlight #2 – Experience, Experience & More Heart Valve Surgery Experience

When it comes to experience, the Cleveland Clinic performed 4,346 cardiac surgery procedures during 2010. Of those procedures, 67%, or 2,912 operations, involved some type of valve therapy. That said, Cleveland Clinic surgeons perform significantly more heart valve surgery than most of their peers. (So you know, the average number of mitral valve repair surgeries performed by cardiac surgeons is five per year.)
"The benefits of an experienced team are really important for patients," shared Betsy Stovsky, Manager of the Health Resource Center. "Everybody hopes for a successful and uneventful surgery. However, when complications occur – and unfortunately they do – that is when you want an experienced surgical team that has handled those complications not once but many times before."
To support its commitment to heart valve therapy, the Cleveland Clinic maintains:
13 cardiac surgeons
100 cardiologists
Over 1,000 nurses
13 operating rooms (capabilities include robotic and percutaneous procedures)
298 private rooms
110 intensive care unit beds
Right about now, you might be wondering, "Is there a major epidemic of heart valve disease in Ohio?" or "Why is there so much cardiac surgery in Cleveland?"
During my tour, I learned that 50% of patients are not from Ohio. They are from other states and other countries. Several patients in our community – Anita Devine, Jeff Pirofsky and Linda Dixon — are part of this statistic as they traveled from New York, Alabama and South Carolina to Cleveland for valve surgery. Here is more about traveling to the Cleveland Clinic for heart surgery.
Highlight #3 – Quality and Surgical Outcomes
As you have seen in prior interviews with Dr. Gaudiani and Dr. Ennker, we actively encourage patients and their caregivers to request the surgical outcomes of their potential hospitals and prospective surgeons. To this point, Cleveland Clinic publishes their valve surgery outcomes at their website.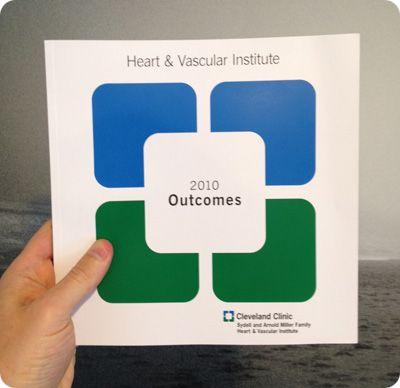 Within this report, you might find the following facts interesting:
Isolated mitral valve repair hospital mortality was 0% in 2010, well below the 1.3% national STS benchmark (shown below)
Isolated aortic valve replacement hospital mortality was 1.1% in 2010, below the 2.7% national STS benchmark


As for complacency among the Cleveland Clinic team, I did not detect it. Michelle Edwards, Data Registry Manager, shared with me, "We always strive to improve our outcomes and out internal metrics… We want to get better."
To their credit, it should also be noted that more than 50% of Cleveland Clinic's open heart cases do not fit into common categories within the STS database. These cases are highly complex, have more risk and often involve re-operations. "It's interesting Adam," Dr. Bruce Lytle, Chairman of the Heart & Vascular Institute, shared with me, "Many of our patients have been told that there is no treatment available to them. Second opinions for these high-risk patients need to be considered. Often, not always, there is something that can be done."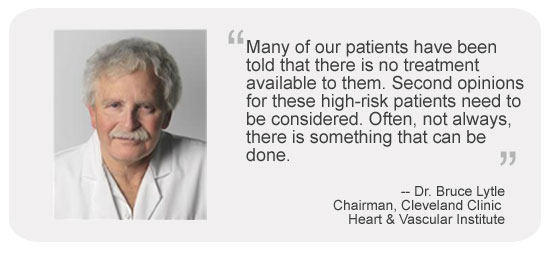 Highlight #4 – The Heart & Vascular Institute Is Calming
It was right around eleven o'clock in the morning that I started to realize something very dislocating. I started to wonder, "Is this really a hospital?"
I could not believe how calming, how open and how peaceful the hospital felt. Although I forgot to ask, my gut tells me a Feng Shui master was integral to the design of this sizable but comfortable space. A beautiful fountain greets you at the entrance. Soft music plays in the background. Several pieces of art adorn the walls and hang from the ceilings.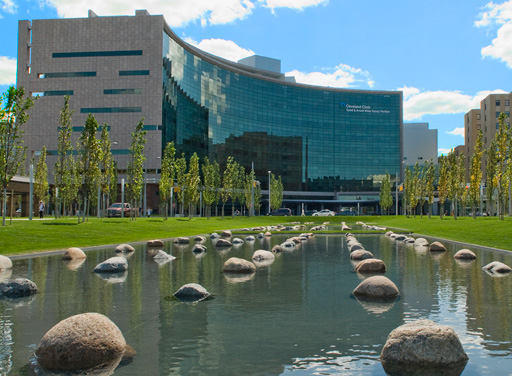 As I walked through the patient rooms, two things struck me. First, the rooms were very comfortable – clean, modern, spacious, naturally lit and filled with flat panel televisions. Second, the hospital floors were… quiet. Yes, quiet. Imagine that… A quiet hospital experience.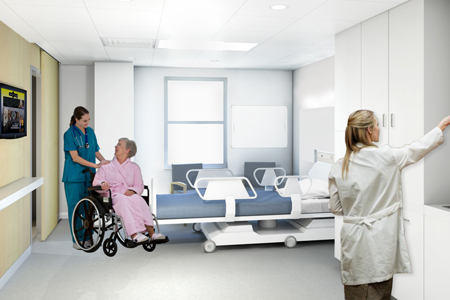 Highlight #5 – Patient & Caregiver Education Collapses The Gap Between Reality & The Unknown
Similar to other top-ranked clinics, Cleveland Clinic extends significant resources to educate patients before, during and after surgery. However, the extent to which this team collapses the divide between reality and the potential unknown warrants praise.
Consider that each patient receives a very thorough, very exhaustive reference binder prior to surgery.
Consider that family members can participate in an educational course about cardiac surgery while their loved ones are having surgery.
Consider that Cleveland Clinic provides all patients a 'hotline' to call in with questions after surgery.
Consider that the surgeon meets with the patient's family immediately following surgery — to discuss the operation.
Consider that doctors and nurses are required to discuss the patient's post-operative condition in front of the patient.
Consider that patients are provided a 'Medical Team Card' that clearly indicates who will be helping them throughout their hospital stay (see below).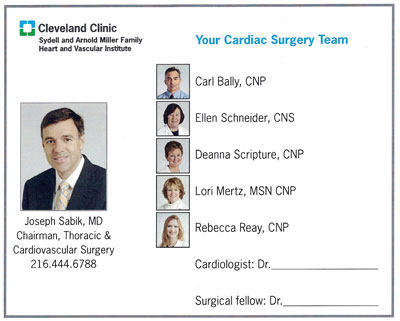 I could go on but I think you get the point. To some extent, I believe the Cleveland Clinic has developed and established patient-centric resources that provides answers before patients realize they have questions. In my opinion, that is great patient education.

Highlight #6 – The 'Group Practice' Model

During dinner, Dr. Eric Roselli, Dr. Douglas Johnston and Dr. Edward Soltesz helped me understand the 'group practice' model. As a group practice, physicians at Cleveland Clinic are full-time, salaried employees. This practice eliminates incentives to perform unnecessary tests or procedures and encourages physicians to consult with colleagues and spend the time necessary to practice excellent medicine.
"We are here to do right by the patient," Dr. Roselli, staff surgeon, shared with me, "I am an employee just like the other members of our medical teams. Thanks to this model, we all work together to fight valvular disease and help our patients. It is a privilege for me to come to work every morning."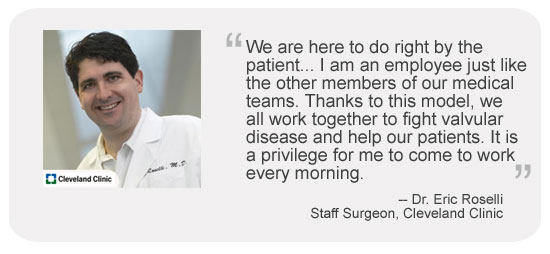 Quick question… When was the last time someone told you it was a privilege to come to work?
According to Gina Cronin, Administrator of HVI, this model has proven advantageous for Cleveland Clinic and other centers that have adopted this approach. "In our opinion, we see the utility of this model as a definitive trend across our industry," Gina explained to me.

Highlight #7 – The Actual Surgery Is Not The Epicenter Of The Patient Experience
As the tour came to a close, I felt as if my eyes had been opened to something more than a unique approach to cardiac care. I felt as if the Cleveland Clinic had transformed the traditional concept of cardiac surgery into an expansive experience defined more by the patient and less by the hospital.
Strangely, in my interpretation of the HVI platform, the surgical event is not the epicenter of that experience. Rather, just a piece of the puzzle that blends together with the other elements within HVI to heal your heart. 🙂
I would like to thank Dr. Lytle, Dr. Gillinov, Dr. Roselli, Dr. Johnston, Dr. Soltesz, Gina, Megan, Betsy, Paul, Michael, Michelle, Nichole, Shannon, Mary Joe and Katie for their time and help during this tour. While this was my first visit to HVI, I am hopeful it is not my last.
Keep on tickin!
Adam
Adam's Newest Blogs
Adam's Newest Posts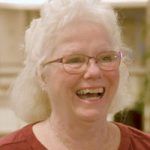 No Heart Transplant for Michele, Thanks to the MitraClip! Learn More.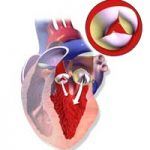 Surgeon Q&A: What Should Patients Know About Aortic Regurgitation? Learn More.