My Cardiologist Was Absolutely Wrong!!!
By Adam Pick on March 21, 2018
Yikes!  Ugh!  Gasp!  Ready to learn why patient education and patient advocacy is so important for patients with heart valve disease?
I almost fell out of my chair when I read this note from Gina Fiorentino, a mitral valve patient and community member, from San Francisco.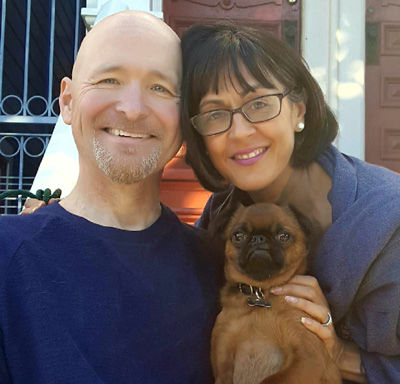 Gina, Michael (husband) and Rocco
Gina Writes To Me…
Hi Adam,
I'm five days out from mitral valve repair. I was just released from the hospital today!
It's very early in my recovery but I had to reach out and thank you for helping me through this process. Because of you, my prognosis and my LIFE has changed – much for the better!
As you may recall… Before I found your website, this past summer, I had been told by a cardiologist that my mitral valve prolapse had progressed.  But, I was directed – by the cardiologist – to sit back and "wait for symptoms to become intolerable".  

I was then told by my cardiologist that my mitral valve would eventually need to be… replaced. The cardiologist also casually informed me that since I was young, I would likely need multiple surgeries — as valve replacements only last between "5 and 15 years".
Fast forward a few months… After I was able to regulate myself down from an exhaustively traumatic, high-anxiety response, I started doing research online.  Of course, that quickly led me to reading about the possibility of MITRAL VALVE REPAIR, your book, the videos, and other valuable information via your community.  I also learned about Dr. Luis Castro.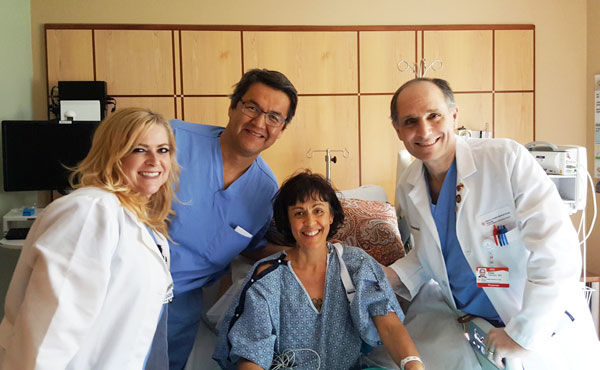 Gina After Mitral Valve Repair Surgery (with Dr. Castro at Sequoia Hospital)
Like many others who have either been improperly diagnosed or not given the most current information, I assumed that my hospital didn't offer me a mitral valve repair because I "missed my window of opportunity" by not insisting for a new echocardiogram until 5 years after my original diagnosis.  I wonder how many people have erroneously believed the valve replacement was inevitable because they didn't get a second opinion and/or trusted the information they had been given is accurate or up to date?
As I begin my recovery, I hope to find ways to give back and support other heart valve patients.  I've already thought of sewing heart pillows, becoming an American Heart Association Ambassador, and to visit other heart patients at Sequoia Hospital.  If you can think of more ways I can help on a larger scale, I'd love to start thinking about those as goals.
Lastly, if you are in the San Francisco Bay area anytime in the near future, my husband and I would love to treat you to dinner.
Thank you "literally" from the bottom of my newly mended heart. 🙂
Gina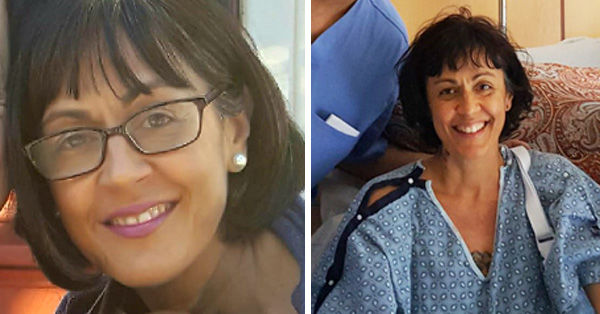 Vikki says

on March 22nd, 2018 at 1:06 pm
I had a very similar experience. I was told there was a 90% chance I would have to have my mitral valve replaced, a 10% chance that it could be repaired. But I found the right surgeon who reversed those percentages and I did indeed get to have a repair. I had the surgery at age 64 and when I told the surgeon that I have plans for living to 105, he told me I was good to go, no problems, no more surgeries. SO thankful for second and even third opinions. (I actually got SIX opinions.) Technology continues to improve, finding the right doctor and an up-to-date surgeon is so important. People come from all over the country for my surgeon, and he is in my back yard.
Life is good, I am blessed and grateful.
Congratulations on your good outcome! I know it feels so good to be on this side of that surgery.


Judith Kissling Monti says

on March 22nd, 2018 at 1:38 pm
I do not know how many patient's blindly follow a cardiologist's advice without doing their own research. I was first dx'd with afib/flutter which progressed to permanent in under a year. I had an ablation but the afib/flutter became worse after the ablation. A T-test showed my mitral valve was severely regurgitating. I don't know why it took 9 months to refer me to a surgeon who told me not to wait more than 3 months to schedule surgery. I was not symptomatic and still giving my all 4 days at the gym.
I did my research and knew repair was the way to go. My cardiac surgeon said he hoped for repair but would not know until they got in there. Thankfully, I was able to repair vs. replace. He does not believe I will require another surgery.
I've had several bumps into my recovery. Surgery was Nov 29, 2017. Having problems with peracarditis that does not want to leave and some afib/flutter. Because of the latter I am still in cardiac rehab. Thought by now I would be out of that and back to my gym. I am feeling well.
I was lucky to have great Doctor's in my backyard. I had minimally invasive surgery
Other surgeon's fly into Atlanta to watch Dr. Myung perform this surgery. The hospital is highly rated :
"WellStar Cardiovascular Surgery is the second heart surgery program in the United States and the only program in Georgia to receive dual certification by Joint Commission on Accreditation of Hospital Organizations for excellence in coronary artery bypass and heart valve repair/replacement surgery.
Society of Thoracic Surgery (STS) rates the coronary artery bypass program with a "3 Star Quality Rating" out of 3 Stars. Only 10 percent of hospitals in the nation are awarded this recognition.
The cardiovascular surgery program is recognized by BCBS for the Cardiac Distinction Recognition Award for Cardiac Excellence and by Aetna as an "Institute for Quality Cardiac Medical Intervention Hospitals" due to high achievement in cardiac surgery quality indicators as defined by the National Quality Forum."
I felt I was in good hands, and lucky to find a great surgeon and hospital only 8 miles from my home. I know many people question should I go somewhere like Cleveland Clinic (Cleveland is where I grew up, my sister was a nurse there and my Dad had a triple by-pass at CC). I don't think this is necessary for most individuals because there are many great doctor's and hospitals throughout our country. This is why research is so necessary.
I too would like to do some sort of volunteer work in this area. So glad you shared your story which I am certain will help other's in their process of finding a Dr. and a hospital. Stay well!
Judy


kerry wilson says

on March 22nd, 2018 at 9:02 pm
My name is Suzanne. I agree 100% with Gina and Vikki! I also had mitral valve repair at an amazing local hospital with a renowned surgeon (listed on this website – "find a surgeon"). I had MVP 25+ years but had been stable until developing a-fib last year, and annual echo revealed that it had progressed to a severe leakage, although I had NO symptoms yet. Luckily my cardiologist referred me to my surgeon and even said he would send me to the Cleveland Clinic if I wanted. After my first consultation I was stunned, not ever thinking I needed surgery now. I got 4 opinions and waffled for 6 months before finally having the surgery 1/23/18. I never doubted my surgeon's ability or competence, but needed time to process all the info since it was not an emergency, but at age 63 "should be done sooner rather than later." My valve was able to be repaired (with the DaVinci robot), and with an ablation and some new meds the a-fib seems to be controlled. I hope to be off the meds after more healing in a few more months. I am steadily returning to normal activities and am going to cardiac rehab 3 days a week. I was lucky that my PCP and cardiologist were on top of things to get me to the help I needed before any irreparable damage was done. If one has any doubts, they should definitely get more opinions!


Valerie Griffin Archual says

on March 24th, 2018 at 12:46 pm
That is so awesome that Gina did her own research and is now doing well after a REPAIR!!! Praise the Lord!!!! Thanks for sharing Adam! And thanks again for all you do for our heart community and being so attentive to connecting with us all and keeping us up to date in the heart realm of the world!!! Thanks again for this awesome site where we can all connect!!!! <3!!!! ~Valerie

Adam's Newest Blogs
Adam's Newest Posts