Did Heart Valve Disease Cause Damar Hamlin's Cardiac Arrest?
Written By: Adam Pick, Patient Advocate, Author & Website Founder
Published: January 6, 2023
My thoughts and prayers remain with Damar Hamlin, 24, defensive back of the Buffalo Bills. As you may have seen, Damar experienced a cardiac arrest while making a tackle during Monday's football game between the Buffalo Bills and the Cincinnati Bengals.
The great news is that the latest medical reports suggest that Hamlin's condition is improving.  According to CNN, doctors say Hamlin has shown "remarkable improvement" in the last 24 hours and is "neurologically intact". Hamlin has been in the intensive care unit since he was taken from the field.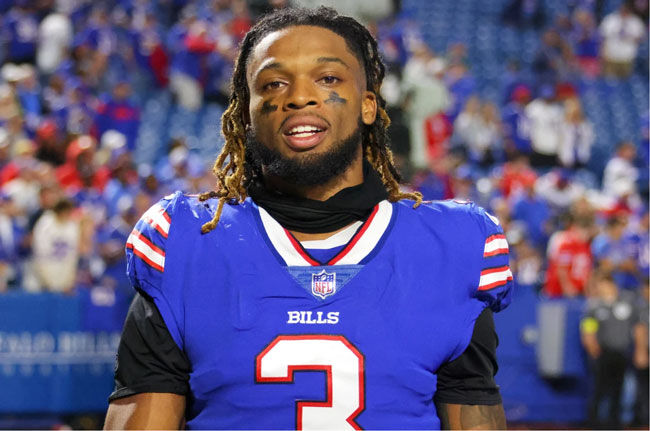 Damar Hamlin (Buffalo Bills)
Can Heart Valve Disease Cause Cardiac Arrest?
At this time, we do not know the specific cause of Damar Hamlin's cardiac arrest.  However, the story of Damar Hamlin has caused many patients in our community to ask an important question, "Can heart valve disease cause cardiac arrest?".
Together, we have learned that valvular defects including aortic stenosis and mitral regurgitation are often referred to as "silent killers".  In fact, as I shared during this new story about Bono, U2's lead singer, who recently revealed his own heart surgery for a bicuspid aortic valve, up to 25,000 people die each year from valvular disorders including aortic stenosis and mitral regurgitation.
So, my immediate thought to this important question about valve disease as a potential cause for Hamlin's cardiac arrest is "yes".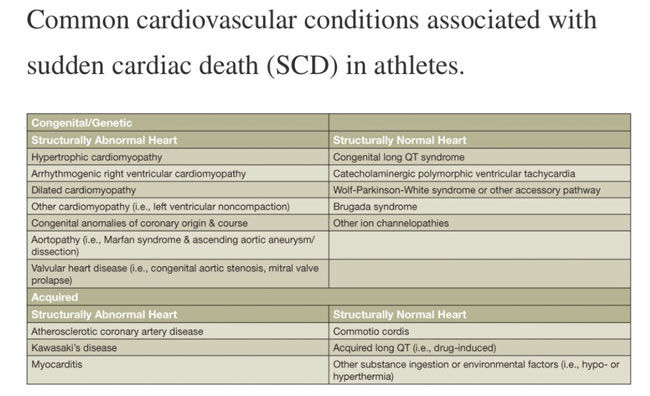 That response was confirmed in a recent post by Dr. T. Sloane Guy, a robotic mitral valve specialist, who posted the chart above at LinkedIn.  In this chart titled, "Common cardiovascular conditions associated with sudden cardiac arrest in athletes", you can see the different congenital and acquired cardiac conditions which may cause cardiac arrest including:
Valvular heart disease (i.e. congenital aortic stenosis, mitral valve prolapse)
Arrhythmogenic right ventricular cardiomyopathy
Dilated cardiomyopathy
Other cardiomyopathy (i.e. left ventricular noncompaction)
Congenital abnormalities
Aortopathy (aortic aneurysm, Marfan's syndrome)
Kawasaki's disease
Myocarditis
My Thoughts & Prayers Are With Damar!
While we do not know if heart valve disease caused Damar's cardiac arrest, our thoughts remain with Damar.  We are hopeful that Damar will continue to recover from this very scary situation.
Keep on tickin' Damar!
Adam
Adam's Newest Blogs
Adam's Newest Posts