"Did Your Enlarged (Dilated) Left Ventricle Return To Normal Size After Surgery?" Asks Sandra
By Adam Pick on August 20, 2009
I just received a great question from Sandra about heart valve disease, enlarged hearts and valve surgery.
Sandra writes, "Hi Adam, I read that you had an enlarged heart before your surgery. I was wondering if it has returned to normal size since the surgery?  I had mitral valve repair due to severe mitral regurgitation and an aneurysm repair in July 2008. I was told that my heart was enlarged and that it may not return to its original size. I exercised quite vigorously before my diagnosis thinking that my shortness of breath was due to being 'out of shape'. The more short of breath I became, the harder I exercised. Now, I am wondering if this caused the heart to enlarge even more. My echo at 4 months post-op showed the heart still enlarged. I go again in September for another echo and I'm curious to see if it has returned to normal. Thanks, Sandra"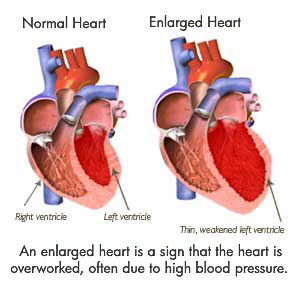 Sandra is definitely correct. I did have an enlarged heart when I was diagnosed with severe aortic stenosis. (To learn more about stenosis, click here.)
In fact, I'll never forget when my cardiologist, Dr. Bad Bedside Manner, looked at my echo and said, "Adam… The echo shows your valve has really deteriorated… Your heart has already dilated a bit… You need a new valve. And, you need it soon!"
After that memorable moment, I did a lot of research on heart valve disease (which I knew very little about) and its impact on cardiac function. I learned that when the aortic valve becomes narrowed, the muscles of the left ventricle thicken to maintain pump function and cardiac output.
According to MedicineNet, "This muscle thickening causes a stiffer heart muscle which requires higher pressures in the left atrium and the blood vessels of the lungs to fill the left ventricle… Even though these patients may be able to maintain adequate and normal cardiac output at rest, the ability of the heart to increase output with exercises is limited by these high pressures… As the disease progresses, the increasing pressure eventually causes the left ventricle to dilate, leading to a decrease in cardiac output and heart failure."
Given that background on stenosis and enlarged ventricles, I think I can better answer Sandra's question.
According to my last echocardiogram (shown below), which was performed three years after my heart valve replacement surgery, the size of my left ventricle is normal. In addition, it's also important to note that my left ventricular ejection fraction was normal, at 65%.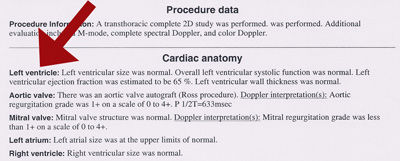 Excerpt From Adam's Last Echo (December, 2008)
I hope this helps you better understand valvular disorders and their impact on the cardiac muscle, specifically the left ventricle.
Keep on tickin!
Adam

MJ Samer says

on August 20th, 2009 at 3:07 pm
I also have an enlarged heart and was curious about your answer to Sandra's question. I just had a stress/echo. and cardiac MRI this week and will probably have to have my pulmonary valve and tricuspid valve replaced this fall. This is right-side of the heart, though, not what you are talking about.
I have a few questions of my own. I was born with a congenital heart defect and had heart surgery to open the pulmonary valve when I was 4 (1951) and then more surgery to remove scar tissue above the pulmonary valve (infundibular resectioning) in 1989. I also had subsequent arrthymia problems following an Amplatzer device put in (2003) to patch a hole in my heart.
I'm concerned because this will be my 3rd open heart surgery. Also, there is very little info. out there on tricuspid valve replacement. I have an abnormal (maybe from birth) tricuspid valve w/severe regurgitation. Also the pulmonary valve is defective and barely functioning. My cardiologist at Northwestern Memorial hospital in Chicago is very good and I have confidence in him, but have not consulted with the surgeon yet. I'm being treated in the Adult Congenital Heart unit there. This is the 2nd opinion I've gotten about my heart condition.
I'm wondering if anyone out there has had tricuspid valve replacement. Most of the stories are about other valves being replaced and it's often the first surgery… so, my case is a bit different.
It was good to see that the heart CAN go back to normal sized, after being enlarged, though! Wow. Who knew.
Thanks for the informative website. I have your book, too.
MJ Samer


jeff stoveken says

on August 20th, 2009 at 6:18 pm
hi, i too had an anuerysm repair and an aortic valve replaced this passed september. my heart was enlarged as well and my doctor said he wasnt worried because they do return to normal size. sandra, i wonder if it slowly returns and maybe it will be slightly enlarged for sometime afterwards. i havent heard any reports on mine, so now im curious as well ! good question ! jeff jeffstoveken@yahoo.com for any questions or comments of their own.


Patrick Lenon says

on August 21st, 2009 at 12:35 am
Dear Sandra,
It is five months today since I had my mitral valve repaired. My heart is still enlarged, but shrinking. My cardiologist assures me my heart will return to a normal size, but I need to continue to learn how to live on body time and not head time. His best advise to me was to sit back, relax and give into my fatigue. So my refrain these days is, "All is well, all is well, all is well in all manner of things."
Peace,
Patrick


Allan says

on August 21st, 2009 at 1:56 am
Hi Sandra
I had my aortic valve replaced in October 2008. At the time of the operation, my resting left ventricular diameter was 42mm. At my last check-up with the cardiologist (July 2009) it was down to 35mm. I believe that 25mm is considered "normal" so I'm expecting it to return to this kind of level in the next couple of years.
Regards
Allan


Cyndy says

on August 21st, 2009 at 3:28 am
Adam, what was your ejection fraction after surgery? Your new number is wonderful, and I am so happy for you and your family.
My husband had an aortic valve replaced one week ago, and his EF is 20%. It was about 35% 2 months ago. The doctors say it will probably improve somewhat, but I am terrified by this number. Does anyone else have anything to share about this?


Cindy says

on August 22nd, 2009 at 3:45 pm
******I need to continue to learn how to live on body time and not head time. His best advise to me was to sit back, relax and give into my fatigue.******
Patrick, I must thank you for sharing the above message from your cardiologist!! I am coming up on my 7mo post op of mitral repair in Sept. I find I am tired sometimes & get frustrated with it. I say to myself "It has been SIX months, I should be 'done' with this by now!" body time vs. head time … I find that a powerful message. And maybe I'll now go take a nap!!!
Cindy


Rick says

on February 27th, 2012 at 11:18 pm
My Aortic valve was replaced with tissue valve and my enlarged ascending aorta was reconstructed in August 2011. Here are my left ventricle diameters by echo over time:
– February 2004 – 57mm
– July 2010 – 58mm (1/2 year of rigorous exercise)
– July 2011 – 70mm (1.5 years of rigorous exercise)
– November 2011 (3 months post-op) – 59mm
– February 2012 (6 months post-op) – 64mm
It is strange that the left ventricle is larger at 6 months than 3 months. Doctor seems unconcerned, but I have some trust issues with him.
It is my understanding that 57mm is the upper range of normal. Given that I was a relatively competive runner from my mid-teens thru my mid-20's (i.e. 4min, 40 sec mile, 2:03 1/2 mile, 17:30 5K), the size may have been developed from an atheletic period. But for 24 years after that, I was fairly active, but not aerobic in nature.
Anyone else had variations in left ventrical size this large?


Don says

on July 2nd, 2012 at 12:29 am
I had my aorta valve replaced in Feb of 07, in 2010 it was discovered that I had an aorta aneurysm 5cm x 4.6cm per MRI, 6 months later CT scan measured the aneurysm at 4.9 x 4.8, doc's are waiting till it reaches 5.5cm before repairing, my question right now is can an aorta aneurysm cause the heart to enlarge as well? I haven't seen my last echo result.


Lisa says

on July 9th, 2012 at 11:00 pm
I'm glad I stumbled onto this website. It's been 3 months since my mitral valve repair, and I was just told that my heart is still enlarged. They prescribed Lisinopril — I took that for four days and had a bad reaction: trouble swallowing & extremely tired — NOT GOOD! Now I'm starting on Carvedilol. Uggg….same thing as a lot of you Body Time vs. Head Time. I am relatively young (47), so I thought I would bounce back quickly. I was so happy when I briefly had to take no medication, then the results of this latest echo came in. Now that I am hearing that it takes time for the enlarged heart to shrink back to normal, I will not stress about it, and will continue to "go with the flow" 🙂


mommystreet says

on March 21st, 2013 at 12:28 pm
I was told last week at a routine checkup that I have a dilated right heart and premature ventricular contractions. I also have a long history of lung problems, including asthma and smoking for 20 years, and I have never really exercised much in my life. I am headstrong now about getting healthy, but I don't know how given these new findings. (Except quit smoking, of course, which I am working on.) I go to the cardiologist soon for an echo and heart monitor to find out more.
I want to know, can my heart go back to normal? I feel exhausted all the time. Should I exercise? Or is resting more important now? What should I eat? I know I should avoid salt and fat. What else?
Btw, I am only 33. I am 4'10" and weigh 136. normal cholesterol and A1C. normal CBC and COMP. thyroid normal.
What kind of prognosis can I expect? Any idea?


Leanna says

on May 2nd, 2013 at 10:37 pm
My husband had a left ventricle reconstruction with 5 bypasses three months ago, but he seems worse than before. He had some complications after, two gi bleeds. Is it normal for him to have very little energy and completely wore out? When we ask his cardiologist, he just says "you had a big surgery". I guess I just really expected more.


Dean says

on August 30th, 2013 at 1:02 am
I have an enlarged left atrium and no enlargement of the left ventricle. I do have atrial fib. I am planning to get my mitral repaired and have a mini-maze procedure(to help with a-fib). My question is:. I was told that the atrium after surgery will get back to normal size whereas the left ventricle if enlarged likely will not……true or false? In addition I feel swimming an hour per day 7 days a week may be healthy to do if one is healthy but I feel while atrium is enlarged one needs to get atrium to normal with a relaxed lifestyle and once atrium is normal then exercise all you can…..true or false? The reason to wait until atrium is normal is because atrium is over working and your keeping it in a perpetual state of being enlarged and therefore needs to be relaxed…..true or false?


Jeannette says

on January 21st, 2016 at 7:50 am
Hi could I ask a question which you may or may not know the answer to.my granddaughter is 14 months old today and had open heart surgery 2 weeks ago to correct a congenital heart defect which was a large hole in the upper chambers of the heart and a very slight leak in a valve.her heart size is the upper end of normal.now she's had the repair would get heart eventually go back down to normal size ?
Thankyou

Adam's Newest Blogs
Adam's Newest Posts