"Did Your Enlarged (Dilated) Left Ventricle Return To Normal Size After Surgery?" Asks Sandra
By Adam Pick on August 20, 2009
I just received a great question from Sandra about heart valve disease, enlarged hearts and valve surgery.
Sandra writes, "Hi Adam, I read that you had an enlarged heart before your surgery. I was wondering if it has returned to normal size since the surgery?  I had mitral valve repair due to severe mitral regurgitation and an aneurysm repair in July 2008. I was told that my heart was enlarged and that it may not return to its original size. I exercised quite vigorously before my diagnosis thinking that my shortness of breath was due to being 'out of shape'. The more short of breath I became, the harder I exercised. Now, I am wondering if this caused the heart to enlarge even more. My echo at 4 months post-op showed the heart still enlarged. I go again in September for another echo and I'm curious to see if it has returned to normal. Thanks, Sandra"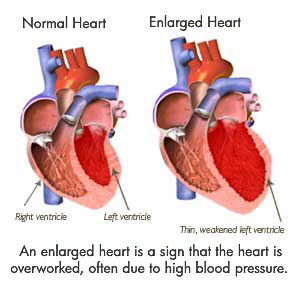 Sandra is definitely correct. I did have an enlarged heart when I was diagnosed with severe aortic stenosis. (To learn more about stenosis, click here.)
In fact, I'll never forget when my cardiologist, Dr. Bad Bedside Manner, looked at my echo and said, "Adam… The echo shows your valve has really deteriorated… Your heart has already dilated a bit… You need a new valve. And, you need it soon!"
After that memorable moment, I did a lot of research on heart valve disease (which I knew very little about) and its impact on cardiac function. I learned that when the aortic valve becomes narrowed, the muscles of the left ventricle thicken to maintain pump function and cardiac output.
According to MedicineNet, "This muscle thickening causes a stiffer heart muscle which requires higher pressures in the left atrium and the blood vessels of the lungs to fill the left ventricle… Even though these patients may be able to maintain adequate and normal cardiac output at rest, the ability of the heart to increase output with exercises is limited by these high pressures… As the disease progresses, the increasing pressure eventually causes the left ventricle to dilate, leading to a decrease in cardiac output and heart failure."
Given that background on stenosis and enlarged ventricles, I think I can better answer Sandra's question.
According to my last echocardiogram (shown below), which was performed three years after my heart valve replacement surgery, the size of my left ventricle is normal. In addition, it's also important to note that my left ventricular ejection fraction was normal, at 65%.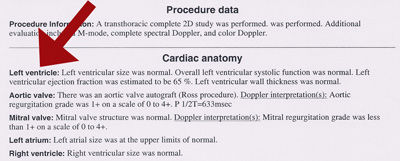 Excerpt From Adam's Last Echo (December, 2008)
I hope this helps you better understand valvular disorders and their impact on the cardiac muscle, specifically the left ventricle.
Keep on tickin!
Adam
Adam's Newest Blogs
Adam's Newest Posts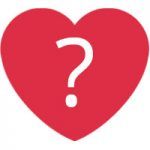 Doctor Q&A: "What Criteria Do Surgeons Use to Choose a Heart Valve Replacement?" asks Peter Learn More.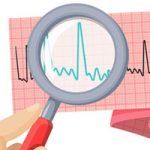 "How Do I Know When My AFib Is Gone After Heart Surgery?" asks Linda Learn More.