"What Is The Normal Size Of An Aortic Valve?" Asks Emma
By Adam Pick on July 2, 2010
I just received a question from Emma about the normal size of an aortic valve.
She writes, "Hi Adam, I've been diagnosed with severe aortic valve stenosis although I am asymptomatic. I believe I'm on the path to surgery as my echo shows a valve area of 0.9. I'm curious. What is the normal size of the aortic valve? Thanks for all you do! Emma"
Like Emma, I had this exact question when I was told by my first cardiologist (aka Dr. Bad Bedside Manner) that I needed heart valve replacement surgery.
To help Emma, please see the chart above which contains the American College of Cardiology (ACC) and the American Heart Association (AHA) guidelines for aortic stenosis. As shown, the severity of aortic stenosis can result from three criteria —  valve area (size), aortic velocity and aortic valve gradient.
Specific to size, a normal aortic valve area is >2 centimeters squared (cm2). If the valve area is between 1.5 and 2.0 cm2, the stenosis is mild; if the valve area is between 1.0 and 1.5 cm2, the stenosis is moderate; if the valve area is between 0.6 and 1.0 cm2, the stenosis is moderate-severe; areas of less than 0.6 cm2 constitute severe aortic stenosis.
If you are curious, here is a picture of a normal aortic valve: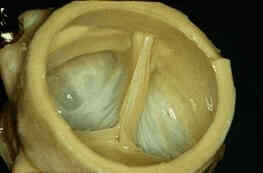 And, here is a picture of a stenotic aortic valve that is bicuspid with calcified leaflets: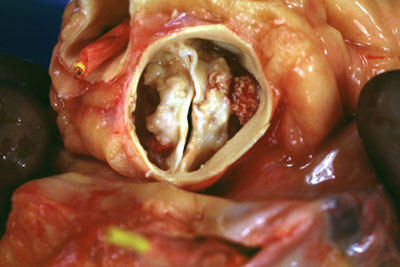 I hope that helps Emma (and all of us) learn a little more about aortic stenosis and aortic valve size.
Keep on tickin!
Adam

Paul klaassen says

on July 2nd, 2010 at 1:24 pm
Hi Adam, given what you have shown above, do you know what is the average effective area of replacement valves? Mine, a 29mm carbomedics works out to something like 1.94sqcm if I'm not mistaken. This assumes though that 29mm is an ID, not an OD and doesn't account for the space the leaflets take up. Now I'm wondering how restricted the flow might be, even in my fairly large mechanical valve, compared to a healthy natural valve.
Thanks for the book by the way, it was an invaluable and much appreciated resource going into surgery and in recovery.
Paul


Andrew Wrigley says

on July 3rd, 2010 at 12:40 pm
I also had a Dr Bad Bedside Manner who told me I needed heart valve replacement, even though, until then, all echocardiograms showed the same results as before endocarditis.
But he was right. Today was the 20th anniversary of my father's death, who died as a result of a floppy mitral valve, aged 63. I had the same problem, but now it is fixed, I don't have atrial fibrillation anymore and the whole risk is now reduced to the risks involved with warfarin/coumadin.
My 50th birthday is next week and I play tennis 3 times a week and walk over 6 miles a day. Plus a full days work designing websites.
Couldn't ask for more.


Adam Pick says

on July 3rd, 2010 at 12:59 pm
Andrew,
Great to hear you are doing so well!
Keep on tickin!
Adam
P.S. Did you move on from Dr. Bad Bedside Manner or are you still with him?


Billy says

on July 8th, 2012 at 10:50 pm
Hello , my name is billy and I'm 37 year old pharmacist. Just found out that I was born with bicuspid valve and my aortic diameter is 4.4 cm. My question is : is there any meds I can use to prevent it from enlargment ?? Or I must have a surgery ? When should I have it – before reaching 5 cm or prior to that ?? I really appreciate your reply cause I've been lacking sleep for the past couple days . No other diseaes at all , BP cholesterol diabetes … Etc. and if I have to do the procedure how long would I have to be in the hospital ?? And would that affect my life after that ? Or after the procedure I'll be back to normal ?? Your reply is greatly appreciated from the bottom of my ( bicuspid heart :))).


barbara says

on July 17th, 2012 at 1:21 am
Dear Billy, I would love to know the answer to your question myself. My son is 24 years old and has a bicuspid valve with the current size of 4.1. My 59 year old husband just found out for the first time that he has a bicuspid valve with a current size of 4.5. The doctors have told them that they need to return every 6 months for an evaluation. My son has not been given any meds but my husband was given heart medication to slow down the turbulence they hear in his blood flow. He has never had high blood pressure. I would like to know what the expert answer is to your question. My daughter must now be tested to see if she has a bicuspid valve!


Barney says

on October 28th, 2012 at 2:55 pm
The tell me that my aortic valve was 0.7 and was heavily calcified.
I then went to a dentist (never told about antibiotics) and got an infection streptococus mitis It took them almost 4 months to diagnose the infection and by that time it had really done a number on my valve.
Many many weeks in the hospital while they tried to contain and eliminate the infection with little no no success and of course the would not replace valve until they did.
I am told that it was close to the end when they finally transferred me to another larger hospital and I spent another 3 weeks there again with little success. Finally the culture showed that it was under control enough and they replace the valve 2 1/2 months ago and I was on antibiotics until three weeks ago.
They tell me my replacement valve was 25 but not sure 25 what?
Do any of you know 25 what? and is that good or not. Also no bed side manner and look at us like cockroaches. Never have seen the cardio surgeon.


Robert O'Brien says

on November 16th, 2012 at 2:20 pm
Dear dr Adams. I have had a triple heart by pass and also a triple a anerizem. I have been told I need a conduit by-pass and hope you can help me. Mayo made a DVD of all my tests and The U.W.of wisc says I need a 29 size if goig through the chest left side. because of the two operations before they saythe conduit is my only chance. I can not find a surgeon that can help me, CAN YOU>>>>>?


Suresh Kumar says

on July 7th, 2015 at 12:32 am
sureshkumar age 40/m. ivsd :0.8cms, lvid d 3.8cms, ef:62%, AO :2.7 cms, IVSs :1.5cms, LVIDs :2.5cms, LVPW s:1.2cms, Fs 33%, LA 3..0cms four valves chambers are normal. i felt pulpitaions in head, neck areas, and some time stomec area too( if i lay down in bed the stomock porson are slightly dansing (i put a cellphone on my stomock it danced to and fro) , some times heart rate are goes to 120-130, preassure levels are varying in a day 100/60- 130/75. how can i strenghen my heart?

Adam's Newest Blogs
Adam's Newest Posts