What Does An Xray Of Sternum After Open Heart Surgery Look Like?
By Adam Pick on August 14, 2007
In prior posts and discussion, I have called open heart surgery a medical miracle. The fact that a surgeon can open you, stop your heart, fix it, start it again and then stitch you up is, in my opinion, AMAZING!!
However, as a patient, I remember an immense amount of fear related to the "miracle". My concern was not related to the success of the operation or my own mortality (click here to see why).
Instead, one of my biggest concerns was the "cracking of my sternum". As an athlete, I had broken bones before. However, the central and sensitive nature of the chest did make think twice (if not a hundred) times as I headed into my operation. I was just very curious to know what the sternum fracture healing process would be like.
That said, I thought you all might like to see an xray of sternum before and after open heart surgery involving a cracked chest (aka median sternotomy). The first sternum xray is provided below. As you can see the chest plate is smooth and clear of any fracture.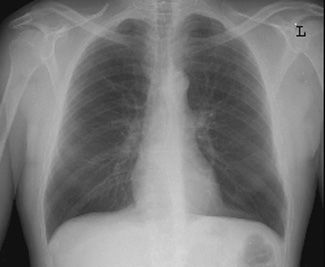 Xray Of Sternum Before Open Heart Surgery
Next, let's look at an xray of sternum after heart valve surgery.
As you can see, after surgery the incision is closed by placing stainless steel wires through or around the sternum The wire ends are then twisted together to close the incision.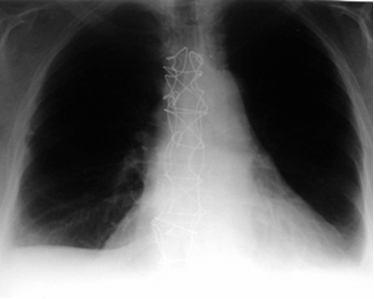 Following surgery, the sternum fracture healing process can be quite painful. Personally, I would say that was one of the most challenging elements of heart valve surgery. There are definitely some "dos" and "do nots" when is comes to aiding the sternum fracture healing process.
Keep on tickin!
Adam

andray riga says

on October 10th, 2008 at 7:51 am
i had open heart surg micro maze and when they closed me that night the wires that they used to tie me the sternum together broke but no one knew it for six months i was in bed healing but guess what never heald its been 3 years now and my chest bone is still open and i have been on vicoden for 3 years no one wants to try to fix it because of infection is high i am living in great pain because of the broken ribs all arounnd the sturnum


Lisha Pinto says

on May 19th, 2009 at 3:14 pm
I had my open heart surg on 1/20/09 for a triple by-pass and I am still in extreme pain 4 months later. I have asked my doctors to xray me to see if I am healed and they said they would not be able to tell, is that true. They told me it would take 6 months to heal, is that true. I am only 48 years old and I feel like I will never heal. Do you think I am still healing or there maybe something wrong?


David says

on January 9th, 2011 at 7:59 pm
Is it possible to crack your Sturnum after 2 open heart surgeries from heavy lifting. I lifted a heavy cabinet felt a pop and has hurt for a week


JOSEPH THACKE says

on February 16th, 2012 at 11:26 am
HI I HAD A TRIPLE IN JULY 2011 THE STERUM DIDN'T HEAL, AFTER 6 MONTHS I WENT TO A PLASTIC SURGENT HE SAID DON'T WAIT 6 MONTHS JUST 8 WEEKS IF IT DOESNT HEAL AFTER 8 WEEKS ITS NOT GOING TO. HE DID STERNAL PLATING IF YOU HERE CLICKING AFTER THE BYPASS THERE IS SOMETHING WRONG SEE A PLASTIC SURGENT ED


frank says

on February 17th, 2012 at 9:52 pm
I had my aortic valve replaced with a St. Jude's mech valve and my ascending aorta repaired because of an aneurysm. The surgery was 4/28/2010 which was also my 70th birthday. I began playing golf (walking 18 hole 4/5 days a week) in June of 2010. I only did pitching and putting. I returned to full swings Aug 2010. I still play 3/4 days a week. My sternum never was a problem. I have a faint scar that is slowly fading. I have three horizontal hole just below my sternum that are the most noticeable. I do not know if I have any wires or a plate holding the sternum together. After reading some of these blogs, I plan to ask my cardiologist how my sternum is held together. I ask about the lack of a railroad track type scar when I left the hospital. I was told that my chest had been glued. Now I don't know if they were refering to the sternum or the visible scar. I am sorry to read that so many are having sternum problems. I never ask a lot of guestions before or after my surgery ( I probable should have). My surgery occurred two weeks after a second opinion. I had procrated for several years on surgery until the second opinion made me face reality. I didn't have much time for research. I guess luck and a good surgeon are the reason I am still here(also a positive outlook).


frank says

on February 17th, 2012 at 9:58 pm
I should do a better job of proof reading. In my last blog I misspelled procrastinate.


CHARMAINE JONES says

on March 10th, 2012 at 7:40 pm
I JUST HAD A MITRAL VALVE REPAIR ON FEB. 14, 2012. ITS BEEN 3WKS AND MY INCISION AREA IS STILL SWOLLEN AND VERY SORE. I WAS WONDERING HOW LONG WILL IT BE BEFORE THE SWELLING GOES DOWN?


sharon levy says

on April 19th, 2017 at 1:42 am
I just had open heart valve surgery exactly like Adam Pick……..but after reading his book and having the surgery I CAN SAY……DON'T BUY THE BOOK
Techniques and equipment have changed so much……NOTHING IN THE BOOK
RELATES TO OUR TIME………there was no pain……..the surgeon was Dr. Vaughn Starnes at Keck hospital.
I thought the book was like a bible to me and I was waiting for pain……..
NOTHING IS THE SAME……….so don't be afraid I was also in the hospital for 4.5 days and was up and around the next day,

Adam's Newest Blogs
Adam's Newest Posts