Join 650 Heart Valve Patients On Today's Webinar!
Written By: Adam Pick, Patient Advocate, Author & Website Founder
Page last updated: February 8, 2023
Webinar Update: Thanks to our community for an incredible TAVR patient webinar with Dr. Herrmann and Dr. Li. To watch the TAVR webinar video or download the free TAVR webinar eBook, please click here.
I'm excited to announce that our FREE and LIVE patient education events continue today, February 2, at 6pm EST, with a special webinar, "Advances in Transcatheter Aortic Valve Replacement".  Featured speakers include Dr. Howard Herrmann, Director of Interventional Cardiology, and Dr. Robert Li, Co-Director of the TAVR Program, at Penn Medicine Heart and Vascular Center.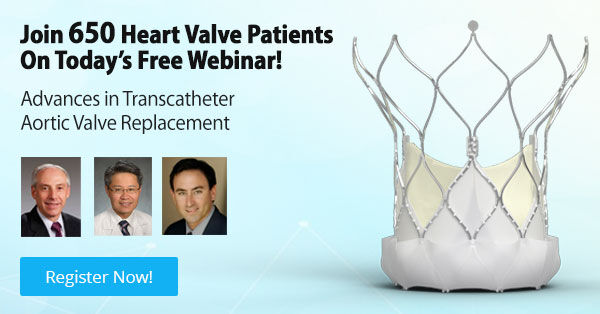 During this online event, you will learn the answers to important questions including:
What is aortic valve disease ? How does aortic valve disease progress? What are the symptoms? What are the risks?
What are the different surgical, minimally-invasive and non-invasive techniques used to treat aortic valve disease?
What are the patient benefits of TAVR? How is a TAVR performed? How do TAVR results compare to other forms of aortic valve replacement?
Which type of aortic valve patients qualify for TAVR?
What are the latest advances in TAVR devices? What is the future of TAVR? Which TAVR clinical trials should patients know about it?
At the close of the webinar, a live "Questions & Answers" session will enable YOU to ask Dr. Herrmann and Dr. Li your questions about TAVR.
Keep on tickin!
Adam
Adam's Newest Blogs
Adam's Newest Posts