"How Big Is A Mechanical Heart Valve Replacement?" Asks Jenny
By Adam Pick on September 3, 2010
I just received an interesting question from Jenny about the size of a mechanical heart valve replacement.
Jenny writes to me, "Adam – Like many patients on your blog, I'm preparing for aortic valve replacement. I'm young, 29, with a bicuspid aortic valve that has severe stenosis. I'm thinking a mechanical valve is the best option for me. However, I can't stop thinking about the little device clicking away in my heart. Quick question… Do you know the size of a mechanical heart valve? Thanks, Jenny"
There are a few ways to answer Jenny's question. On one hand, I could assemble a table which contains the different sizes of mechanical valves — by diameter and by surface area. However, I often think the cliche, "A picture is worth a thousand words", is more appropriate. That said, a mechanical valve is about this big…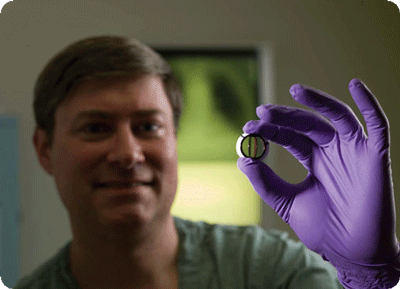 Pretty neat picture, right?
However, I thought Jenny might want to learn the actual dimensions of an actual heart valve replacement. That said, I asked Eric Roselli, MD, from The Cleveland Clinic, to help educate Jenny (and the rest of our community) about aortic valve replacement sizes.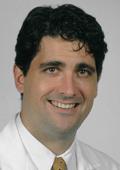 Here is Dr. Roselli's response to the question, "How big is a mechanical aortic valve replacement?"
"The diameter of an aortic mechanical heart valve replacements is between 17 millimeters (mm) to 33mm. The most common replacements are between 21mm and 25mm." — Dr. Eric Roselli, M.D.
I hope that helps Jenny (and all of us) learn more about the size of mechanical aortic heart valves.
Keep on tickin!
Adam

Andrew Wrigley says

on September 3rd, 2010 at 1:38 pm
I would say to Jenny:
I was 48 when I had a mitral valve replacement with a mechanical valve. Yes, warfarin/coumadin is a pain, but you get used to the tests.
And if the valve is clicking away inside you, then…
Andrew


Tim Mangum says

on September 3rd, 2010 at 1:44 pm
My new valve is a 25mm St Jude. It cost as much as a good used car ($9,400) but like the commercial says . . . it's priceless.


Jim Holley says

on September 3rd, 2010 at 3:22 pm
Jenny, I have had my aortic valve replaced 4 times, my current valve is St Jude mechanical, it has lasted 20 years now, twice as long as any other I have had, You will get to used too any noises it might make and I have very little trouble with my coumadin doses. Go mechanical, they are long lasting. Jim


Glenda says

on September 3rd, 2010 at 3:42 pm
I'm a 69 yr old female,who has mitral valve prolapse apparently since I was born. I was blue when born and not expected to live. Now it's reached the point where I'm told I'm due for replacement surgery before very long. Most likely will use a mechanical valve and it will click away. I'm told protocol says that my heart is still a bit too strong and needs to weaken to the point that the danger of dying during surgery is offset by the danger of the bad valve killing me before surgery is appropriate. I currently take no medicines for anything except as needed for an occasional infection . No high blood pressure or other ailments that usually affect others my age. I know there will be drugs after surgery, but just what other than blood thinner is a mystery. I hate to take medicine. Forget to take it about half the time. I'm not afraid of surgery, pain or dying. What really gets me is all the expense left after medicare pays(no insurance ) and here I am living on SS $1000.00 month. I won't live long evough to pay it off. Add to that the medicine cost . I barely get by now. The other thing that makes me wonder if it's worth even bothering is how will I feel and will I even be able to do half of the things I do now. I live alone and if something needs to be done I'm the one to do it. I garden, use the tiller, weedeater, chainsaw, shovel rake etc. At this point I've slowed down a very great deal and feel far less than good most of the time. I've always been very active and the thought of having to sit and watch TV or some other bland activity feels worse than death.
I simply don't know whether to have the surgery or not. I see my heart doctor next month to discuss this


Stephanie says

on September 3rd, 2010 at 3:45 pm
Adam,
I had my mechanical valve fitted on 27 May and I am now back to work in a UK Art College (as an administrator) – I have lost weight and feel absolutely fantastic.
Thanks for the book, it was sooooooh useful! I was frightened before the operation, but unnecessarily so, as all went very well and I now feel better than ever!
Stephanie


Randy Heimerl says

on September 3rd, 2010 at 5:40 pm
Hi Jenny..I had my bicuspid aortic valve replaced with a mechanical one last year.I am not nearly as young as you are but for valve replacement(At the time I was 52) I was considered young.The clicking used to bother me when I would lay down and try to go to sleep. Now, I don't even think about it. Other then taking medication,I really have no reminders that I had open heart surgery.I feel better then I have in years. My valve is 25mm. My valve should last as long as the rest of me. I know that a lot of younger people are now going with a tissue valve bcause down the road when it needs to be replaced they will be able to relpace it with a much less invasive procedure. So I don't think it's a good idea to give anyone advice. Talk to your cardiologist, do research, and get more then one opinion. It is a tough choice and you don't want to be second guessing your decision. The choice you make will be the right one.
Randy


jeff stoveken says

on September 4th, 2010 at 2:39 pm
jenny, im 2 years post op this weekend! i hear my valve clicking but i know that im alive,haha. it really doesnt bother me at all. sometimes its louder after excersize, but you get used to it. im 47 and i hope mine lasts me a lifetime,i have a st judes valave. any questions, feel free. jeffstoveken@yahoo.com jeff from new jersey


Midge says

on September 6th, 2010 at 8:31 pm
Jenny, not all valves click. I have a St. Judes 21mm mechanical aortic valve and have never heard it click once. The closest thing is when I go into our all tile shower and I take a deep breathe I can hear (and feel) a thump, thump. But as soon as I exhale, it goes away. Right after surgery, I could really feel my heart beating in my chest and neck and that took a few months to go away, but it did eventually. Before surgery is a very "heavy" time…the valve choice being one of the main concerns. Read Adam's book and there are many other good books out there to help you…but when push comes to shove, the valve choice is yours alone. I know everyone on this site is here to help you out.
Midge


Jeff Schneider says

on September 7th, 2010 at 12:32 pm
I am schudled to have my aortic valve replaced for the second time. I had a tissue valve that made it 8 years. The Doctor wants to go with a Cow valve. Has anyone out there had multiple replacement of the aortic valve? First time around I was to sick to care. Not realy haveing to much difficulty but needs to be done.
Jeff


Amy says

on September 7th, 2010 at 12:43 pm
I was 40 when I had my aortic valve replaced November 2008. I went with a mechanical valve option. Like other posters, the clicking bothered me for about three months post surgery. Now I hardly notice it, and when I do, I feel really fortunate and grateful that I have it! The Coumadin thing was worrisome at first, though I think everything is worrisome after the surgery, but now I hardly every think about it. I get tested once every six weeks. Good luck to you!


glenda says

on September 7th, 2010 at 10:47 pm
My cardiologist recently said after numerous test that I had a leaking valve on right side. What questions should I ask on my next visit. He stated there's no need to worry right now. Also had nuclear stress test and was told I had no SIGNIFICANT abnormalities. A nurse asked which valve was leaking, I said I have no idea. She advised me that I should find out. Is there a major concern because of which valve is leaking? I don't know alot when it comes to valves. Please give me some info on questions I should be asking my cardiologist. It seems as if they withhold or give me as little info as possible. I just happened to be in his office for other reasons about a year later and he stated well you had a leaking valve. Just couldn't understand why he waited a year to bring this up in a conversation after looking back through his reports.


Gina says

on December 12th, 2010 at 4:59 am
It has been two months since I received the St. Jude Mechanical aortic valve. The clicking still bothers me as well as the shortness of breath. Since the surgery, I have been experiencing a shark pain up and down my left leg, as well as numbness and tingling. Is this part of the recovering process? I would also like to know when will it be safe to have intimacy with my partner?


Sergiu Divon says

on June 19th, 2013 at 8:14 am
June 19, 2013
My name is Sergiu Divon, I am 87 yers old and I am desperately seeking for a
transcatheter Aortic Valve of 33mm diameter.
Please help me to find a reliable source/producers of such large diameter valve
to save my life.
Thanks and Best regards,
Sergiu Divon


michael greene says

on March 14th, 2014 at 7:34 pm
Dear Mr.Pick:
Is there any special music tapes that are relaxing to drown out the clicking noise at night so I can relax and fall asleep more easily. I find I really only go to sleep when I am totally exhausted and I do not really get much sleep. The next day I am sometimes falling asleep during the day. I sometimes have to pull the car over to sleep for 15 or 20 minutes.


Rich E says

on March 21st, 2014 at 7:08 am
I have a mechanical mitral valve for 8years. I am getting a home self pt tester and the supplying company told me Medicare will pay for part of it. Nj bc/bs said they will not cover any of the costs. Does anyone have a home pt tester that is covered by nj bc/bs ?