"Is Heart Valve Surgery Common For My Age?" Asks Phil
By Adam Pick on October 18, 2009
I just received a very appropriate email from Phil about age groups and heart valve surgery.
Phil writes, "Hi Adam – On Friday, I was diagnosed with severe aortic stenosis due to a bicuspid aortic valve. I'm 48 years old with three great kids and a loving wife. This was a complete shock to me and I've spent the weekend digesting the uncomfortable news that open heart surgery awaits me. It's odd. Although I knew about the murmur, I was told this wouldn't impact my heart for 10 or 20 years. Now, the doc says the valve is calcified and surgery is a must. Is heart valve surgery common for my age group? Thanks, Phil"
Phil raises some excellent points in his question. In fact, Phil's story brings back several memories specific to my own diagnosis and surgery. Like Phil, my valve disease rapidly progressed from moderate to severe aortic stenosis. Like Phil, I had a bicuspid aortic valve. Like Phil, I was told surgery would not occur until I was in my 50's. (FYI, at the time of my surgery… I was thirty-three.)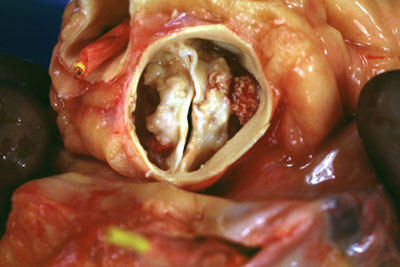 Picture Of Calcified Heart Valve Leaflets
Still, as we have discussed before… Every patient case is unique. As shown in the chart below, heart valve disease can impact all age categories – from newborns, to teens, to seniors, to elderly patients. For this reason, it is critical that all patients diagnosed with valvular disorders – aortic stenosis, mitral valve prolapse – get regular examinations to monitor the progress of their heart valve disease.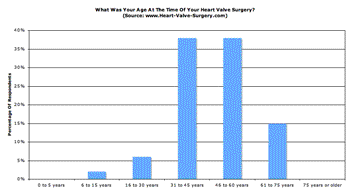 However, specific to Phil's original question, it should be noted that the most common congenital abnormality of the heart is the bicuspid aortic valve. According to Absolute Anatomy, the condition can be undiagnosed until the person develops calcified heart valve leaflets. Aortic stenosis due to a bicuspid valve usually occurs in patients during their 40s or 50s, an average of over 10 years earlier than people with normal aortic valves.
In light of that reference, it appears that Phil is, unfortunately, in the age category for developing severe aortic stenosis which, if left untreated, could:
As we now better understand the timing of Phil's diagnosis, I would strongly encourage Phil to get a second opinion to confirm the diagnosis prior to any surgical treatment or invasive, diagnostic testing (e.g. angiogram). I hope this helps Phil (and perhaps you) learn a little more about heart valve surgery and common age groups for bicuspid valves.
Keep on tickin!
Adam
Adam's Newest Blogs
Adam's Newest Posts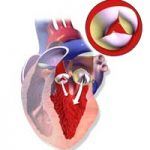 Surgeon Q&A: What Should Patients Know About Aortic Regurgitation? Learn More.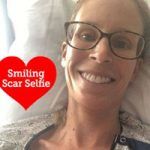 Sara Educates & Inspires 38,443 People About Heart Valve Surgery! Learn More.