"Is Heart Valve Surgery Common For My Age?" Asks Phil
By Adam Pick on October 18, 2009
I just received a very appropriate email from Phil about age groups and heart valve surgery.
Phil writes, "Hi Adam – On Friday, I was diagnosed with severe aortic stenosis due to a bicuspid aortic valve. I'm 48 years old with three great kids and a loving wife. This was a complete shock to me and I've spent the weekend digesting the uncomfortable news that open heart surgery awaits me. It's odd. Although I knew about the murmur, I was told this wouldn't impact my heart for 10 or 20 years. Now, the doc says the valve is calcified and surgery is a must. Is heart valve surgery common for my age group? Thanks, Phil"
Phil raises some excellent points in his question. In fact, Phil's story brings back several memories specific to my own diagnosis and surgery. Like Phil, my valve disease rapidly progressed from moderate to severe aortic stenosis. Like Phil, I had a bicuspid aortic valve. Like Phil, I was told surgery would not occur until I was in my 50's. (FYI, at the time of my surgery… I was thirty-three.)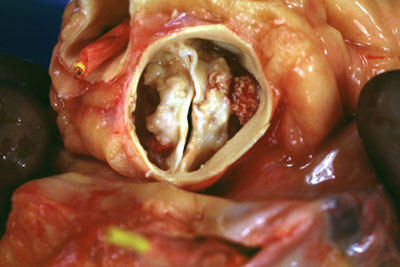 Picture Of Calcified Heart Valve Leaflets
Still, as we have discussed before… Every patient case is unique. As shown in the chart below, heart valve disease can impact all age categories – from newborns, to teens, to seniors, to elderly patients. For this reason, it is critical that all patients diagnosed with valvular disorders – aortic stenosis, mitral valve prolapse – get regular examinations to monitor the progress of their heart valve disease.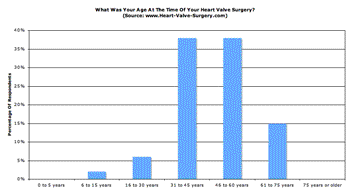 However, specific to Phil's original question, it should be noted that the most common congenital abnormality of the heart is the bicuspid aortic valve. According to Absolute Anatomy, the condition can be undiagnosed until the person develops calcified heart valve leaflets. Aortic stenosis due to a bicuspid valve usually occurs in patients during their 40s or 50s, an average of over 10 years earlier than people with normal aortic valves.
In light of that reference, it appears that Phil is, unfortunately, in the age category for developing severe aortic stenosis which, if left untreated, could:
As we now better understand the timing of Phil's diagnosis, I would strongly encourage Phil to get a second opinion to confirm the diagnosis prior to any surgical treatment or invasive, diagnostic testing (e.g. angiogram). I hope this helps Phil (and perhaps you) learn a little more about heart valve surgery and common age groups for bicuspid valves.
Keep on tickin!
Adam

jerry says

on October 18th, 2009 at 12:48 pm
I had mine diagnosed in college, got a waiver then to get a pilot's license, had docs for 20 years tell me about my HUGE ENORMOUS MURMUR, and had no real effects until about 18 months ago when I regularly experienced some pain and out of breathness after climbing three flights of stairs.
Got operated on about six months later, at 47. after various diagnostics and waiting for health care.
Actually what's personally depressing is that the operation went well, but six months after that there was concern that the "new" human homograph pulmonary valve is narrowing and scarring down, so I'm due to have that redone in a week or two. After being pleasantly surprised to have woken up after the first op, after losing about 20 pounds over the last year that I had put on due to lack of exercise before the first op, it's pretty depressing to have to undergo a partial redo.


Robin Hirsch says

on October 18th, 2009 at 1:24 pm
Phil's story reflects mine…heart murmur to what? in a week and surgery 6 weeks later. I agree he should get another opinion, but he should also get an echo, and angiogram to complete the diagnosis. Assuming all confirms-Phil get it done. There is no point in waiting it will only get worse with many negative complications becoming part of the picture. Be thankful you found it early.
Robin


peter says

on October 18th, 2009 at 1:46 pm
Phil & Adam
I was diagnosed with my stenosis & biscupid valve at 54 year old.
I was having chest pains with exertion. I had two stents installed and it was at that time, that they found the stenosis.
I was told it could be 4 or 5 yrs till U would need surgery… Almost like a CLOCK, I had my valve replacement on Jan 19 2009 at Cedars in Los Angeles.
After a long 9 hr surgery (i also had an anyurism), some Pluersy and Cardiac Rehab, I am feeling great!
Go into it with a positive and confident attitude. Know that there will be discomfort.
You will WALK the next day……and….be home SOONER than you can believe…..and more than likely…..
ALL WILL BE WELL!!!
I couldn't complain much, because my 87yo GODFATHER HAD THE SAME SURGERY and PLAYS GOLF EVERY WEEK!!!!
Peter in Los Angeles


Denise says

on October 18th, 2009 at 2:20 pm
I had a bicuspid aortic valve and aortic aneurysm and had surgery June 2009. I too am 48 years old. What a shock to need surgery now! My doctor had said the valve will probably need to be replaced in my 50's. I almost made it! It's been 4 months and I'm doing great. The first few weeks are rough – but you'll make it through. Good luck!


Keith Thomas says

on October 18th, 2009 at 2:53 pm
I was diagnosed with a bicuspid aortic valve at the age of 47. I had open heart surgery at the age of 48. I never heard of a heart murmur before from any of my healthcare providers. Mine was discovered during an echocardiogram after an accidnt I had. I was also diagnosed with an ascending aortic aneurysm. I had no stenosis, my vessels are as clean as a whistle and the doctors said they would have never heard my faint murmur if they hadn't seen my issues on my echocardiogram. I have always been totally asymptomatic my whole life. Talk about a suprise!!! I am now 15 months post open heart surgery and doing great. It's not the end of the world so hang in there and good luck.


Andrew Wrigley says

on October 18th, 2009 at 3:51 pm
Like Denise, I had surgery in June 2009 following endocarditis. My mitral valve was replaced with a mechanical valve. I had been diagnosed with mild mitral valve prolapse in 2006, but a tooth abscess led to the endocarditis.
My father died, aged 63, from a collapsed mitral valve. His mitral valve prolapse was detected a few years before, and by the time he died he had noticeably heavy breathing resulting from liquid on the lungs and heart failure.
I have no idea why he didn't have heart surgery.
But in the autopsy, they found squeaky clean coronary arteries, as well as good clean arteries in the brain.
The point being that if he had had a valve replacement, he would probably be alive today, 20 years later.
So if you have any doubts about the surgery, think about my dad.
Me? Yeah, the first week was rough, but yesterday I went for a 4 hour walk on the North Yorkshire moors and on Tuesday I am playing in a tennis tournament. Singles. Not quite Roger Federer, but then I never was.
Andrew


Lucy Grubbs says

on October 18th, 2009 at 4:34 pm
Wow! I was diagnosed w/aortic stenosis in september and after 2 opinions, am having surgery nov 16th! I am going with tissue valves, so i hope all goes well. I didn't think I had symptoms but apparently they were slowly developing. i was diagnosed w/a congential bicuspid valve but at age 21 was NEVER told there would be problems down the line. So realizing my shock, I have been nternet searching and getting my hands on anything I could. I knowI have no choice. it is scary considering I am 45 w/a husband and 2 young daughters. I trust my cardiac surgeon and hope all goes well, but it is very very scary and emotionally draining.


Don Henry says

on October 18th, 2009 at 5:37 pm
I had my aorta valve replaced in Feb 2000 due to a bi-cuspid valve and received the Carpentier Edwards Bovine tissue valve. I was told by my cardiologist in September that I would need a replacement as soon (within 12 months) due to thickening of the valve.
So this tissue valve lasted about 10 years, which I understand is normal.
My concern is… Which heart valve replacement do I get now, the mechanical or another tissue?
No way do I want to undergo 3 surgeries, so I am looking for any information on the ON-X mechanical valve.
I am now 65 years old and don't want to get a tissue valve and have to have surgery at age 75. I think the hardest decision for anyone is which type valve to receive. It's an extremely tough decision.
Don


Steve Rultedge says

on October 18th, 2009 at 7:30 pm
This week is the 6 month anniversary of my Aortic Valve replacement (April 2009). I was diagnosed on September 20, 2002, after coming down with Pleurisy. I was 51 at the time and could not believe that I had any kind of heart problems. Other than the Pleurisy, I had always been very healthy and had never had any signs of a murmur or angina. I was shocked. I immediately went to Stanford for a second opinion, and they confirmed it. So, 6 months after the operation, and completion of the Cardio Rehab program, my porcine valve and I are very happy together.
Steve


Randy Heimerl says

on October 18th, 2009 at 8:23 pm
Hi, I had my aorrtic valve replaced in June of this year. I am 52 years old. When I was a teenager I was told I had a heart murmur and that I shouldn't worry about it. It was about ten years ago that my doctor thought I should get an echo. I was diagnosed with a bicuspid aortic valve and that I would need to have it replaced in my fifties. I was very active up until about a year ago and then things started getting worse at a much faster pace I ended up passing out while riding my bicycle and was told the time had come for the valve replacement. I was researching the the different types of valves for about a year so I had pretty much made up my mind. I went with the ON-X valve. I am in the ON-X study group. I ended up in the group that takes Plavix instead of the Cumadin. So far so good. I think every case is different and the type of valve should be decided between you and your doctor. Do your homework.
Randy


Adam Pick says

on October 18th, 2009 at 8:34 pm
Greaaaaaaaaat comments everybody!!!
Thanks so much for sharing your thoughts, stories, advice and opinions!
Keep on tickin!
Adam


Sarah says

on October 18th, 2009 at 8:44 pm
I was diagnosed at age 30 with a bicuspid aortic valve and told that I would probably need surgery in my 60s. I had regular check ups with a heart doctor and at age 54, I was told I had mild aortic valve stenosis, and to follow up with 6 month visits. Well, ten months went by before I saw my heart doctor again, and at this time the calcification of my aortic valve was so bad that my heart doctor said, "Find a heart surgeon", and to plan on heart surgery within the next month or two! Wow! My advice: once you have even a little calcification (stenosis) stay on top of those visits to your heart doctor!


Brenda Thoman says

on October 18th, 2009 at 9:13 pm
I had been told that I had a hole in my heart at age 4 (1945). Of course, they did not have today's technology, so this was their best guess. In June of 2007 I was diagnosed with aortic valve stenosis. I had regular tests to follow the progression and in July, 2009, at age 67, I had valve replacement surgery–yes, I had a bicuspid valve. The aorta had been weakened and they replaced a portion of it with dacron.


nerida says

on October 19th, 2009 at 12:53 am
Phil,
I was diagnosed with severe stenosis of my aortic valve at the end of april,2009. I am 39 and had absolutely no symptoms. (they found I had a heart murmer 3 weeks before when i was having my tubes tied). My cardiologist couldnt believe it had not been picked up through one of my 4 pregnancies. I had an AVR 26th july, 2009. I have been very lucky and had no complications and returned to work (part time) early september (7 weeks after surgery – I am a preschool assistant). Do I feel better??? My answer is…… I didnt feel bad, unwell, or have any symptoms before…but it is definitely a relief knowing now my heart can work properly. Downside.. I am on Warfarin forever, But that is really no hassle, I am down to fortnightly bloodtests and have been fairly stable. I am now 12 weeks post surgery and back to my life…the 6 months seem very surreal…
Good luck
Nerida


fazilat says

on October 19th, 2009 at 4:33 am
hi everyone
i had a mechanical valve replacement on 12/5/08 doing well . diagnoses to op six weeks severe regurg and i was 42 at the time healthy doing three sports a week.
good luck
fazilat


Sasha says

on October 19th, 2009 at 9:39 am
My boyfriend recently had his aortic valve replaced wtih a tissue valve. He turned 48 in July and he was diagnosed with a bicuspid valve when he was 17. Unfortunately, he wasn't monitoring it with his cardiologist which led to CHF (congestive heart failure). Because the valve was so calcified, his heart was/is very enlarged and the Doctors indicated it will likely take a year for him to reach full recovery. He is doing tremendous and getting stronger every day.


Joe Reagan says

on October 20th, 2009 at 7:09 am
Hello friends,
I am a 51 year old fit male born with a heart murmur. I had my Aortic valve replaced last Wed. 10/14/09 by Dr. Lawrence Cohn at Brigham and Women's Hospital in Boston. Bovine tissue valve, 25mm. I experienced two days of misery followed by days of increasing hope and joy. I left the hospital on Sunday 10/18/09 and went for a 40 minute walk (albeit slow and methodical) outside in beautiful New England on Monday. Day at a time, be positive and ask for help.
Joe


Rachel Vaughan says

on October 20th, 2009 at 7:43 pm
Hey all! My name is Rachel and I am 26 years old, like alot of those who commented, I have severe aortic stenosis due to a bicuspid aortic valve. I had several opinions, and now I will be having it replaced Oct 27th at Sentara Heart Hospital in Virginia. I am a Biocor Valve put in, the reasoning behind this is I have yet to have children and wish to in the future, and after working with my doctor we have figure out this will be the best route for me. I am very nervous about this upcoming surgery however, this will be my second. I had a VSD repair at age 4, in 1987. I was very suprised, as well as many of the doctors/nurses I deal with that I have this condition at my age. However I am glad that it has been found and that It will be taken care of soon! Hope everyone stays happy and heatlhy. If you wish to contact me my email is Rachely16@aol.com! Thanks


Jimmy Beville says

on October 20th, 2009 at 9:10 pm
Hello!
If mechanical valves did not require Coumadin, just about everyone that could receive a mechanical valve would. I think even Mr. Pick would be clicking away like us mechanical recipients. So, the question is, can you live with the side effects of blood thinner? I was 38 years old when I received my ON-X mechanical valve in 2008. Life on Coumadin has been pretty uneventful, I test at home weekly and eat pretty much what I want. I realize that a catastrophic event could be harmful, but I believe that the possibility of never having surgery again and not compromising a healthy valve, was my major deciding factor. I am also in the ON-X study which should be done in a few years. The study will hopefully prove that high INR levels are not required for this particular valve. Thus minimizing a catastrophic event!!!!


Don Henry says

on October 25th, 2009 at 10:39 pm
Phils' toughest decision will be choosing between the mechanical or tissue valve. Nobody wants to have more than one surgery and with a mechanical the odds are you won't have to have, but one surgery. Of course the downside is the blood thinners. I think Jimmy made the decision based on having just the one surgery and for him it was the right choice. The ON-X valve is the latest in the mechanical as it supposedly requires less blood thinners. At age 55 I got the Carpentier Edwards Bovine valve and have done really well for 10 years and now this valve is thickening and I will require surgery in a year or so. Which valve to get at age 65 is still a tough decision. Good luck to Phil and jimmy.
Don


anta jobs says

on October 26th, 2009 at 4:11 am
Hi Phil
am 40years and I had aorctic valeve replacement and am 2 months post operative. Am about doing the same thing I was doing no problem.
The problem is timing of the prognosis and the preparation of the surgery. Make sure you get the best cardiologist surgeon
Am advising you to positive mental atitude you will be fine
anta


Joe Reagan says

on October 26th, 2009 at 7:55 am
Don Henry,
I enjoyed reading your post. Keep me posted @ rjosephreagan@yahoo.com. My AVR on 10/14/09 went so smoothly I almost can't believe it. I walked 5 miles yesterday, 11 days post op. I'm on limited Advil for pain. My focus now will be showing up for my next AVR in the best possible shape physically, sprirtually and emotionally.
Peace brother, good luck.
Joe


glenda says

on November 5th, 2009 at 10:19 am
I have had MVP and MVP w/reg 4+ since I was 9. Im 36 now. i have vlave repair Sept 14th. I never in a million years thought I would be having open heart surgery at 36 or even 46, but I did. I was the youngest patient ever on their cardiac floor. The nurses really didnt know how to treat me. They tried treating me like the 80 years old people that were my neighbors. It was weird. Al the other patients looked at me like "whats she doing here". LOL
I have had alot of mental issues since the surgery. VERY depressed. I cry all the time. I feel alone because I know of no one that is my age and had this done so no one relates to me.
I have been tired 20 something years because of the MVP. Always tired. After my surgery people thought I should have been able to take out my breathing tube and go run a marathon. I got alot of "youre fixed now, get up and do something". People can be rude. well sorry to babble but I just wanted to put this out there to see if I was alone as I thought.


Lisa says

on November 5th, 2009 at 3:21 pm
Glenda, you are not alone. I am 36 and had mitral valve repair in Dec 2008, recovery is not easy. I have struggled with many of the issues you have mentioned. Please feel free to email me lisa@ravendesigns.com Any of the support groups I have found have people that are all much older than myself, and my cardiac rehab nurse said I was the youngest patient she had ever had. We can compare notes. -Lisa


Keri Kish says

on January 28th, 2010 at 5:42 pm
I just found out yesterday that my son, who is three years old has Bicuspid aortic valve. We were going to Childrens hospital in Boston to see his cardiologist for a check up on his SVT that we found over 2 years ago. He has been on propanalol for over two years now and he has been doing great. We have done three holters on him in the past few year and they all come back flawless with no activity. The doctor said everything looks great and all his heart functions are perfect. He said that children grow out of the SVT and he was one of them, but to hear about the BAVD was a shock to my husband and I. He told us not to worry about this. Put it in the back of our minds it not a big deal right now in childhood. He said as he gets older they will check him and monitor everything. He will be going back in a year for a follow up with the SVT because we are weening him off the medication and he will have all the testing again. I was shocked and worried when I heard this and really don't know anything about it. I have been trying to do some research on my own and just need some help. Can you please help me. Thank you Keri


E says

on August 20th, 2012 at 3:15 pm
I am 46 and was diagnose with a congential bicuspid valve and has to do aorctic valve replacement surgery. I was diagnosed w/aortic stenosis mild in February 2008 that has now is considered as severe, I am having surgery August 21st! I am going with tissue valves, so i hope all goes well. I have no symptoms currently but had a heart failure in February 2007 but no re-curring symptoms since then. I know I have no choice, but to do the surgery. It is scary considering I am 46 w/a husband and a 4yr old son and 2 teenagers. I trust my cardiac surgeon and hope all goes well, but it is very very scary and emotionally draining. Adam I opted for the Ross procedure but was told it is only one surgeon in Canada that does the procedure so my next option was tissue valve preferrable human. God is looking over me and any last minute advise would be good.

Adam's Newest Blogs
Adam's Newest Posts