"How Big Can A Dilated Heart Get From Stenosis?" Asks Julie
By Adam Pick on August 25, 2010
Here's an interesting question from Julie about heart valve stenosis and enlarged hearts.
Julie writes to me, "Adam – Like you, I was diagnosed with heart valve stenosis and an enlarged heart. I'm just curious. How big can a dilated heart get before failure? 20% bigger? 50% bigger? Any thoughts? Thanks, Julie"
I wanted an expert opinion for Julie's question, so I contacted Dr. Kevin Accola, M.D., one of the leading heart valve surgeons from AdventHealth Cardiovascular Institute (formerly Florida Hospital). (As you might recall, Dr. Accola has operated on several patients, like Scott Nieman, that regularly visit this blog.)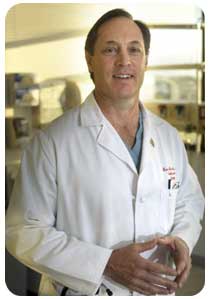 Here is Dr. Accola's response:
Cardiac size per se is very dependent on numerous patient factors including the size of the patient, the severity of aortic stenosis and other cardiac factors such as coronary artery disease. So, it is not so much the interval change in size that would determine failure, but rather the underlying cause of the enlargement – in this case the aortic stenosis. If the heart is beginning to compensate by enlarging, I typically recommend aortic valve replacement to allow the heart a better chance of returning to normal size.
I hope Dr. Accola's comments help all of us learn more about enlarged hearts. So you know, this condition is medically referred to as dilated cardiomyopathy. According to the Texas Heart Institute, it is one of the most common forms of heart muscle disease. One of the key risks of dilated cardiomyopathy is congestive heart failure.
Thanks to Julie for emailing me her question and thanks to Dr. Accola for sharing his clinical expertise!
Keep on tickin!
Adam

Pat says

on August 25th, 2010 at 1:28 pm
Adam
I was wondering if there is a site or association that I can go to research various surgeons success in terms valve replacement. I have aortic stenosis and aneurysm and live in Connecticut and have spoke to a couple of surgeons already


Adam Pick says

on August 25th, 2010 at 1:37 pm
Hi Pat,
From what I understand, surgical outcomes are reported to organizations like the Society of Thoracic Surgeons which maintain a central database. However, I think that information is (i) typically rolled up, in the aggregate, by surgical center and (ii) voluntarily submitted.
That said, it is often difficult to get 3rd party reports which detail the surgical track record for one particular surgeon. However, I have heard that some states are now maintaining stand-alone databases which track this information at the surgeon level.
Have you asked your potential surgeons for their surgical outcomes relative to your valvular disease and surgical approach? For me, that was one of the key questions during my surgeon interviews.
Ultimately, the answers I received during those interviews helped me select Dr. Starnes.
I hope that helps. If anybody has more to offer Pat, please leave a comment!
Keep on tickin!
Adam


Elizabeth Bird says

on August 25th, 2010 at 2:55 pm
This question made me think of my own question. I under went aortic valve replacement with hernia repair last year. I was told that the strain on the heart prior to diagnosis and surgery had caused the heart muscles to thicken. I'm on beta blockers to compensate for the thickened muscle. If an enlarged heart can go back to a smaller size, does the same happen to thickened heart muscle. Would there be a chance that at a future date I would be able to be weaned off the beta-blocker because the muscle had returned to normal size?


Tammy says

on August 25th, 2010 at 5:21 pm
I have rheumatic mitral valve disease (stenosis) and as a result have a severely enlarged left ventricle – I've had a valvuloplastly and the opening has been stable for several years. We are doing the watchful waiting and hope to keep the replacement at bay a long time. However my ventricle has not reduced in size…and as a result I'm at risk for Afib and on coumadin. I guess my question is if I replace my mitral valve will my left ventricle shrink – or is the damage done and irreperable? My cardiologist is saying that my opening and specific metrics wouldn't be any better with a new valve at this point – so if I'm tolerating the current treatment plan well should I be concerned with the enlarged left ventricle and what would cause it to enlarge further?


Charles Grech says

on September 4th, 2010 at 1:58 pm
Dear Tammy,
I've read that you had mitral valve stenosis and that you had a valvuloplasty.
I have the same trouble and I'm due for a valvuloplasty in the near future, will you please help me and tell me how you felt after the proceedure, has your breathing improved,are you still get tired when you walk or doing something?.
I'm sorry that I cannot help you with your problem. All I can say is this 9 years ago I had the aortic valve replaced with mechanical one, my health improved and I felt much better, but, now I have trouble with the mitral valve, and I cant be operated to have it replaced becouse its too risky, so that's why Im doing the valvuloplasty.