"Am I Too Old For The Ross Procedure?" Asks Greg
By Adam Pick on April 21, 2010
I just received an interesting question from Greg about the Ross Procedure option for aortic valve replacement.
Greg writes, "Adam – I've been diagnosed with severe aortic stenosis. According to my cardiologist, I'll be needing surgery in the next few months. Thanks to you, I now know about the Ross Procedure. It seems like it could be a good option for me as I'm active and do not want to be on Coumadin for the rest of my life. However, unlike you, I'm a bit older at 57 years of age. I'm wondering if I'm too old for the Ross Procedure? Do you have any thoughts? Thanks for all you do! Greg"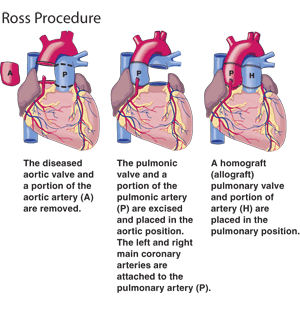 Since I did not have an immediate answer for Greg, I immediately conducted some research which relied upon Dr. Paul Stelzer's 20-year experience with the Ross Procedure.
As you may know Dr. Stelzer has performed over 500 Ross Procedures during his career.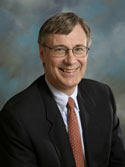 Dr. Paul Stelzer – Mount Sinai Hospital (New York)
In response to Greg's question, Dr. Stelzer offers the following:
Age is not just a number but a physiologic state. Because the Ross Procedure is designed to be a long term solution for aortic valve disease (e.g. aortic stenosis), it is suitable for anyone with at least a 25 year life expectancy.
Usually that translates into someone less than 65, but a few older patients have had this operation quite successfully.
For older patients, simpler alternatives of aortic valve replacement offer 15-20 year durability and are widely available.
Considering Dr. Stelzer's comments, it appears that Greg may be a candidate for the Ross Procedure. However, I would encourage Greg (and perhaps you) to discuss this and other surgical procedures with your medical team prior to making any conclusions about the best treatment method.
I hope this helped you learn more about the Ross Procedure and Dr. Paul Stelzer.
Keep on tickin!
Adam

Dawn says

on April 21st, 2010 at 1:25 pm
I had the Ross procedure at 52 for the very same reasons. I am glad I did.


Philip Reso says

on April 21st, 2010 at 1:33 pm
Greg,
I had aortic valve replacement on April 29, 2009. I evaluated all options and even corresponded with Dr. Stelzer about the Ross procedure. I was 42 and like you did not want life-long Coumadin. After consulting several physicans, I decided on an Edwards Lifesciences bovine tissue valve with a life expectancy of 20-25 years. I did not see any reason to mess with my perfectly functioning pulmonary valve, when I had this alternative to avoid Coumadin. I am doing great. If necessary, I intend to go back in 20 years and do it again. No regrets!
Philip


ELIAS says

on April 21st, 2010 at 2:32 pm
I was 60 when Dr. Stelzer did the Ross Procedure for me in Mt. Sinai Hospital. It is now 2 years since then and thank G-d I feel great. Dr Stelzer is an extremely wonderful person with extra ordinary bedside manners.


Joy says

on April 21st, 2010 at 3:49 pm
Greg, I am 57 & plan to have the Ross Procedure for the same reason you indicate. I don't want to deal with Coumadin for the remainder of my life & I'd like this to be the last valve replacement for me if at all possible. My surgery will be performed by Dr. John Oswalt in Austin, TX who specializes in the procedure. I found Dr. Oswalt initially on this web site via the Heart Valve Surgeon Database & he was also recommended to me by another physician. I might also mention that his was a second opinion, as recommended by Adam's book, & his recommendation that I have surgery sooner rather than later is what I have opted to do. I wish you a successful surgery & a quick recovery, Greg.
On another note, Adam – thank you in advance for the Heart Journals. I've not started mine yet, but plan to post my updates there. I'm a yoga teacher & it will be a great tool for keeping my students updated as to my progress.


Joel Bryan says

on April 22nd, 2010 at 8:41 am
Greg,
I had my heart valve surgery on October 28, 2009 at age 56. I talked to several surgeons about optional treatment, and decided that the Ross Procedure was right for me. Dr. David Hockmuth said that while the Ross was more common for younger patients, he had done several for patients in their sixties. For a longer more active lifestyle it's the way to go.
In my case, Dr. Hockmuth was able to repair my aortic valve so the Ross was not necessary after all.
Joel Bryan, Iowa


Vince Kelley says

on April 23rd, 2010 at 10:55 am
Greg,
It sounds like you are in the same position I was in last Fall. I am an active 53 year old who didn't like the idea of being on coumadin for the rest of my life. Last December 4th, I was Dr. Stelzer's 466th Ross Procedure patient. I can't say enough about the care I received with Dr. Stelzer and the entire Mt. Sinai staff. As Elias stated, Dr. Stelzer's bedside manner is second to none.
But this is what you probably want to hear. I am now just 4-1/2 months post surgery. I was out of the hospital in 4 days and walking in my neighborhood a week after the surgery. Within a month, I was walking 4 to 5 miles almost every day. After getting the blessing from Dr. Stelzer and my cardiologist, I was able to begin some slow running about 5 to 6 weeks post op. I have since been able to add some weight lifting back into my routine. I am now running about 20 to 25 miles a week and lifting 3 days a week.
I will make two recommendations to you, Joy, and anyone who knows that valve surgery is in their future. First, stay as active as you can before the surgery. Second, get as active as you can as soon as allowed after surgery. I believe that by doing this, my ability to get through and recover quickly from a 5 hour surgery (with 3 hours and 7 minutes of bypass) was greatly enhanced.
Thanks again to Adam (for this forum) and Dr. Stelzer (for his skilled hands) and good luck and a quick recovery to everyone going through this.
Vince

Adam's Newest Blogs
Adam's Newest Posts