"When I Wake Up In The ICU, How Many Tubes Will Be Sticking Out Of Me?" Asks Gwen
By Adam Pick on September 1, 2009
I just received a fantastic question from Gwen about waking up in the intensive care unit after heart valve surgery.
She writes, "Adam – Thanks so much for all your help. While I'm still anxious, your support has made me feel somewhat ready for my upcoming heart valve operation. I have one more question for you about the intensive care unit. When I wake up from surgery, exactly how many tubes are going to be sticking in/out of me? Keep on tickin! Gwen"
Interestingly enough, this question triggered a very, very, very unique memory for me.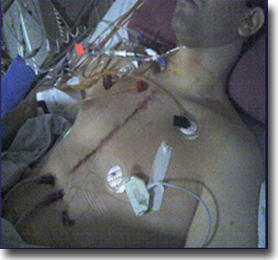 Me (Adam) In The Intensive Care Unit
So you know… My doctors and nurses did not explicitly detail the patient experience within the intensive care unit. Looking back on it, that would have really helped manage my expectation as I came out of general anesthesia.
The first thing I noticed when I woke up from my heart valve surgery was, in fact, a tube… the ventilator tube. (Yes, I was one of the lucky patients that woke up with the vent tube still in place.)
Then, as I continued to regain consciousness, I continued to see more-and-more tubes. As the picture above shows, even after the vent tube was removed, there were two chest tubes, my I.V. drip and another tube sticking out of my neck.
In total, I remember five tubes.
Whoops. Wait. I'm wrong. There was one more tube.
How on Earth could I forget the urinary catheter? 🙂
Ok. The count just increased to six tubes. There you have it. In my experience, there were six tubes sticking in/out of my body after heart surgery.
But, please remember, in addition to the tubes… There will also be several important wires scattered on-and-around your body as you wake up. To illustrate this point, here is a great picture I just received from Charles. FYI, Charles appropriately titled this picture, You Figure It Out!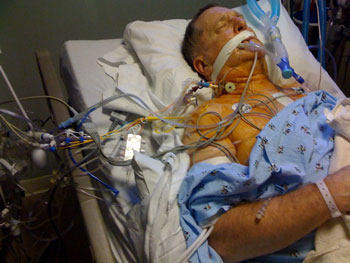 Charles In The Intensive Care Unit
I hope this helps Gwen (and perhaps you) learn a little more about the reality of waking up in the intensive care unit after heart surgery.
Keep on tickin!
Adam
Adam's Newest Blogs
Adam's Newest Posts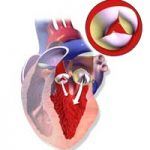 Surgeon Q&A: What Should Patients Know About Aortic Regurgitation? Learn More.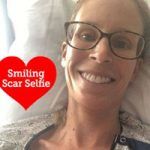 Sara Educates & Inspires 38,443 People About Heart Valve Surgery! Learn More.