"What Is The Patient's Lifespan After Heart Valve Replacement Operations?" Asks Valerie
By Adam Pick on October 2, 2008
When diagnosed with severe heart valve disease, most patients have a fundamental question which races through their minds. That question goes a little something like this, "Oh My Gawwwwwd… What Can I Do To Live?!"
Valerie has taken this question a step further… Valerie has been diagnosed with thickened, calcified mitral and aortic valve leaflets and moderate mitral regurgitation. She is almost certain that surgery is required. That said, Valerie's email to me reads, "Adam – I am very afraid right now. My questions are… After a heart valve repair or replacement, can the patient live a regular long life? What is the lifespan associated with heart valve surgery?"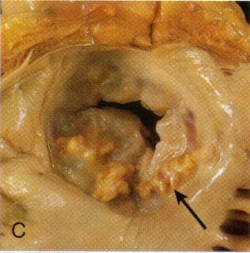 Calcified Mitral Valve – Thickened Leaflets
My response to Valerie first question is a confident… "Yes!" Patient's can live a regular, long life after heart valve repair and heart valve replacement surgery.
As for her second question…
While I was preparing for my aortic valve replacement, I spent a significant amount of time researching heart valve surgery and the post-operative condition.
In fact, there is some excellent data about life expectancy after heart valve replacement surgery from St. Jude Medical, one of the leading heart valve manufacturers. According to its research, "the mean age of patients presenting for valve surgery is increasing, as is the life expectancy following valve surgery."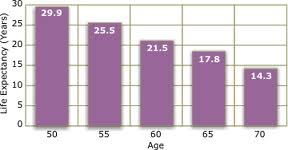 If you look at the graph above, you can see that life expectancy ranges from 29.9 years to 14.3 years for patients experiencing heart valve surgery between the age range of 50 to 70.
While the graph above shares encouraging lifespan data for valve surgery patients, I have had the pleasure of meeting several patients that significantly stretched their life as a result of heart valve repair and/or heart valve replacement operations. Though this website and my book, I have spoke with many patients that had their surgeries 10-, 20-, 30- or even 40-years ago. Yes, you read that right! 40 years ago!!!
This is one more reason I consider heart valve surgery to be a medical miracle rather than a painful curse.
Keep on tickin!
Adam
Adam's Newest Blogs
Adam's Newest Posts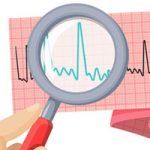 "How Do I Know When My AFib Is Gone After Heart Surgery?" asks Linda Learn More.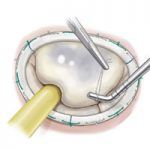 New Findings: Mitral Valve Repair Restores Normal Life Expectancy! Learn More.