Our Own, Leslie Lafayette, Becomes A TV Star After Mitral Valve Repair (VIDEO)
By Adam Pick on February 25, 2008
As many of you have read in past blogs, Leslie Lafayette had mitral valve repair using the Da Vinci Surgical Robot a few weeks ago. Doctor Richard Shemin from UCLA was her cardiac surgeon.
While her surgery had some complications, Leslie's great attitude is accelerating her recovery. Now… For the fun news!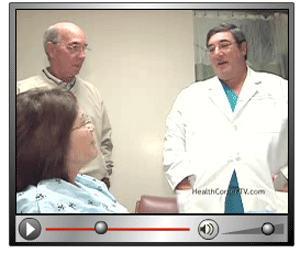 Leslie's heart surgery story was documented by Lifetime Television. The story aired on Sunday, February 24th and has already been posted on the Internet.
Keep on tickin!
Adam

Maribel says

on February 25th, 2008 at 6:04 pm
Adam: this is incredible, technology is advancing so much, tomorrow we'll be having the replacement valve with this robot. The question is did they stopped the heart, do the put her on ECC?


Leslie Lafayette says

on March 6th, 2008 at 2:20 pm
Hi Adam, I had never read the question from Maribel. For some reasons I don't seem to get the comments after your blog. But the answer to the question is that yes, I was on the bypass machine, and yes they stop the heart. Btw I don't know if I shared that I had ASD, Atrial Septal Defect, which is a hole in the heart, and they sewed that up for me, too, and pinned down the atrial appendage. So I had a lot done in one day! ASD is a very common finding along with mitral valve regurgitation — mine never showed up on echocardiogram, only in the TEE just before the surgery.
Cheers
Leslie


Marianne Mazzoni says

on July 13th, 2009 at 5:03 pm
I was wondering if Leslie Lafayette is my cousin. Her parents were Ethel Pondak and Murray Lafayette. I am Stephen's daughter, Marianne and would like to contact her after many years.

Adam's Newest Blogs
Adam's Newest Posts