Foods For People That Had Open Heart Surgery
By Adam Pick on August 18, 2007
One of the many things I love about life is… Food.
In fact, right now I'm waiting for my new bride, Robyn, to get home from work so we can go out for dinner and officially start the weekend. But, as of this moment… SHE'S LATE AND I'M STARVING!!!
I guess that brings up a pretty interesting topic… Foods For People That Had Open Heart Surgery!!!
My gut tells me you might want to know if your food consumption will change following cardiac surgery including open heart valve repair or open heart valve replacement.
"Am I right?" (If no, skip this blog.)
Oh, good. You're still reading. That must mean you're somewhat interested to know whether or not there are any special foods for patients that had open heart surgery.
So you know, I had aortic valve replacement in 2005. One of the reasons I chose this surgical option (known as the Ross Procedure) was because I did not want to take any medication (Coumadin) after my heart valve surgery to prevent clotting on a mechanical valve.
In light of that my surgical procedure, I do not have any food restrictions that may arise from the simultaneous intake of medicine (again Warfarin / Coumadin).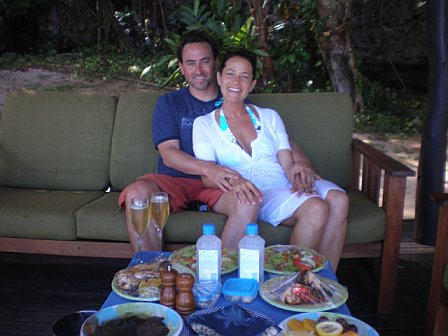 That's Me Eating During My Honeymoon In Fiji
That brings up the next question, "Do patients on Coumadin need to avoid certain foods that might negatively react with Coumadin?"
I did some online research and found some interesting information from Healthcare South. Here it is:
Many medications and foods interact with warfarin, possibly causing problems. Some interactions raise the INR too high, which may cause bleeding. Often, interactions decrease the INR too low, rendering the medication ineffective.
In the past, people were advised to avoid foods with vitamin K because vitamin K reduces warfarin's efficacy and lowers the INR. These days, I recommend regular, moderate consumption of these healthy vegetables, but keep it fairly consistent so that your doctor can adjust your warfarin dosage to match your diet. If your diet varies quite a bit, your INR levels can swing very high or low.
Foods rich in vitamin K include: asparagus, broccoli, cauliflower, cabbage, kale, spinach, brussel sprouts, chick peas/garbanzo beans (hummus), soybeans (tofu, soymilk), lentils (dried peas and beans), dark green, leafy vegetables, green lettuce (romaine, bib and red leaf), collard, mustard, turnip and beets, green tea (tea in Chinese restaurants), parsley (tabbouleh).
Foods with excessive vitamin K to avoid include: large amounts of onions (greater than ¼ cup), avocado (guacamole), egg yolks (not more than four per week), liver, seaweed (sushi or algae).
Considering this information, it appears that there are some clinically referenced, dietary restrictions on patients using Coumadin following heart surgery. In fact, I have learned that there are cookbooks written to help patients with recipes and foods for people that had open heart surgery. For example, The Coumadin Cookbook: A Guide To Healthy Meals When Taking Coumadin, is now available through online stores like Amazon. Here's a link if you would like to read up on it.
Alright. Now, I'm really, really hungry! Robyn just got home! I'm off for some Thai food!!!
I hope that helps you better understand foods for people that had open heart surgery, especially those that take Coumadin.
Keep on tickin!
Adam

Katherine says

on September 4th, 2008 at 10:36 am
Adam,
You just really helped me out! My father just had open heart surgery and I couldnt find any cook books that could fit around his new life style of no salt, no vitamin k and working with coumadin. Thanks a lot!!!
-Katherine


Anastacia says

on December 2nd, 2010 at 11:09 am
Adam,
Thank you for your advice!! Our cousin is having open heart surgery during the holidays this year and I was clueless as what to make. If the tips you provide help us to look like your wife I am sure I can have my whole family eating this way!
Anastacia


mercy says

on December 12th, 2011 at 7:38 am
hello sir, my mother has just had a heart surgery for mitral valve replacement last march 30, 2011, here in the philippines, we want to know the food that is safe for her and those that is not to be taken in… i have learned about your book but i don't have any credit card nor money to buy it… please give us list on the safe food that she should take on my email add, if its okei with you sir.. thank you very much and God bless!!

Adam's Newest Blogs
Adam's Newest Posts