Mechanical Heart Valve Replacement Devices
By
Adam Pick
- Patient, Author & HeartValveSurgery.com Founder
If you were recently diagnosed with a severe valvular disorder -- in which your heart valve can not be repaired -- common patient questions are:
Which type of heart valve replacement is best for me?
A mechanical heart valve?
Or, a tissue valve?
So you know... A medical device that is implanted into the heart of a patient with valve disease, like aortic stenosis or mitral regurgitation, is called an artificial heart valve. A heart has four valves -- an aortic valve, a mitral valve, a pulmonary valve and a tricuspid valve. When one of these valves malfunction, it can cause the heart to enlarge and lead to other complications, including congestive heart failure and death. Heart valve disease is often referred to as a "silent killer" or an "insidious disease" by leading heart surgeons including Dr. Michael Mack and Dr. Raymond Singer.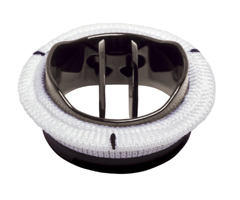 Picture of a Mechanical Valve (Source: Cryolife)
Mechanical heart valves and biological heart valves are two different types of prosthetic heart valve replacements which mimic the functions of a human valve.
What Is A Mechanical Heart Valve?
A mechanical heart valve is made from materials that do not include any form of biological tissue (pig, cow, horse). Instead, very strong materials -- such as titanium and carbon -- are used in a mechanical heart valve that make them incredibly strong and durable. Some reports suggest that the mechanical valves available today are able to last indefinitely. Recently, an accelerated wear tester suggested that one mechanical heart valve could last over 50,000 years.
However, a key consideration for patients is that mechanical valves require continuous use of blood thinners, also known as anticoagulants, such as Coumadin. Patients on Coumadin therapy need to be monitored regularly with a PT (Prothrombin) blood test. These blood tests help ensure that the patient's INR (International normalised ratio) is acceptable. For example if the INR level is 5, this indicates an elevated chance of bleeding, whereas an INR level of .5 indicates the possibility of a blood clot.

The three major kinds of mechanical heart valve replacements are:
The tilting-disc mechanical valve
The bileaflet mechanical valve
The original caged-ball mechanical valve.
The 'Caged-Ball' Mechanical Valve
The caged-ball design was the first mechanical valve implanted. It houses a silicone elastomer ball within a metal cage. Whenever the blood pressure within the heart's chamber exceeds the pressure outside of the heart's chamber, the ball pushes against the cage allowing the blood to flow. After heart contracts, the pressure drops and the ball goes back to the valve's base to form a seal.

The 'Tilting-Disc' Mechanical Valve
Shortly after the caged-ball design, the tilting-disc mechanical valve replacement was created. The first tilting-disc valve that was clinically available was the 'Bjork-Shiley' valve. This valve was introduced in 1969 and there have been some noteworthy design changes since then.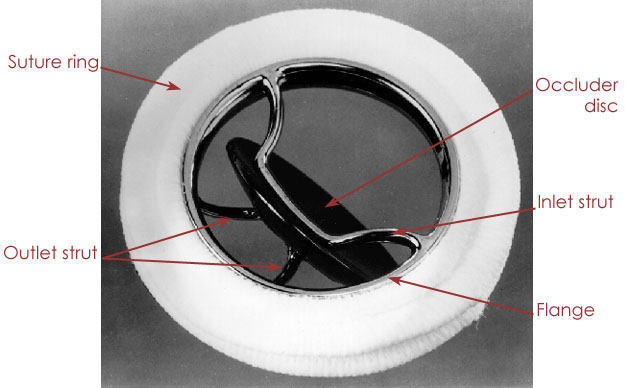 A tilting-disc valve has a single, circular occluder that is controlled with a metal strut. These valves have metal rings covered by an ePTFE fabric. In order to hold the valve in place, sutures are stitched into the ePTFE fabric. The ring has two supports that hold a flexible disc that will open-and-close as blood is pumped through the valve.
The 'Bileaflet' Mechanical Valve
A bileaflet mechanical valve consists of two leaflets that are semicircular and rotate around struts that are attached to the housing of the valve. In 1979, the bileaflet valve design was introduced. Some reports suggest that bileaflet mechanical valves povide more natural bloodflow compared to the aforementioned mechanical heart valves.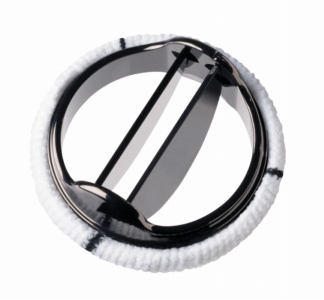 Advantages Of Mechanical Heart Valves
The main advantage of mechanical heart valve replacements is durability.
Mechanical heart valves are made from very durable materials including titanium, carbon compounds and teflon. While the average tissue valve (porcine, bovine, equine) is estimated to last between 10-15 years, reports suggest that mechanical valves can last 30 years or more after implant.
That said, for some younger patients, a mechanical heart valve can be a suitable replacement for the diseased valve.
Disadvantages Of Mechanical Heart Valves
There are a few disadvantages, or considerations, that should be noted about mechanical heart valves.
Selecting a heart valve replacement is a very important decision for the patient, their family and friends. I encourage you to research this choice given your age, health history, lifestyle and risk factors.
You May Also Like
To learn more about Coumadin and mechanical valve replacements, you may like these aritcles, videos and patient success stories:
Page last updated: June 9, 2021