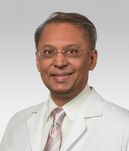 Dr. Aqeel Sandhu
Dr. Aqeel Sandhu

Heart Surgeon

Northwestern Medicine McHenry Hospital
4309 Medical Center Drive, Suite A200
McHenry, IL 60050
About Dr. Aqeel Sandhu,
Heart
Valve

Surgeon

Hello! My name is Dr. Aqeel Sandhu and I am a cardiac surgeon having graduated from King Edward Medical College (Pakistan) in 1987. To date, I have performed approximately 7,000 cardiac surgeries, of which over 500 involved heart valve procedures. I regularly perform surgery at Northwestern Medicine McHenry Hospital. Read more...
3 Patient Reviews for
Dr. Sandhu
"Dr. Sandhu has a wonderful bedside manor and is very patient to explain very clearly and answers any questions you have. My surgery went better than I thought and Dr. Sandhu did a fantastic job and followed up each day after. His assistants were all terrific also. He is a very qualified surgeon and I would recommend him to anyone. I give him A+."
-- Marian Wozniak, Aortic Valve, 12/17/2021

"Dr. Sandhu is the BEST. His beside manners are nothing but ultra fantastic. Dr. Sandhu has a heart of gold. The first time that I met Dr. Sandhu he was laughing and said that I was the youngest heart patient who he ever had…and from then on it was all love. He even autographed my heart pillow and wrote…thank you for letting me mend your broken heart".
What an amazing doctor Dr. Sandhu is…just the thoughtfulness of him to sign my heart pillow? There is no one better, cannot even come close to what Dr. Sandhu does and how treats patients. Again, Dr. Sandhu is nothing but the BEST.
Northwestern Medicine should be very proud of Dr. Sandhu. "
-- Thomas Wille, Aortic Valve, Valve Replacement, 04/16/2021

> See 1 more patient testimonials
My Specialities &
Clinical Interests
My heart surgery specialties include:
Aortic valve repair and replacement
Mitral valve repair and replacement
Atrial fibrillation (Maze procedure), aortic aneurysms and coronary artery disease
Education, Training & Certificates
Dr. Aqeel Sandhu, heart surgeon, graduated from King Edward Medical College (Pakistan) in 1987.
After medical school, Dr. Sandhu completed a General Surgery Residency at Harlem Hospital Center, an affiliate of Columbia University College of Physicians and Surgeons, in 2002. Dr. Sandhu also completed a Cardiothoracic Surgery Fellowship at Beth Israel Deaconess Medical Center, an affiliate of Harvard Medical School, in 2000.
To further his specialties in cardiac surgery, Dr. Sandhu completed an Advanced Cardiothoracic Surgery Fellowship at the Cleveland Clinic in 2002.
Dr. Sandhu is board-certified by the American Board of Thoracic Surgery - Thoracic and Cardiac Surgery and he is a Fellow of the American College of Surgeons.
Schedule Appointment

with Dr. Aqeel Sandhu, MD

To schedule an appointment with Dr. Sandhu, you can:
Call

(888) 640-6915

right now
Request an appointment by clicking here.
The office of Dr. Sandhu is located at 4309 Medical Center Drive, Suite A200, McHenry, IL 60050. To get driving directions to this office, please click the map below.
> Click for driving directions to Dr. Sandhu's office.
News & Online References Featuring Dr. Aqeel Sandhu
Here is the latest news featuring Dr. Aqeel Sandhu:
Page last updated: March 21, 2022