Patient Success Story: Shannon Delivers Baby Ava After A Mechanical Valve Replacement!
By Adam Pick on November 8, 2014
There is nothing better than a great patient success story. So, when I received this update from Shannon about babies, bicuspid aortic valves, mechanical valve replacements and Coumadin, I just had to post it. Here is what Shannon wrote to me…
Hey Adam!
I know it has been some time since I last wrote to you with an update.  I'm not even sure where I left off last time.  =)  Quick recap:  I had an aortic aneurysm repair done in May 2009 at Emory University Hospital.  Shortly after this surgery, I wrote you looking for advice on getting pregnant with a bicuspid aortic valve.  WELL…..  I am happy to report that it was very possible!  I gave birth to my son in March 2011!  I had no complications but was monitored VERY closely by my excellent team of doctors in Tallahassee, Florida.  (I did have a scheduled C-section.)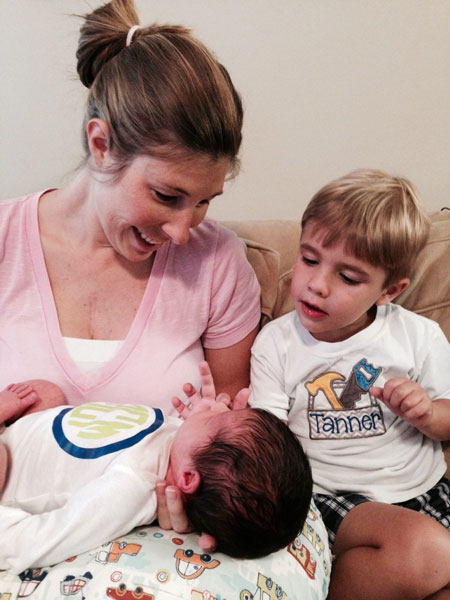 Shannon with Tanner and Ava
Shortly after Tanner's first birthday, I started experiencing some breathing complications.  It was determined that it was time to replace my aortic valve.  After a lot of thought and prayers, my family and I decided that it would be best to get a mechanical valve since this was my second open heart surgery in three years.
My aortic valve was replaced with an On-X valve in March, 2012 at Shands in Gainesville, Florida.  (I also had a PaceMaker put in shortly after the surgery.)  HELLO COUMADIN….BYE BYE ANYMORE BABIES!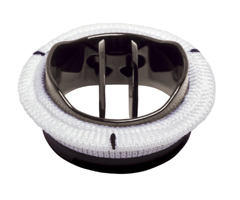 On-X Mechanical Valve
WELL…..I like a good challenge (and I don't like being told I can't do something)!  I am happy to report that I just gave birth to my daughter, Ava, on July 22, 2014!!!  I had a lot of conversations with my cardiologist, OB, and high-risk OB prior to getting pregnant.  I switched from Coumadin to Lovenox injections for the first trimester, then went back on Coumadin for the second and third trimesters, and finally, back to Lovenox for the final month (just in case I went into labor….the Lovenox is out of your system quicker than Coumadin).  I also was admitted to the hospital 2 days prior to my scheduled C-section to go on a Heparin IV drip.  This was stopped around midnight before my surgery.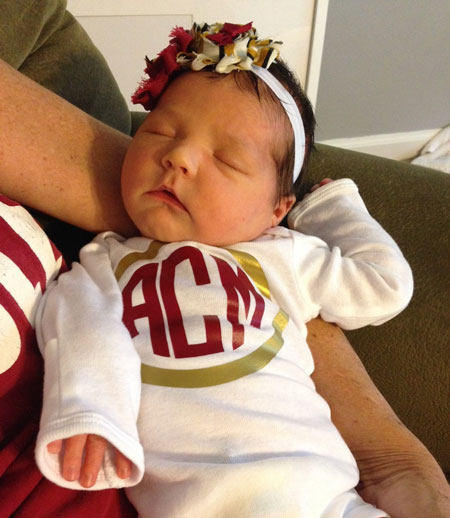 Baby Ava
It is so important for patients to be informed of all their options!  Build good relationships with your doctors.  I feel so blessed to have TWO healthy, perfect kids!  Without the support of my doctors, I never would have thought it would be possible to have a baby while on Coumadin.  All the information that is out there, just tells you all the negatives about pregnancy and Coumadin.  I am so happy to report that it is possible to have a healthy baby after valve replacement!
I have attached several pictures of the new addition to our family!
Thank you for all you do Adam!
Sincerely,
Shannon

Pam Hart says

on November 10th, 2014 at 10:48 pm
Way to go. Proud of you to be determined and have it your way. Your little angel is here.


catherine says

on November 12th, 2014 at 12:27 am
What a beautiful little girl! and what a reward after going through such difficulties and uncertainties. Congratulations for this little miracle and all the best -and the rest you can get Shannon 😉 – with your two beautiful children.


Krystal says

on January 12th, 2015 at 10:47 pm
Congratulations Shannon great to see a successful story I myself am wanting a baby I have had open heart surgery ×2 first in 2007 and second 2009 im on life long warfarin was wondering if you have any helpful advice


Maddie M says

on August 14th, 2015 at 8:31 pm
Shannon and Adam, I'm in the exact same position. I have had 2 valve replacements; 1st a bioprosthetic valve and the second an On-x valve. I had a beautiful boy 2.5 years ago on the porcine valve, but had to have the second valve surgery with an On-X valve when he was 10 months old. Now I would love to have another child on my On-X valve. I just need some advice and maybe a suggestion of cardiologists here in my local area. We are military and move around a lot. We recently moved to Montgomery, Alabama and need to find new care here in the southeast. I assume Atlanta is our best option but I am open to suggestions. I would really appreciate it if you could help me! Thank you, Maddie and Mike

Adam's Newest Blogs
Adam's Newest Posts