Shannon's Unicuspid Heart Valve Discovery
By Adam Pick on June 9, 2009
You might remember Shannon's last email about diseased heart valves, pregnancy and child birth. Well…. Here is her post-operative update:
Hey Adam!
I wrote to you several months ago about heart valves and pregnancy. I just wanted to send you a quick update!
I had my surgery on May 14th at Emory University Hospital in Atlanta, Georgia. Doctor Ed Chen was my surgeon. I cannot say enough about how wonderful he and the Emory staff were to work with.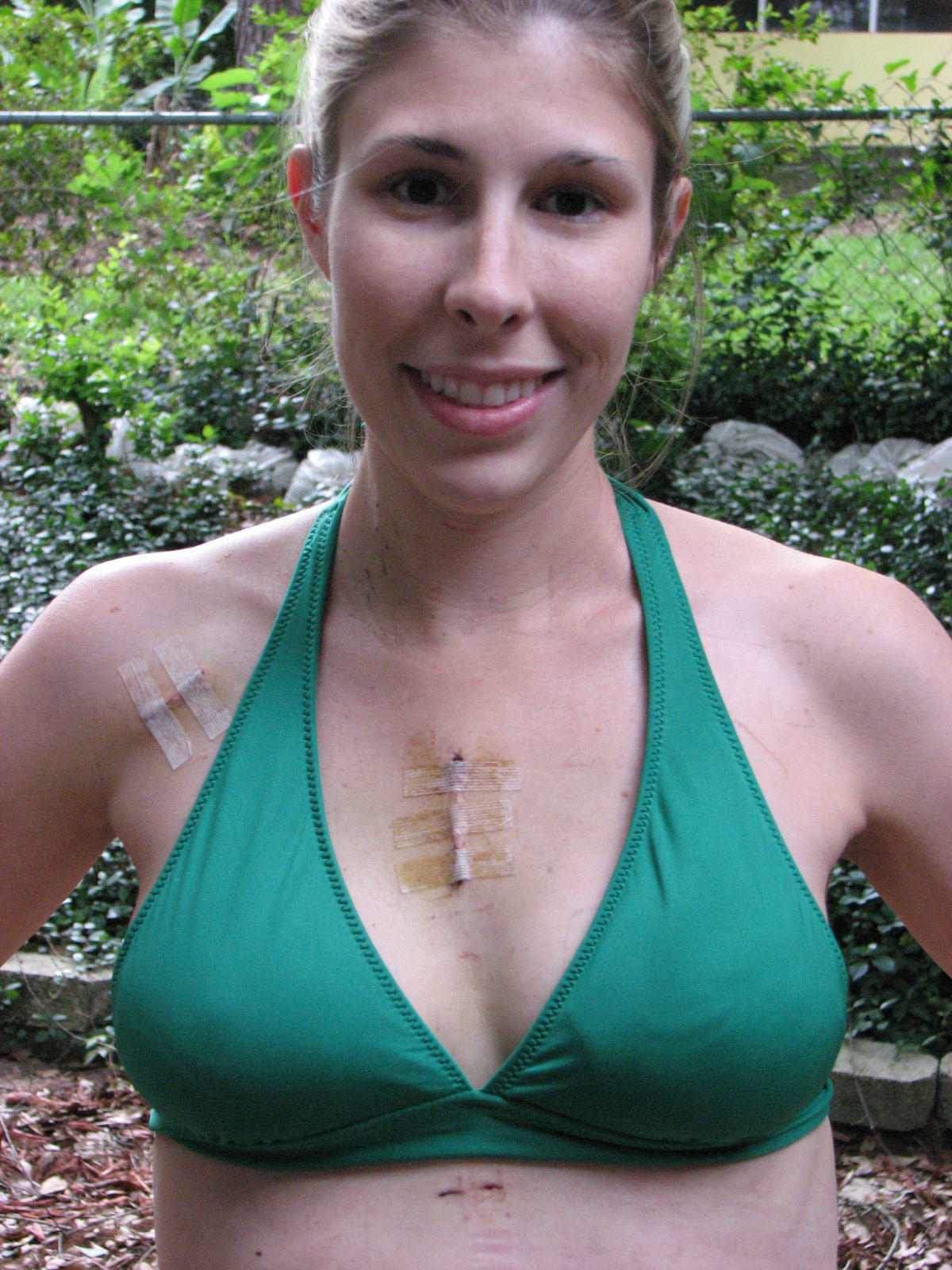 Dr. Chen replaced a section of my aorta to correct an aortic aneurysm. I have known my entire life that I have a bicuspid aortic valve, however, in surgery the surgeon discovered I actually have a unicuspid aortic valve (only one leaflet)! FYI, the docs think I should be fine to have kids before replacing the valve!
I attached a picture of my incisions exactly one week after surgery (see above). Dr. Chen was very proud of his work (as he should be) and I was the talk of Atlanta because of the size of the incision and type of surgery.

Unicuspid Aortic Valves – Calcified and Narrowed
I wanted to thank you again for your heart valve surgery book!  It has made recovery for me and my support group much easier!
God Bless,
Shannon Coughlin

Jennifer Brantley says

on June 9th, 2009 at 2:49 pm
Wow that is amazing! that scar is a lot smaller than the ones I have seen. I hope my doctor is able to do one like that! 🙂 Glad everything went so well! yay!


Jimmy Beville says

on June 9th, 2009 at 7:09 pm
Congrats! On a successful surgery. I had my aortic valve replacement and aortic aneurysm repaired by Dr. Chen on Oct. 27 2008 (age 38). I definitely agree that Dr. Chen is a wonderful surgeon and the staff at Emory was excellent. Good luck with your valve replacement when its time. Dr. Chen will kick ass like he did with mine.


Robert Elliott says

on June 10th, 2009 at 10:21 am
It looks like this incision was one my cardiologist is calling a mini sternodomy. Sound/looks much better than a full sternodomy incision. I am looking into the mitraclip for my mitral valve leak but if insurance doesn't pay for it, I'll be getting the mini sternodomy operation.


Bill says

on June 10th, 2009 at 5:41 pm
Congratulations Shannon! Looks like an outstanding and successful surgery. glad it went well and you are planning a family!! I had Aortic Valve replacement at Piedmont Hospital also in Atlanta. That was a year ago and I am doing fine. I am sure a lot of Atlanta people appreciate your sharing your story!
Bill


jeff stoveken says

on June 10th, 2009 at 7:19 pm
shannon, congrats ! ive never heard of your type of valve.glad it all went well and your incision is very small and only 2 drain tube holes? my incision was very nice until it started to heal and now it protrudes slightly. so can i ask whether you have a mechanical valve ? if so ,how is the coumadin levelinggoing for you? jeff jeffstoveken@yahoo.com
ps. i had an aortic anuerysm and valve replacement age 45 last sept.i finally feel like myself again !


Jimmy Beville says

on June 10th, 2009 at 10:48 pm
I believe she clearly states that she had the aneurysm repaired only. The valve replacement will be done after she's done having kids. Her incision wasn't from valve replacement, that is why it is so small.


Terry says

on April 14th, 2011 at 12:41 am
I am a 34 year old male. I have known my entire life that I have aortic stenosis. I didnt go to the heart Dr for 4 years. One day I was thinking I should go. I went to my normal 1 hour appointment and still was there 5 hours later. I knew something was wrong. I had a Aortic Aneurysm. I was not allowed to go back to work. The DR's had me in surgery 3 weeks later. After surgery the heart surgeon informed me that I have a unicuspid. This was in 2008. In 2010 my cardiologist was talking about a pacemaker. Now in 2011 i started having Grand mal seizure's. I was in the hospital for 3 days about 3 weeks ago. I had two of them in one day. Whats next????

Adam's Newest Blogs
Adam's Newest Posts