Surgeon Q&A: Advancing Mitral Valve Repair Using 25 Years of Experience & Robots!
By Adam Pick on April 8, 2014
I was very fortunate to recently connect with Dr. Alfredo Trento, the Chief of Cardiac Surgery at Cedars-Sinai Medical Center in Los Angeles. As you may know, Dr. Trento has successfully treated many patients from our community including Jerry Andis, Terry Beaschler and Patricia Shabel.
Considering that Dr. Trento is a cardiac guru, with over 25 years of experience, I was very interested to learn about his surgical approach to valve disease. As you will see in this video, Dr. Trento had several interesting comments about the evolution of cardiac surgery, the importance of timing surgical processes, and the use of robots to enhance surgical outcomes for procedures including mitral valve repair.
Transcript of My Video Interview with Dr. Alfredo Trento
For those members of our community who are hearing impaired, I have provided a written transcript of my video interview with Dr. Trento to help you learn more about this very special surgeon.
Dr. Alfredo Trento says: I'm the Chief of Cardiac Surgery at Cedars-Sinai Medical Center. I have been in practice since 1985. I started my practice in Pittsburgh and then I moved to Los Angeles in 1988. I perform about 300 procedures per year. Eighty percent of my practice now include the valve surgery.
In cardiac surgery, there are several procedures. The most common procedure 20 years ago was not a valve procedure. It was a coronary artery bypass. Coronary artery bypass was the so-called "bread and butter" for a heart surgeon. Seventy percent (70%) of the procedures were coronary artery bypasses. But, I get more satisfaction performing a valve procedure because I see that the patients really improve significantly. Very often, patients with valve problems come to Cedars-Sinai quite sick. Then, after surgery, they go home feeling better almost immediately.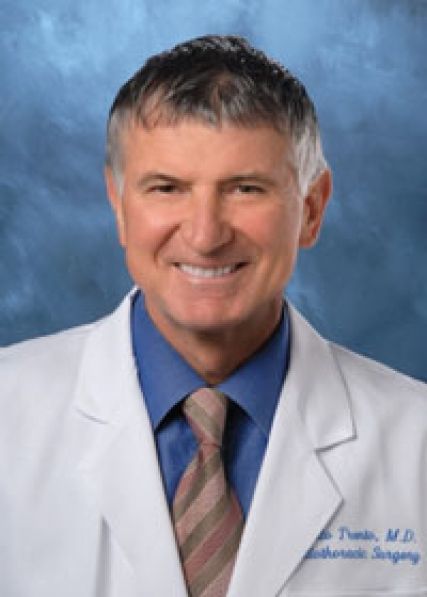 Dr. Alfredo Trento – Heart Surgeon
There are different valves in the heart. There are four valves in the heart. However, surgeons are typically involved with the aortic valve and mitral valve. An aortic valve repair is very rewarding for the surgeon and for the patient because he or she is able to keep his own valve. Then, there is the mitral valve. The vast majority of the mitral valve pathology is what we call the mitral valve prolapse.
The most important advance in the past 25 years for me was to be able to streamline the procedure in a way in which every move of my hands is directed to do something. Every second of the operation is used for the procedure. That has cut down significantly the operating time for a heart valve procedure.
Cardiac surgery has evolved into becoming less invasive. I use the robot in 100% of mitral valve repair operations. The robotic da Vinci system allows us to see extremely well inside the heart. We see better than we see in an open heart surgery using a traditional approach through the midline — because the camera really puts you inside the valve.
Dr. Trento says to the patient, "We are ready to go. We'll be done around noontime, okay? I'll come out and talk to you around noontime. You will have time for coffee after the surgery." [Joking and laughter.]
I do care about the patients. I really think that being involved with the patients — while they are in the hospital — and transmitting the fact that you care about them really helps them to have the right attitude in improving.

Thanks to Dr. Trento and the Cedars-Sinai Team
On behalf of our patient community, many thanks to Dr. Alfredo Trento and his entire team at Cedars-Sinai for taking such great care of our patients. Also, a special thanks goes out to Gordon Kolodny, Sally Stewart and Cara Martinez for helping us film this video!
Keep on tickin!
Adam

Dan Geremia says

on April 12th, 2014 at 7:03 am
Very interesting, I will be having surgery in the near future, I have the mitral valve prolapse , I was just informed, I'm in conn. Looking at hospitals in New York ,any info you could pass on would be great.
Thank you in advance
Daniel Geremia

Adam's Newest Blogs
Adam's Newest Posts