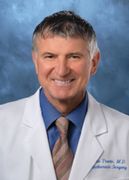 Dr. Alfredo Trento
Dr. Alfredo Trento

Heart Surgeon

Smidt Heart Institute at Cedars-Sinai
8700 Beverly Blvd
Los Angeles, CA 90048
About Dr. Alfredo Trento,
Heart
Valve

Surgeon

Hello! My name is Dr. Alfredo Trento and I am a cardiac surgeon having graduated from University of Padua, Italy in 1975. To date, I have performed approximately 7,500 cardiac surgeries, of which 4,000 involved heart valve procedures. I regularly perform surgery at Smidt Heart Institute at Cedars-Sinai. Read more...
45 Patient Reviews for
Dr. Trento

"Dr. Trento had great bedside manner and did outstanding work reconstructing my aorta while sparing my valve. Cedars Sinai in Los Angeles is a top notch hospital."
-- Jerry Andis, Aortic Valve, Valve Repair, David Procedure, 03/22/2012

"One of the pioneers in the intercostal approach for minimally invasive robotic mitral valve repair, Dr. Trento is exceptionally skilled and my results appear to be perfect (though I'm still healing as I write this review. Dr. Trento is matter-of-fact and businesslike; if you need a warm, fuzzy bedside manner there may be others who can offer this. If you want no-nonsense top surgical results, Trento is among the top surgeons anywhere.
I will say that the intercostal approach (3" incision below the right breast) can be a bit rough pain-wise for up to a month after surgery but offers an overall faster recovery than the sternum approach. This appealed to me as I'm a very active person and wanted to get back to a high activity level as quickly as possible."
-- William Brothers, Mitral Valve, Valve Repair, Maze Procedure, 01/27/2023

> See 44 more patient testimonials
My Specialities &
Clinical Interests
My heart surgery specialties include:
Robotic Mitral Valve Repair
Aortic Valve Repair and Replacement
Complex Multivalve Surgery
In addition, I have research and clinical interests specific to:
Clinical Research of Patient Outcomes
Education, Training & Certificates
Dr. Alfredo Trento, heart surgeon, graduated from University of Padua, Italy in 1975.
After medical school, Dr. Trento completed a General Surgery Residency at University of Massachusetts Medical Center in 1982, a Fellowship in Cardiothoracic Surgery at University of Massachusetts Medical Center in 1982, and a Cardiothoracic Surgery Residency at University of Pittsburgh School of Medicine in 1983.
During his extraordinary career, Dr. Trento has received many awards and acknowledgements for his superb clinical outcomes, his research and his life-long pursuit of healthy heart valves.
Dr. Trento is board certified in in Cardiothoracic Surgery and is currently serving as a Professor of Surgery and Vice Chair of Outreach and Business Development and Director Emeritus of Cardiac Surgery at Cedars-Sinai Medical Center in Los Angeles, California.
Schedule Appointment

with Dr. Alfredo Trento, MD

To schedule an appointment with Dr. Trento, you can:
Call

(888) 534-0361

right now
Request an appointment by clicking here.
The office of Dr. Trento is located at 8700 Beverly Blvd, Los Angeles, CA 90048. To get driving directions to this office, please click the map below.
> Click for driving directions to Dr. Trento's office.
News & Online References Featuring Dr. Alfredo Trento
Here is the latest news featuring Dr. Alfredo Trento:
Page last updated: October 16, 2022