In Portugal, Filomeno Gets A Carbomedics Aortic Valve Replacement (Video)
By Adam Pick on February 26, 2010
There is nothing better than waking up, enjoying a cup of coffee, turning on the computer and finding a patient success story in my inbox.
Today, I received a patient success story all the way from Portugal. It's about Filomeno Faustino's recent aortic valve replacement with a Carbomedics Top Hat mechanical device. Here is what Filomeno wrote to me: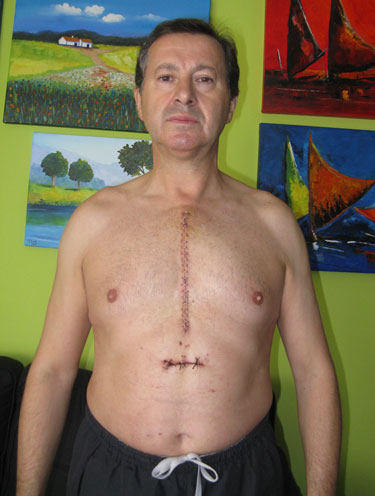 Filomeno Faustino – Nine Days After Valve Surgery
Dear Adam,
Recently, my aortic valve was replaced because I had a bicuspid aortic valve caused by a genetic problem. I have attached a picture which shows me nine days after surgery.
The surgery was successful!!!
I received a new mechanical valve known as the Carbomedics Top Hat which is manufactured by the Sorin Group. I understand this valve is somewhat similar to the On-X mechanical valve.
After the surgery, I was in the intensive care unit for 29 hours. For six of those hours, I was on ventilator support. In total, I stayed one week in Hospital De Santa Cruz in Lisbon, Portugal.
Carbomedics Top Hat Mechanical Valve Picture & Video
My surgical team and support staff (doctors, nurses, etc.) were wonderful and highly qualified. I really appreciate all of their encouragement during my hospital stay.
Finally Adam, I can not forget you. Your book helped me a lot before and after surgery. Keep doing this great work. Thanks!!!
Best Regards,
Filomeno Faustino
Portugal

Mário Bruno says

on February 27th, 2010 at 8:48 am
many readers from Portugal.
"Faustino, tudo do melhor
são os desejos deste finalista em Cardiopneumologia aspirante,quem sabe, a perfusionista."
Sorry the portuguese, for you Adam and other readers, have google translater : )
Best Regards
Mário Bruno

Adam's Newest Blogs
Adam's Newest Posts