Multiple Choice Question: Waking Up With The Vent Tube Still In Is…
By Adam Pick on February 14, 2008
Heart Valve Surgery Pop Quiz Time!!!
Complete the following statement:
"Waking up in the intensive care unit after cardiac surgery with a ventilator tube still in your throat is…
A. "So much fun! I can't wait to do it again!"
B. "Uncomfortable. Not being able to talk is somewhat dislocating."
C. "The worst thing ever!"
D. "I don't know! It was removed before I woke up."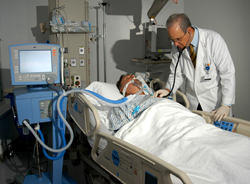 And… The answer is.. "E"… It depends!
Not to trick you (that was not one of the multiple choice answers above), but patients tend to have different responses to that question – although very few select answer "A".
Most patients dread waking up with a vent tube in after their heart valve repair or heart valve replacement surgery. Personally, I had NO CLUE that I would wake up with the ventilation tube stuck down my throat after my aortic valve replacement operation. To learn more about that procedure, click here.
Needless to say, that was a very dislocating experience. I could not talk. And, swallowing was a major challenge due to the vent tube and my dry, dry, dry, dry, dry, dry, dry mouth.
Instead of focusing on the discomfort of the situation, I did my best to enjoy the silence of being with my family. One-by-one, they entered my ICU room. First came my dad (Jerry), then my wife (Robyn), then Doug (my brother), Donna (my mom) and Monica (my sister).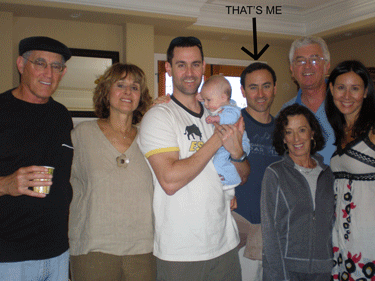 Pick Family Picture Taken
Last Week At My Birthday Party
As you can read here, waking up in the intensive care unit after heart surgery was a special time for me.
Keep on tickin!
Adam

Leslie says

on February 15th, 2008 at 12:27 pm
Hi Adam, it's me again. Hope you don't mind so many check-ins but because my surgery is SO recent, I hope to share while memories are very clear.
I went into surgical suite at 10 AM on a Wednesday. I was awake with the anesthetist for about an hour as preparations were going on around me. He had some things to do that included me, like inserting the atrial line in the inner wrist, but because he gave me some Versed through my IV, I was very calm and comfortable throughout. I was not afraid at all! Then he said "We're going to let you go to sleep now," and put the oxygen over my face. The last thing I said to him was, "You'll take good care of me, won't you," and he smiled. "Yes indeed. We will take GOOD care of you!"
I came out of surgery and into ICU about 5:30 pm but I woke up at 11:30 that night. I have no memories in between. I remember seeing the clock and Doug, my best friend and former husband! 🙂 He was there throughout, talking to the nurses and trying to find out for me when the vent tube would be removed. He was allowed to stay by me the entire time and that was very comforting.
The vent tube is less annoying the sleepier you are, of course. But as you wake up, if you want it out, you must show you are breathing well on your own. The nurses lowered the amount of oxygen coming from the ventilator and I had to breathe more on my own. At first I would doze off but Doug or nurses would remind me to wake up and BREATHE! By 12:30 or so, they were ready to remove the vent tubes, and one-two-three, out they come! Not difficult, but I will not say having a ventilator tube down your throat is a treat, either. The key is, as you say, to remain calm, you can communicate with your nurses by writing on a pad or hand motions. Once the tube was out it took another 5 hours for them to give me ice chips. It was ok, though. Through the night in ICU, after Doug went home, I just enjoyed being there, being alive, having it over, and being attended to CONSTANTLY by a team of two different nurses who were in and out of my glassed ICU room all the time. By the next morning I had some ice chips, managed to toss them up a couple of times (that always happens to me after general anesthesia, no big deal) and was sitting up in a chair whether I wanted to or not! Later that day because of my good vitals I was transferred to a room outside of ICU.
If anyone has any questions about my mitral valve repair with the Da Vinci robot, please let them know they can e mail me at cnetwork@aol.com and I will be happy to reply.
Cheers to you Adam and again, Happy Birthday.
Leslie


elinor crabtree says

on February 15th, 2008 at 9:02 pm
Hi…., I also recently had a mitral valve replacement, I had the operation December 8th 2007 at Dereford Hospital in Plymouth, Devon. I am a 44 yr old mother of 3- ages 21yrs, 8 yrs and 3 yrs. Last year I became very ill seemingly very quickly however thinking back I realise I had symptoms as far back as 2004. By September last year I was completely housebound and on oxygen, which as you can imagine made the lives of my children very difficult as well. Because I didn't know what to expect, or wether my symptoms were normal etc and my doctors and cardiologist seemed fine about everything, I ended up extremely poorly, I was told in August 2007 I would be operated on within 6 weeks, I was admitted to hospital 3 times after this coughing up large quantities of blood….which was very scary indeed. It turned out the cardiologist had forgotten about me? November 2007 I was admitted as an emergency again and the cardiologist performed angiograph?…within 2 days I saw the surgeon at dereford and within a week i was operated on. One lesson i have learned from this is if in doubt shout and shout until someone hears you because I almost died waiting for the doctors to get their act together. The good news is I have had a wonderful recovery, from day one …….a few problems with my lungs, but not for long…I stayed in hospital 9 days coming out in time for xmas which my son, the 21 yr old had organised , he gave up work to look after me and my 2 younger children…..he was a real star throughout it all. I saw the surgeon last week and wojnt have to go back again, I saw the cardiologist today and although the pressures in my lungs are still raised i got a clean bill of health. I am feeling absolutely great! I started running again last week…..I live near a beach so I go there, because i was so inactive last year my legs etc are very unfit so i started running up the cliff paths?? my heart has been fine, my legs have collapsed once or twice! what do they say? no pain no gain?…..Because I am a 44 yr old woman, previously asthmatic, when i started coughing up blood december 2006, i was referred to a lung specialist who still was having difficulty diagnosing me in May 2007- i had been admitted to hospital numerous times with allsorts of symptoms including kidney failure at one point……, it was as a last resort he scanned my heart and eventually found the problem. I had rhumatic fever as a child or this is what they believe and this damaged my valve. I had been suffering with pulmonary odaema since 2004????Now I know much more about the whole thing, valve disease etc I do wonder how in this day and age I was allowed to get to the point that i was at prior to surgery…..


Cheryl Boney says

on February 15th, 2008 at 10:03 pm
I had my heart valve replaced on Nov. 16, 2007. My surgery and recovery were both remarkably easier than I anticipated. I had almost no pain and went into cardiac rehab. on Dec. 10th. Looking back on the entire experience, with special reference to the vent tube, I think the key is knowing what is going to happen before the surgery and then staying focused on relaxing and knowing that you won't have to tolerate the vent tube very long. I have to say that Adam's book was enormously helpful in helping me prepare for surgery and in giving me some idea of what to expect in recovery. I also watched a live feed of a valve replacement being performed prior to my surgery, so I knew what was going to happen while I was sedated. Cardiac rehab.tremendously helpful both physically and psychologically. It really restores your confidence quickly, you learn to trust that your heart is well and abest of all you feel great after each session. Good luck to all that are facing any type of heart surgery.


Doug Atkins says

on February 16th, 2008 at 1:20 pm
Hey Adam. Just had my Ross performed on Tuesday, Feb 12th and I'm sitting up and typing on a computer. Pretty remarkable. I knew going in that waking up with the vent in would be an issue. I didn't get out of surgery until 8pm, so I was lucky to have it in all night until about 8am or so…though I don't remember anything that night. I was heavily sedated. I remember waking up…knowing that the vent was in. I remember trying to move my legs back and forth just so that they knew I was awake…in hopes of pulling the vent out. I guess I figured it was my way of 'tricking' them into pulling it out. Soon after, they pulled the vent and I was fine…except for what you mention…I don' think that I've ever been so thirsty in my entire life!!! I was begging for anything…and after about an hour, they started giving me ice chips (best I can remember). All in all, having the vent in wasn't traumatic, but certainly not desirable either.
Thanks for your continued info/education about heart valve replacement…certainly helped me prepare for what was ahead for me.
Take care,
Doug


Lorie says

on February 16th, 2008 at 9:35 pm
Hi Adam,
Good topic to bring up and one that I dreaded immensely. In fact, I must say that I was so fixated on the whole "waking up with the ventilator tube in" that it was probably my primary concern, other than making it through the surgery of course. On January 15, 2008 I had surgery to repair my bicuspid aortic valve and to remove a 4.8 cm aneurysm of the ascending aorta. I was in surgery from about 8 am to 3:30 pm and was on the ventilator for 5-6 hours. One thing I made crystal clear to my surgeon, my anesthesiologist and anyone who would listen is that I did NOT want to wake up with the ventilator tube in so whatever they could do to ensure that would be immensely appreciated. The first thing I remember after waking up was hearing my doctor saying, "Lorie can you open your eyes?" , "Lorie, can you lift your head up?"…and I could hear my sister in the background (who happens to be an ICU nurse herself) saying I promised I wouldn't let her linger on the vent. Funny thing is I could hear everyone asking me to do things but it was like I was paralyzed…I couldn't move or open my eyes! Pretty frustrating…but at the same time I didn't have any real sensation of the ventilator in my throat…no discomfort or anxiety. The ventilator was pulled and I have absolutely no memory of that specific event. As I said, I remember snippets of things like I mentioned above but nothing specific to the sensation of the ventilator in my throat of when they pulled it. Apparently I started talking right away, saying my back and neck hurt, etc. and carrying on complete conversations, again with very little memory of this. I am thrilled to say that my doctor followed my request that I not remember the ventilator. I echo the previous entries which highlight the incredible thirst you feel (I drove my poor nurse crazy all night begging for ice chips!). I think the best advice I can give anyone is let your surgeon and anesthesiologist know exactly what your wishes are….there are great drugs out there that allow you to wake up and be able to breathe on your own but have a sort of amnesiac affect so that you don't remember it all that well. I am claustrophobic and the thought of being awake and gagging on that tube and trying to use hand signals just didn't appeal to me at all. Making your wishes known down to the smallest detail is my biggest piece of advice.


Luisa Thomas says

on February 17th, 2008 at 12:01 am
Hi Adam, I had my surgery on January 8th. Thanks to your book I new
the questions to ask and step by step how the surgery would be perform.
I kept repeating your book in my head…. "after this they will do that',
I knew everything. About waking up in ICU, was not to pleasant, everyone react different to the anesthesia, well, my brain woke up before
my body, meaning you can hear everything around you but you can't move, open your eyes, just let them know you can hear them.
Is a desperate feeling, because I didn't know it could happen.
My Nurse, Thank God came in with in a minute after and stared talking to me, letting me know everything was fine and explained all I was hooked up to and everything she was going to be doing and that she new I can hear her and it was OK That I could not respond. My body would start waking up soon. After that I was able to relax, the ventilator, I know from the book it would came out as soon as I was able to breath on my own.
I was in the Hospital for 10 days, my recovery is going great, except trying to adjust the Comedienne is a pain…… I don't know if anyone had that problem with the anesthesia, I just want people to know that it could happen and is OK… You will be able to move soon, just relax, they know you are in there some where, beside you can spy on your love ones…
OOHH, Ladies wireless bra, helps so much with the pain and discomfort!!!!!!!!


John C. Hathaway says

on February 19th, 2008 at 1:19 am
That was a saga! I kept trying to talk. Then I tried hand signals. THen I tried writing (my parents have the sheet of paper somewhere; apparently, I wrote some profanity, which is completley out of character for me, so I have never been shown the paper).
But all that to say "GET THIS THING OUT OF MY MOUTH!" Finally, they did, and I said, "As soon as we get home, we're taking sign language!"


Maribel says

on February 25th, 2008 at 6:17 pm
Hi Adam: Sergio doesn't recall having the tube. Doctors told me two hours after the surgery: " he es awake!! talk to him" and I did for almost half hour but the truth is he doesn't remember anything about it, about me being there talking to him (that was the moment to tell him all my dirty secrets ja ja). He is soon going to put his fingers on this blog, just let him catch up with life. He was extubated 6 hours after surgery so he wasn't really awake. The bad experience was for me seeing him!!


Jenn says

on February 28th, 2008 at 3:37 am
Yeah I had a similiar experience as Luisa where the sedation wore off before the paralytic. My heels were burning like crazy and I couldn't move my legs to relieve the positional pain nor could I move my arms to motion for a pillow underneath them. Then I was still intubated…:)
I already knew what to expect because I work in a critical care setting and had interviewed several Cardiac ICU nurses. I just didn't expect to remember everything.
So back to the heel pain – I'm trying to move my arms to motion to my mother that I desperately needed a pillow. She knew something was up, but couldn't figure out what. My completely clueless nurse insisted it was because of the ET tube, yet released my restraints anyway. (Yikes!) Finally, Mom realized what I was after, a pillow was placed underneath my legs and I rested comfortably until my surgeon came in.
He entered the ICU room and my eyes flew open. He smiled and said "Are you ready to get rid of this?" I managed some semblance of a nod, and then it was over. Being vented actually was leaps and bounds better than having a pleural tube in for five days. 🙂


Jennifer says

on January 7th, 2009 at 3:23 pm
I havent had open heart surgery but I know someone who did. She had a ventilator put in. She awoke with the ventilator still in. She said it caused her significant discomfort.


gayle renella says

on April 2nd, 2009 at 7:14 pm
Hi everyone, thanks for all the info. I am scheduled for mitral and tricuspid valve surgery 4/20/09, have read Adams book and all your calming words. Dr David Adams in NY is the surgeon.
But I'm claustrophibic and really scared.


Leslie says

on April 26th, 2009 at 2:14 am
well Gayle how did it go? As soon as you can get to your computer, let us know. I am betting it went fine.
Lily


Nancy Scbarf says

on April 26th, 2009 at 11:40 am
Thanks for the info. I will know next time to ask that I not wake up with the ventilator tube down my throat. I was frantic; and it seemed to that nobody understood my panic from it. It seemed like "forever" that it took for them to remove it. I too, did not the the tube from pleuro-occlusion(sp) 10 days later…….. It is nice t know there is a way to eliminate waking up to this complete feeling of helplessness due to the ventilator tube.


Monique Battaglia says

on October 14th, 2010 at 9:37 pm
E was definately the answer for me. Of all the things I could have worried and panicked about before my surgery, it was the ventilator
that I obsessed over the most. I had several conversations with all my doctors who where all sympathetic and repeatedly reassured me it would be removed sooner rather than later as soon as they knew I was breathing on my own. They too did not want to leave it in longer than necessary. I was so panicked as I was being wheeled in to the operating room I began to cry. I asked the surgical nurse if she would please pump some valium in to my IV or I was about the attempt an escape. She complied and that as about the last thing I remember.
The good news for me: As I woke up I noticed something in my mouth and felt scratching in my throat, but I really did not care too much. The pain medication was doing its job and kept me calm. I did try to cough a bit, but the next thing I remember was the tube being removed. While I would not want to do this again, reality not
anywhere as bad as my imagination. Thank God for that.
Monique Battaglia


Donna says

on May 17th, 2012 at 7:58 am
OH MY DO I HAVE A STORY FOR YOU GUYS! MY MOTHER HAD OPEN HEART SURGERY 3 YEARS AGO AT 73, sHE TOLD THE DOCTORS HER NUMBER ONE CONCERN WAS THE VENTILATOR, SHE EXPLAINED THAT HATED ANYTHING DOWN HER THROAT, AND COULD NOT HANDLE ANYTHING OVER HER FACE…LIKE A OXYGEN MASK! WHEN SHE CAME TO AFTER HER SURGERY,i WAS TOLD THAT SHE WENT BALLISTIC, IT TOOK 4 NURSES TO HOLD HER DOWN TO STOP HER FROM YANKING THE DAMN THING OUT! MY MOTHER HAD TO BE SEDATED, SHE ENDED UP BEING ON THAT CURSED THING FOR 16 DAYS! THE DOCTORS COULD NOT GET LUNGS TO BREATHE ON THEIR OWN. MY MOTHER SMOKED FOR 60 YEARS, THUS THE CAUSE OF THE EXTENDED TIME ON THE VENT. WHEN THEY FINALLY TRIED TO TAKE THE TUBE OUT SHE WENT INTO A PANIC FROM THE MASK ON HER FACE AND SHE COULD NOT BREATHE FROM I BELIEVE THE TUBE SWELLING HER THROAT, MAKING IT A STAT SITUATION IN THE ER, THE DOCTOR HAD TO PUT THE VENTILATOR BACK IN!!!! BY THE GRACE OF THE GOOD LORD AND LOTS OF PRAYERS FROM MYSELF AND MY BROTHER 3 DAYS LATER A WONDERFUL TALENTED DOCTOR. DR. TAVERRES, KNEW EXACTLY WHAT TO DO AND SAVED MY MOTHERS LIFE! WE ARE FOREVER THANKFUL FOR HIM!
MY MOTHER ENDED UP BEING IN THE HOSPITAL 39 DYAS, INCLUDING REHAB! SHE IS MY HERO! THERE WAS NOT A NURSE ANYWHERE THAT WAS NOT AMAZED AT HER RECOVERY,NOT ONLY FROM BEING 73 . BUT BEING 16 DAYS ON A VENT!! GOD BLESS ALL OG YOU AND GOOD LUCK!


Joan Davenport says

on May 17th, 2012 at 5:05 pm
Do they still leave the vent tube in after you are awake? I read where they now take it out before you wake up. I am going to pester anyone who will listen that they better not let me wake up with that tube still in my throat. I will go ballistic for sure.


Steven Gilbert says

on May 15th, 2018 at 5:01 am
He knew exactly what to do,……..???? WHAT?????


PLBRossi says

on November 6th, 2018 at 8:34 am
I did not like waking up with a ventilator tube down my throat at all. I begged with my eyes and hands to get it out. They just kept telling me that the doctor needed to give the ok for removal. I was wide awake and had them bring me a piece of paper to write explicit words on. It freaked me out so much that I was on the verge of yanking the dam thing out. It traumatizes me to this day and every surgery since I repeat over and over to whoever will listen…"Do not have me wake up with a tube down my throat. I tend to wake up from surgery and come out of anesthesia fast.