After Mitral Valve Repair Operation, Joanne Cruises With Barely Visible Scar
By Adam Pick on January 9, 2009
Some patients simply have "It". The "It" is an incredibly positive attitude towards open heart surgery.
Case in point… Joanne. First, she finds the humor in an incentive spirometer. Then, she takes a celebratory cruise only nine months after mitral valve repair surgery.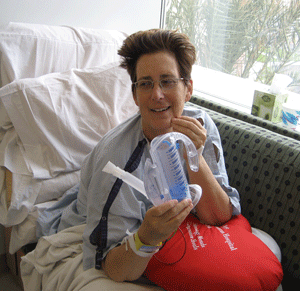 Joanne – Showing Her Incentive Spirometer Trick
I just received this note and picture from Joanne. I thought you might like to read it:
Hi Adam –
A very Happy & Healthy New Year to you and your family!
Thought I'd send you this 9-months-post-mitral-valve-repair photo update.  I thought the scar would be more obvious than it is, but it's good to know that in real life, it isn't!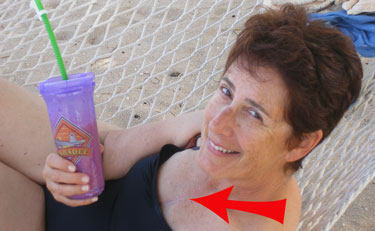 Joanne – 9 Months After Open Heart Surgery
Obviously, I felt good enough to take a cruise in the Caribbean and drink an island special. I was told by the surgeon to keep the scar out of the sun for a year — so I'm under a lovely palm tree and in the shade.
Here's hoping for the same or better recovery for everyone this year.
Thanks again for everything – your book, your blog and your support.
Joanne

jeri says

on January 9th, 2009 at 3:24 pm
I had my surgery on July 14th. I am now 6 months post op and unfortunately, my scar is just horrible. I have not noticed any fading yet. Has anyone else experianced this? Is there anything I can do at this point to help it diminish. I was told that the scar creams really do not work, but I am tired of wearing scarves to hide it.


Adrian Bishop says

on January 9th, 2009 at 3:32 pm
Good for you Joanne. I also try to stay upbeat. In Dec just after my '6 mo.' anniversary after aortic replacement my wife and I visited Belize for 10 days of snorkleing, diving, and Mayan ruin treks. I was interested in your "shielding the scar" comment. I live in the Caribbean, and sun and swim several times/week. I was advised not to swim in the first 3 mo. but started in after about 10 weeks, using legs only and gradually introducing arm movement. My scar is regularly exposed both in the water and on the beach and there are no ill effects that I am aware of.
Keep tickin'
Adrian B.


Robert says

on July 25th, 2009 at 12:58 pm
Thanks for the update Joanne! And, more importantly… Congrats on your recovery!!! 🙂
Hope you had a great time in the Caribbean. I've been there twice. Great memories from those vacations.
All the best,
Robert

Adam's Newest Blogs
Adam's Newest Posts