Dr. Roselli Comments On Mini Sternotomy For Heart Valve Replacement
By Adam Pick on September 23, 2008
I recently received an interesting question from Emily about her upcoming aortic valve replacement.
Emily writes, "Hi Adam – After years of monitoring it, my aortic valve now has severe stenosis and I need a valve replacement. Yes. I'm scared. Yes. I'm confused. One thing I'm both scared and confused about is the cracking of my chestplate. Is it true that AVR can be done with smaller incisions to the sternum? If so, is that common?"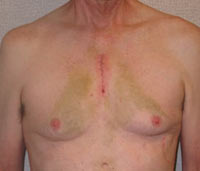 Mini Sternotomy Scar (3-inch Incision)
In case you are not familiar with the term, Emily is referring to a mini-sternotomy which utilizes a significantly smaller incision than a full, median sternotomy (which I had).
According to Brigham & Women's Cardiovascular Center in Boston, Massachusetts:
Mini-Sternotomy for aortic valve replacement incisions are performed through an upper mini-sternotomy, in which an incision is made from the sternal notch to the third intercostal space.
Mini-Sternotomy for mitral valve replacement/repair incisions are performed through a lower mini-sternotomy, in which a 6-8 cm incision is made at the lower end of the sternum upward to the second intercostal space and extending into the interspace on the right.
So you know, my broken sternum incision is about 9 inches long. A mini-sternotomy incision is about 3 to 4 inches long. Ultimately, the benefits of a mini-sternotomy are less trauma to the chestplate and faster recovery.
As for Emily's second question, "Are mini-sternotomy procedures common?", I contacted Doctor Eric Roselli, a cardiothoracic surgeon from the Cleveland Clinic to learn more. According to Dr. Roselli, "Almost all isolated first time aortic valves get a mini-sternotomy in my practice and I believe that's true for my colleagues as well." (To learn more about Dr. Roselli, click here.)
I hope this helps Emily (and perhaps you) learn a little more about the difference between mini- and full-sternotomy.
Keep on tickin!
Adam

Becca Allison says

on September 23rd, 2008 at 2:57 pm
Dang, I wish I could have had one! Not given the option! I'm 9 weeks post-op, and still a little sore from the big incision! Still better than no replacement at all. It's eminently liveable-with! (Is that a word?)I'm now walking an hour and a half each day and feelinng much better.
I'd go with the mini one, if I were you!
Emily, I know it's scary, but they are getting better and better with these things. We (all us ladies with mended hearts! ) are rooting for ya! (And the guys , too, I'm sure!)
Keep us posted!
Becca


Tim becker says

on September 23rd, 2008 at 5:32 pm
Adam- I have been reading your page after reading your book six months ago. I just had an Aortic valve replacement 11 days ago. My Surgeon Dr. Tsen out of Portland Oregon also used the mini for my procedure. I was out of the Hospital in 4 days and I'm already walking a half-mile 4 times a day. I have just about completely weaned my self off of the pain killers too.Your book and page have proved to be an excellant resource. keep up the great work. My advise to any person who is about to undergo this: Wash from your mind any and all negative or worrisome thoughts. instead focus all of your energy on the positive and make it happen. Plan for success.


Robin says

on September 23rd, 2008 at 7:49 pm
Hi Adam,
I read with great interest the information you provided on the mini-sternotomy for aortic valve replacement. I, too am waiting for AVR and as a woman would like to have a mini-sternotomy. Although Dr. Roselli states that "almost all isolated first time aortic valves get a mini-sternotomy in my practice" are there any differences between the two procedures with respect to surgical complications and long term outcomes?
Thanks,
Robin


Sarah says

on September 24th, 2008 at 5:52 am
Emily, don't worry about the incision. I had AVR three weeks ago, with a mini-sternotomy, and the incision site has never bothered me. I was muscle sore (especially on the left side) due to the other surgical procedures, but the incision site itself has not been painful and is healing very nicely. Relax, and have faith in your surgeon. You cannot control the surgery itself, but when you are awake, you can have some effect on your healing. Stay relaxed, be happy with small successes, and don't forget to maintain a sense of humor! Good luck.
Sarah


Julia Hightower says

on September 24th, 2008 at 7:23 am
This is for Emily re: mini sternotomy from Julia Hightower, Winston-Salem, NC. I just had minimally invasive surgery to replace my stenotic aortic valve with a pig valve and this was done by Dr. Joseph Lamelas at Baptist Hospital of Miami, FL. He made a 2″ incision over my right breast and did not go through the sternum at all! I wouldn't take anything for having the surgery done this way and highly recommend it to anyone who must have aortic valve replacement. There's less time in the hospital, less chance for infection, less blood loss, and MUCH less pain. The surgery was done on Aug. 14 and I was back at work on Sept. 15. Good luck!! Julia Hightower


George Householder says

on September 24th, 2008 at 1:43 pm
I also wish I had been offered the mini, definetly the most painful part of your recovery is the healing of the incision. But being 49 years old (and healthy) and looking at another 35 years of life makes any scar worth it! The stories I will be able to make up for the grandkids will be interesting!
I had my surgery on the 8th of Sept (Aortic Valve replacement along with a fairly sizable anyourism cut out on the ascending arch of my aorta), this is my first week back at work (full-time). I FEEL GREAT! Good luck with your surgery, don't worry too much I am sure all will go well.
George


Jim Hayden says

on September 24th, 2008 at 5:42 pm
Emily: I am 71+ and participated in my second sternotomy in November. It was the full nine inches. I was out of the hospital in 3.5 days and walking in the hills of Connecticut in three weeks. I was in re-hab in the fourth week and playing tennis and golf in two and one half months. My surgeon is Dr. Sabet Hashim @ Yale-New Haven and his skills are tops for the entire U.S. The new Edwards Lifescience aortic valve is pumping very well and I have lots of energy and no pain. You will be a new person within six months of the surgery. Have a good ride!
Jim Hayden


jerry says

on September 26th, 2008 at 5:43 pm
Well pardner, where I'm from we do everything big. I was discharged yesterday, and my incision isn't just nine inches, it's nine feet, but luckily, my Cadillac Escalade hold me and that incision right fine.
Okay, apart from not owning an SUV, and having only a 9inch incision, everything else is true — I was discharged yesterday.
There is very little pain. The only pain comes from lying down in bed and trying to get out of bed.
A mini would have been very nice. Next time, I'm going to see if I can go robo.


Don Henry says

on June 19th, 2009 at 9:51 pm
I had the mini sternotomy in Feb 2000. Incision is no more than 3 inches and almost unnoticeable now. Recovery was quick and the pain was endurable. My question is- on a re-do operation are you likely to have another mini or would it be the full sternotomy? I know re-do's are approached differently, because of the scar tissue.
I know Emily will be fine. The biggest hurdle is mental. You have to think positive, which I am lousey at, but that is truly the key.


Maureen Hoganson says

on October 18th, 2013 at 11:36 pm
Hi Everyone–I am in the process of scheduling surgery to replace my bicuspid aortic valve that now has severe stenosis/regurgitation (46-year old female)–and the surgeon I met with says that he no longer does the mini because he doesn't feel like the heart can be protected as well. In other words, it cannot not be cooled as easily and completely during the procedure–and doesn't feel it is worth the risk to have a smaller incision. He is a world renowned surgeon, who has done 15,000 heart surgeries to date–I am also in the process of getting a second opinion at another facility, so will be curious to see what they say about this as well. Has anyone else been told this?


Ralph says

on February 18th, 2014 at 10:06 pm
I am scheduled for my AVR next month. I too have been struggling with the question go which surgical procedure would be best for me. I have been to two surgeons to get their opinions on both minimally invasive versus median sternotomies. Both surgeons prefer median sternotomy over the mini upper sternotomy because of access. The surgeon I chose of the two has performed thousands of AVR and will do either. He only performs an inverted T type of mini upper sternotomy and feels the outcomes are fairly equal. I have read about the J incisions, but can't find much information about the T type. Do any of you experienced folks have any input about complications from a T type of incision? I have read books and reports, but not much published about the T type other than there could be complications from the sutures on the area where the T comes together. Everything else seems positive over a median sternotomy. Thanks for any input. This is number one and there will have to be another down the road since I am 57 and will be getting a CE MagnaEse tissue valve.
Good luck to each of you.


Maureen Hoganson says

on February 19th, 2014 at 5:51 pm
Always great to see information on this, as I recently had a full sternotomy to replace a stenotic bicuspid aortic valve. However, the surgeon I had (who is one of the top surgeons in this field) prefers to do the full sternotomy instead of the mini because he says there is more risk to the heart, especially in younger heart patients. I chose to do a tissue valve (Trifecta) at age 46–and my scar from the surgery is about 7 inches long. I'm almost at 3 months out and doing really well with the recovery with just a few bumps in the road. My surgeon did say that Cleveland Clinic has a good success rate with the mini-procedure, but I chose to stay close to home having my surgery at Vanderbilt after getting a second opinion from the Cleveland Clinic. Because of my age, it is likely that I will need a re-op down the road–and will definitely consider my options at that time. Hoping for wonderful innovations in the area of valve replacements by then!


snowtrails says

on March 28th, 2017 at 10:32 am
Jim,. I see this is 9 years old!, hope your still kicking. As it is, I am scheduled for an aortic valve replacement with mini stern with Dr. Hashim in Hartford April 13 (2017) . You recovery seems great and Im hoping mine will be at least equal (Im 53 with a bicuspid aortic valve). I hope your well, after 5 months researching this on the web, yours is the first mention of My surgeon….good to hear.

Adam's Newest Blogs
Adam's Newest Posts