Dr. Roselli Comments On Mini Sternotomy For Heart Valve Replacement
By Adam Pick on September 23, 2008
I recently received an interesting question from Emily about her upcoming aortic valve replacement.
Emily writes, "Hi Adam – After years of monitoring it, my aortic valve now has severe stenosis and I need a valve replacement. Yes. I'm scared. Yes. I'm confused. One thing I'm both scared and confused about is the cracking of my chestplate. Is it true that AVR can be done with smaller incisions to the sternum? If so, is that common?"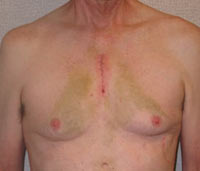 Mini Sternotomy Scar (3-inch Incision)
In case you are not familiar with the term, Emily is referring to a mini-sternotomy which utilizes a significantly smaller incision than a full, median sternotomy (which I had).
According to Brigham & Women's Cardiovascular Center in Boston, Massachusetts:
Mini-Sternotomy for aortic valve replacement incisions are performed through an upper mini-sternotomy, in which an incision is made from the sternal notch to the third intercostal space.
Mini-Sternotomy for mitral valve replacement/repair incisions are performed through a lower mini-sternotomy, in which a 6-8 cm incision is made at the lower end of the sternum upward to the second intercostal space and extending into the interspace on the right.
So you know, my broken sternum incision is about 9 inches long. A mini-sternotomy incision is about 3 to 4 inches long. Ultimately, the benefits of a mini-sternotomy are less trauma to the chestplate and faster recovery.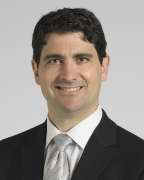 Dr. Eric Roselli, Heart Surgeon, Cleveland Clinic
As for Emily's second question, "Are mini-sternotomy procedures common?", I contacted Doctor Eric Roselli, a cardiothoracic surgeon from the Cleveland Clinic to learn more. According to Dr. Roselli, "Almost all isolated first time aortic valves get a mini-sternotomy in my practice and I believe that's true for my colleagues as well." (To learn more about Dr. Roselli, click here.)
I hope this helps Emily (and perhaps you) learn a little more about the difference between mini- and full-sternotomy.
Keep on tickin!
Adam
Adam's Newest Blogs
Adam's Newest Posts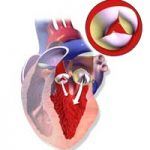 Surgeon Q&A: What Should Patients Know About Aortic Regurgitation? Learn More.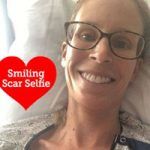 Sara Educates & Inspires 38,443 People About Heart Valve Surgery! Learn More.