Mitral Valve Replacement Surgery
By Adam Pick - Patient, Author & HeartValveSurgery.com Founder
Your mitral valve has an important function within your heart and your body. The mitral valve controls blood flow from your left atrium into your left ventricle. If you suffer from a severe mitral valve disorder, the cardiac muscle is at risk for permanent damage or failure. That said, it is incredibly important to monitor mitral valve disease and, if needed, surgically treat it with a mitral valve repair or a mitral valve replacement operation.
Mitral Valve Repair vs. Mitral Valve Replacement

As I've learned over the years, mitral valve repair is often referred to as the "gold standard" for treating heart valve disease including mitral regurgitation and mitral valve prolapse. However, there are patient situations in which the mitral valve can not be repaired and must be replaced.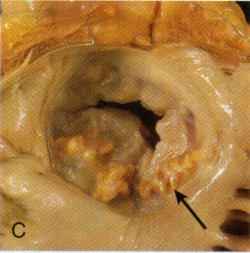 Calcified Mitral Valve Requiring Replacement Due To Stenosis
Often times, a severe infection can damage the mitral valve leaflets beyond repair. In other cases, severe calcification on the mitral leaflets and annulus requires a mitral valve replacement. Still, given the benefits of a mitral valve repair (less complications, no use of blood thinners), I encourage all patients to get a second opinion to confirm the prognosis.
The Mitral Valve Replacement Procedure
A mitral valve replacement operation usually takes between three to five hours in which the patient is under general anesthesia. During the procedure, the surgeon will remove the diseased mitral valve and replace it with a mechanical heart valve replacement or a bioprosthetic (tissue) heart valve replacement.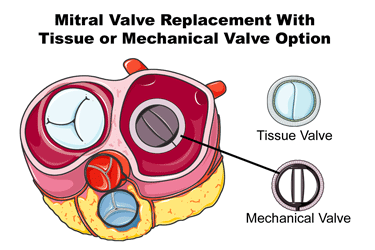 To perform the mitral valve replacement, the surgeon must access and open the heart. There are several different approaches the surgeon can use to replace the mitral valve.
A median sternotomy in which the sternum is completely broken
A mini-stenotomy in which part of the sternum is broken
A thoracotomy (also known as port-access) in which the surgeon accesses the heart through the ribs