Biological Heart Valve Replacement Options - Pig, Cow, Horse or Human?
By
Adam Pick
- Patient, Author & HeartValveSurgery.com Founder
Once my second opinion confirmed that I would need heart valve replacement surgery, I began to evaluate the options for my bicuspid aortic valve that suffered from stenosis and regurgitation.
I quickly learned that I had two choices -- a biological heart valve replacement or a mechanical heart valve replacement. Biological heart valve replacements are made from animal tissue (pigs, cows or horses) or human tissue. The biological valves made from animal tissue are called xenografts while heart valves taken from a human -- who has donated his/her heart -- is called an allograft or, more commonly, a homograft.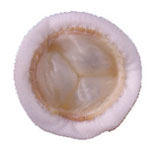 Sometimes, a patient's own heart valve can be used during a heart valve replacement operation. For example, in a complex procedure, known as the Ross Procedure, the pulmonary valve is switched into the aortic valve position and is referred to as an autograft.
Biological Tissue Valve Replacement Options

Click below to learn more about each type of biological valve replacement option:
Unlike patients with mechanical heart valves, patients with biological valves usually do not need to take blood-thinning medication, like Coumadin.
However, tissue valves are not as durable as mechanical valves. That said, tissue valves may need to be replaced over time. As a result, biological valves are typically used most often in mature or elderly patients who do not want to experience the stress of an additional heart surgery.
My Personal Story With Biological Heart Valve Replacements?
I selected the Ross Procedure for my aortic valve replacement surgery. As a result, I had a double heart valve replacement surgery that used my own pulmonary heart valve (an autograft) as the aortic valve replacement.
Then, a human donor valve (a homograft) was positioned in my pulmonary heart valve position. To learn more about the Ross Procedure, click here.
You May Also Like
Here's additional information about biological heart valve replacements that might help you:
Page last updated: September 17, 2020