A Very Memorable Letter From Dr. Donald Ross, Inventor Of The Ross Procedure
By Adam Pick on November 30, 2007
Last night, I drove up to my house after a very, very, very lonnnnnng day of work. The past twelve hours were filled with hundreds of emails, several conference calls, Los Angeles traffic, etc. Little did I know… My mailbox was holding a short, one page letter that would bring me to tears. I was on the phone with Rob, a good friend, as I flipped through the daily junk-mail that advertised everything from built-in cabinets, to the local Indian restaurant, to Direct TV.
Then, I saw it.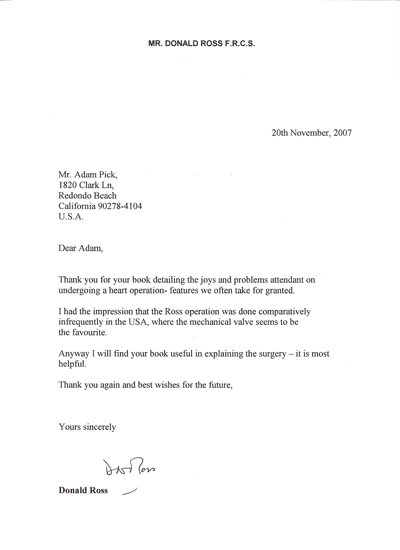 "I have to call you back," I said to Rob, "There is a letter in my hand from Dr. Donald Ross."
For those of you who don't know me, I had a Ross Procedure Operation a few years back. Dr. Vaughn Starnes performed the complex surgery which replaced both the aortic and pulmonary valves of my heart.
After a challenging recovery, I am now doing very well. I am surfing again, scuba diving again and I just got married. To help other heart valve surgery patients, I wrote a book called The Patient's Guide To Heart Valve Surgery.
That said, I was holding a personal note from the inventor of the Ross Procedure, Dr. Donald Ross. As I peeled back the envelope, I remembered my phone call with Dr. Ross a few weeks back. He is quite an amazing man.
The letter unfolded in my hands…
Needless to say, I was touched, moved and inspired as I read the note.
To think… Dr. Donald Ross "thanks" me for writing my book.
To think… Dr. Donald Ross writes that he will "find my book useful in explaining the surgery".
To think…
I never, ever, ever, everrrrrrr fathomed this as a possibility. Especially, considering my thanks to him is boundary-less. Because of Dr. Ross, and his innovative thoughts on cardiac surgery, I am now living a full, healthy life again.
I should be the one thanking him, don't you think?
Keep on tickin!
Adam
Adam's Newest Blogs
Adam's Newest Posts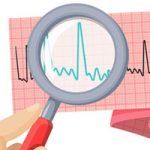 "How Do I Know When My AFib Is Gone After Heart Surgery?" asks Linda Learn More.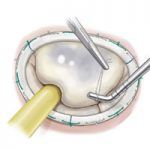 New Findings: Mitral Valve Repair Restores Normal Life Expectancy! Learn More.